Daily Current Affairs For UPSC 27 December 2022: We bring to you "Daily Current Affairs for UPSC Exam" on the principle of updating UPSC CSE aspirants with Most Important Daily UPSC Prelims Specific Current Affairs. These Daily Current Affairs are prepared in Bit Form/Abridged Form to save the precious time of UPSC Aspirants. In Today's Prelims Bits we are covering Current Affairs Bits for the below mentioned topics: History of Jana Gana Mana, Who is Pushpa Kamal Dahal (Prachanda)?, Who is Prof. Thalappil Pradeep?, What is the Assessment of Centre for Economics and Business Research (CEBR) about Indian Economy.
Today in History-Jana Gana Mana
What is the Significance of Today?
On December 27, 1911, the Indian national anthem "Jana Gana Mana" was publicly sung for the first time at the Calcutta session of the Indian National Congress.
Prelims Bit on Jana Gana Mana
'Jana Gana Mana' is the first stanza of the Bengali hymn 'Bharoto Bhagyo Bidhata' and it was written by Gurudev Rabindranath Tagore.
On historic December 27, 1911, Tagore's niece, Sarala Devi Chowdhurani, sang the song, along with a few school students, in front of the gathering of the then INC president Bishan Narayan Dhar and other leaders such as Bhupendra Nath Bose and Ambika Charan Mazumder.
The song was adopted in its Hindi version by the Constituent Assembly as the national anthem of India on 24 January 1950.
Pushpa Kamal Dahal (Prachanda)
Why Prachanda is in news?
Ending the month-long political upheaval, after the elections held last month failed to produce a clear winner, CPN-Maoist Centre chairman Pushpa Kamal Dahal, popularly known as 'Prachanda', is set to take over the reins of the Himalayan Nation.
President Bidya Devi Bhandari appointed him as Premier.
He submitted a letter to the President showing the support of 169 in the 275-member House of Representatives.
Bits on How Prachanda become PM?
Prachanda is CPN-Maoist Centre chairman and a former guerrilla leader/Maoist Leader.
Prachanda has been appointed as the Prime Minister of Nepal as per Article 76(2) of the Constitution.
This will be Dahal's third term in the top office.
He is said to be working in collaboration with K P Sharma Oli's Communist Party of Nepal—Unified Marxist Leninist (CPN-UML) along with other smaller parties.
Notably, Prachanda and Oli have struck an agreement to govern the country on a rotational basis, with Oli agreeing to make Prachanda Prime Minister first as per the latter's demand.
Prof. Thalappil Pradeep
Why in news?
Idian scientist, Prof. Thalappil Pradeep, Indian Institute of Technology, Madras received VinFuture special prize on 20th Dec. 2022 in Hanoi for innovation of a low-cost filtration system to remove arsenic and other heavy metals from groundwater.
Prelims Bits on VinFuture Prize 2022
What is VinFuture Prize?
The VinFuture Prize is set up to honor breakthrough scientific research and technological innovations that create meaningful change in the everyday lives of millions of people.
The Prize aims to recognize exceptional inventors and researchers from global academic universities, research labs, and industry.
Know about VinFuture Prize 2022
The VinFuture Prize 2022 was held in Hanoi on 20th December 2022.
The VinFuture Grand Prize is valued at US $3 million, which is one of the largest ever annual prizes globally.
Three special prizes are awarded to female innovators, developing country innovators, and innovators with outstanding achievements in emerging fields.
These three prizes are valued at US $500,000 each.
Winners demonstrate their breakthrough innovations that contribute to promoting global recovery and post-pandemic restructuring.
The recipients of the VinFuture Prize 2022 were selected from nearly 1,000 nominations across 71 countries.
India's will become third largest economy by 2035!
What is the News?
The Centre for Economics and Business Research (CEBR), a British consultancy, has said India's will become third largest economy by 2035 from the current fifth spot.
Key Bits of the Report of Centre for Economics and Business Research (CEBR)
In its annual World Economic League Table, the Centre for Economics and Business Research said that over the next five years, India's annual rate of GDP growth is expected to average 6.4 percent after which growth is expected to average 6.5 percent in the subsequent nine years.
CEBR also adds that by 2037, world gross domestic product will be doubled as developing economies will catch up with the richer ones.
The shifting balance of power will see the East Asia and Pacific region account for over a third of global output by 2037, while Europe's share shrinks to less than a fifth.
It said on the other hand, the global economy will face recession in 2023 mainly due to rises in interest rates by the central banks to arrest higher inflation.
It said  global economy surpassed 100 trillion Dollar for the first time in 2022, but will stall in 2023 as policy makers continue their fight against soaring prices.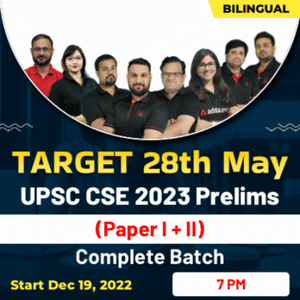 Economy Current Affairs:
IR Current Affairs:
Editorial Analysis: