"UPSC News Diary For Today" is every day published in the evening between 6-7 PM and contains all current affairs articles from the day on a single platform. "UPSC News Diary For Today" covers various topics from UPSC Syllabus and is very helpful and time managing for UPSC Aspirants. The framing of this daily current affairs compilation article is easy to read and understandable also.
In the "UPSC News Diary For Today" article, we focus on both UPSC Preliminary and Mains exam-oriented current affairs & prepare a gist of daily important news articles from leading National Newspapers, PIB, and other various official sources.
Durand Cup
Durand Cup: Why In News?
Raksha Mantri has inaugurated the first-ever Durand Cup match in Manipur.
Durand Cup: Key Points
Asia's oldest football tournament is being held in Assam, Manipur and West Bengal.
The 131st edition of the Durand Cup kick started on August 16, 2022, at the Salt Lake Stadium in Kolkata.
The final will be held on September 18 at the same venue. It is the oldest football competition in Asia, having been launched in 1888.
20 teams will participate in the upcoming edition of the competition (11 ISL teams, five I-League teams and four teams from the Indian Armed Forces). Some ISL teams might send their B teams for this tournament.
Aspirational Districts program
Launched by the Hon'ble PM in January 2018, the Aspirational Districts programme aims to quickly and effectively transform 112 most under-developed districts across the country.
The broad contours of the programme are Convergence (of Central & State Schemes), Collaboration (of Central, State level 'Prabhari' Officers & District Collectors), and Competition among districts through monthly delta ranking; all driven by a mass movement.
With States as the main drivers, this program focuses on the strength of each district, identifying low-hanging fruits for immediate improvement and measuring progress by ranking districts on a monthly basis.
The ranking is based on the incremental progress made across 49 Key Performance Indicators (KPIs) under 5 broad socio-economic themes – Health & Nutrition, Education, Agriculture & Water Resources, Financial Inclusion & Skill Development and Infrastructure.
Sikh Concept Of Ikomkar
The aspect of unity of the Ultimate Reality is represented by the Sikh concept ikomkar which is a combination of three terms i.e., ik meaning one, om that stands for the primary cause of the empirical world, and kar which represents the creative aspect.
On the one hand the concept ikomkar represents the non-dual, personal unity of the Ultimate Principle; on the other hand it represents the unity of the entire cosmos with its
multitude of beings, time, and space. On the whole the concept ikomkar represents the non-dual
systematic unity in Sikh philosophy.
National CSR Awards 2022- Relevance for UPSC Exam
GS Paper 3: Science and Technology- Achievements of Indians in science & technology; indigenization of technology and developing new technology.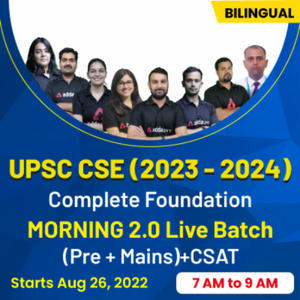 National CSR Awards 2022 in News
Recently, Ministry of Corporate Affairs, Government of India, announced winners and honourable mentions for National CSR Awards 2020.
20 award winners and 17 Honourable Mentions across the three award categories have been selected for the National CSR Awards 2020.
National CSR Awards
About: the annual National Corporate Social Responsibility (CSR) Awards was constituted to recognize companies that have made positive impact on the society through their innovative & sustainable CSR initiatives.

National CSR Awards are the apex national level recognition by the Government of India.

Associated Ministry: The Ministry of Corporate Affairs, Government of India instituted National CSR Awards.
Key Objective: The CSR awards seek to infuse excellence in CSR interventions undertaken by corporates in pursuance of Section 135 of the Companies Act, 2013.
National CSR Awards Categories: Upto 20 awards and equal numbers of Honourable Mentions are conferred each year in three main categories, namely-

Corporate Awards for Excellence in CSR,
CSR Awards for CSR in Aspirational Districts / Difficult Terrains and
CSR Awards for contribution in National Priority Areas.

First National CSR Awards: First National CSR Awards were conferred on 29 October 2019 by His Excellency President of India in a ceremonial function held at the Vigyan Bhawan, New Delhi.

There were total 19 winners and equal numbers of Honourable Mentions in different sub-categories of the award in the first cycle.
National CSR Awards 2020 were got delayed due to COVID related lockdown and constraints.
National CSR Awards Categories
Corporate Awards for Excellence in CSR: These are for recognition to a company based on total eligible CSR spend.
CSR Awards for CSR in Aspirational Districts / Difficult Terrains: These are given for the recognition to a company based on their CSR efforts in Aspirational Districts, difficult terrains/ disturbed areas, challenging circumstances etc.
CSR Awards for contribution in National Priority Areas: Awards in this category are chosen based on contribution of CSR projects in National Priority Areas.
One Award in each of the three main categories is reserved for MSME.
Technology Innovation Group for 6G
The Editorial Analysis- Too Good to be True
Rohingya Muslim Issue- Relevance for UPSC Exam
GS Paper 2: International Relation- Effect of policies and politics of developed and developing countries on India's interests.
Rohingya Muslim Issue in News
Recently, Urban Development Minister Hardeep Puri's announcement on social media that government has decided to house about 1,100 Rohingya migrants became a point of controversy.
Rohingya's Housing Controversy- More on News
Puri said that migrant Rohingyas are living in makeshift slums, in flats with amenities instead, proved "too good to be true".
The details Mr. Puri shared, as well as documents from 2021, showed that the Government had indeed been considering moving the Rohingya, who live on land donated by an Islamic charity, after their previous homes were burnt down.
However, Mr. Puri was countered by the Home Minister's Office, which denied any such intention, instead terming them "illegal foreigners".
Government's Stand on Rohingya's Housing Controversy
Home Ministry's Office said the plan was to keep Refugee Rohingyas (illegal foreigners) sequestered in their present homes.
These homes would be designated as detention centres while the Government continued efforts to deport them to Myanmar.
Associated Concerns
Denying Human Treatment to Rohingyas: Many steps of government and associated individuals suggest this. For example-

Union Home Minister referring to migrants as "termites",
He stated in Parliament that India would "never accept" the Rohingya, and
India even violated the UN principle of non-refoulement by deporting a Rohingya woman to Myanmar this year.

Against "Vasudhaiva Kutumbakam" Philosophy: The treatment of the Rohingya, who fled to India in 2012 and 2017 after state-sponsored ethnic cleansing, has been against India's philosophy of "vasudhaiva kutumbakam". For exa-

The Rohingya have been driven out of homes in Rajasthan and Haryana,
Stigmatised by local authorities and intelligence agencies who accuse them of criminal and even terrorist intent.

Diluting the "Regional leader" Image: New Delhi has failed thus far-

To play its role as a "Regional leader" in convincing Myanmar to provide its citizens homes and assurances of safety, or
In brokering dialogue between Dhaka and Naypyidaw to ensure their return;
Way Forward
Balancing between Foreign Policy Commitments and Domestic Politics: The Rohingya housing issue seems to be an example of the clash between the Modi government's foreign policy commitments and its domestic politics.
Respecting UN Convention of refugees, 1951: Though India is not a signatory to the convention, India must follow and respect it, especially when it comes to right treatment of forcefully displaced Rohingya Refugees.
Conclusion
In the absence of long-term measures to resolve the Rohinga Refugee issue, the Indian Government could at least, provide the hapless Rohingya community with better-living conditions, until their future is secured.
UNHCR Report on Forced Displacement in 2021
Endosulfan Crisis
Endosulfan Crisis- Relevance for UPSC Exam
General Studies III- Conservation, environmental pollution and degradation, environmental impact assessment.
In News
The Supreme Court on Thursday directed the Kasargod District Legal Services Authority in Kerala to inspect the medical and palliative care facilities provided to endosulfan victims.
What is EndoSulfan?
Endosulfan is an organochlorine insecticide which was first introduced in the first half of 20th century and is commonly known as Thiodan.
It is usually sprayed on crops like cotton, cashew, fruits, tea, paddy, tobacco etc. for control of pests such as whiteflies, aphids, beetles, worms etc.
Impact of Endosulfan
Endosulfan in the environment gets accumulated in food chains causing problems.
Endosulfan in water absorbs to the sediment and may bioconcentrate in aquatic organisms.
The Endosulfan ingestion results in such as physical deformities, cancer, birth disorders and damage to the brain and nervous system.
Ban on Endosulfan
The Supreme Court in India has banned the manufacture, sale, use, and export of endosulfan throughout the country, citing its harmful health effects in 2015.
Endosulfan is listed under both Rotterdam Convention on the Prior Informed Consent and the Stockholm Convention on Persistent Organic Pollutants.
Rotterdam convention 1998
The convention aims to promote cooperation and responsibility sharing measures amongst different countries dealing with trade in hazardous chemicals and pesticides.
PIC, Prior Informed Consent is the main feature of the convention and is legally binding on the party members.
PIC facilitates information exchange about nature and trade-related information amongst the party members.
The Convention creates obligations for the implementation of the Prior Informed Consent (PIC) procedure.
Stockholm convention 2001
The convention aims to reduce the concentration of persistent organic pollutants (POPs) which are chemical substances that not only remain in the atmosphere for longer periods but also possess the ability to bio-accumulate.
The convention listed 12 POPs as 'dirty dozen'.
The Editorial Analysis- Hard Truths about India's Labour Reforms
The Editorial Analysis- Hard Truths about India's Labour Reforms- Relevance for UPSC Exam
General Studies III- Indian Economy and issues relating to planning, mobilization, of resources, growth, development and employment.
Context
Independent India was born at the midnight hour on August 15, 1947, 75 years ago, when India's first Prime Minister Jawaharlal Nehru unfurled the country's tricolour flag and announced to Parliament that India had made a "tryst with destiny".
India had won its independence after a long, remarkably peaceful struggle for freedom, led by Mahatma Gandhi.
Gandhi's Vision- Gandhi had a vision of a country not divided into fragments by religious and communal walls. He envisioned a country in which all Indians, whether rich or poor, would hold their heads high in dignity. India's "tryst with destiny" was to provide "poorna swaraj" (i.e., full freedom) to all its citizens: political freedom, social freedom, and economic freedom.
The Country's Faultlines
Political liberties and freedoms of speech are being curbed in India. Social equality amongst castes has not been achieved.
Lower caste citizens continue to live in great indignity and lower caste poor women live in abject poverty in India's villages. They are among the most oppressed humans on the planet.
While the numbers of Indian billionaires increased during the COVID-19 pandemic, hundreds of millions of Indians lost their incomes when the country locked down during the pandemic and struggled to find shelter, food, and even drinking water for their families.
India's gravest socio-economic problem is the difficulty a vast majority of citizens have in earning good livelihoods which does not just include employment but the poor quality of employment: insufficient and uncertain incomes, and poor working conditions, wherever they are employed — in factories, farms, service establishments, or homes.
The Labour Reforms- Impact
The V.V. Giri National Labour Institute's interim report, "Impact Assessment Study of the Labour Reforms undertaken by the States", provides insights into the impacts of the reforms so far.
The report spans the period 2004-05 to 2018-19. It focuses on six States which have implemented reforms: Rajasthan, Maharashtra, Andhra Pradesh, Tamil Nadu, Jharkhand, and Uttar Pradesh.
The report reveals that labour laws are only one factor affecting business investment decisions. Investors do not go out to hire people just because it has become easy to fire them. An enterprise must have a growing market for its products, and many things must be put together to produce for the market — capital, machinery, materials, land, etc. not just labour. Therefore, it must be worthwhile to employ more people before firing them.
A Clear Picture
Reforms of labour laws have had little effect on increasing employment in large enterprises. The report says that the effects of labour reforms cannot be revealed immediately: they will take time.
The share of employment in plants employing more than 300 people increased from 51.1% to 55.3% between 2010-11 to 2014-15 (the period when the emphasis was on administrative reforms), and then increased less, from 55.3% to 56.3%, in 2017-18, when some States made the bolder reforms favourable for employers. Though overall employment is affected by many factors, the bolder reforms post 2014 were designed to promote larger factories.
The report says, employment in formal enterprises is becoming more informal. Large investors can afford to use more capital and are also employing increasing numbers of people on short-term contracts, while perversely demanding more flexibility in laws.
The report defines "formal" employment as the grant of paid leave, a written contract, and some "social security." An enterprise should not have to employ more than 300 people before it provides these benefits.
Along with the right to be heard and dignity at work, these are the minimal "essentials" all employers must provide to all those who work for them, whether in small enterprises or domestic help.
Increasing the threshold of the laws dilutes the rights of association and representation of workers in small enterprises.
National Fisheries Development Board (NFDB)
National Fisheries Development Board (NFDB)- Relevance for UPSC Exam
GS Paper 2: Indian Constitution- Statutory, regulatory and various quasi-judicial bodies.
National Fisheries Development Board (NFDB) in News
Recently, National Fisheries Development Board (NFDB) conducted its 9th Governing Body meeting at Lecture Hall, NASC Complex, New Delhi.
9th NFDB Governing Body Meeting- Key Events
Best Practice Book: "Super Success Stories from Indian Fisheries" published by NFDB commemorating 75th Independence Day- Azadi Ka Amrit Mahotsav celebrations was released. It aims to-

Disseminate the technologies, innovative ideas practiced by the small-scale farming sector and
Expand the promotion of initiatives to larger population, successful fisheries and aquaculture practices across the country.

"Aqua Bazar" App: It has been developed by ICAR-CIFA with the funding support of NFDB under PMMSY.

The app will help the fish farmers and stakeholders to source the inputs such as fish seed, feed, medicines etc. and services required for fish culture as well as farmers can list the table size fish for sale.
It is a market place which connects various stakeholders involved in aquaculture sector.
National Fisheries Development Board (NFDB)
About: NFDB was established in 2006 to enhance fish production and productivity in the country and to coordinate fishery development in an integrated and holistic manner.
Parent Ministry: NFDB was established as an autonomous organization under the administrative control of the Department of Fisheries, Ministry of Fisheries, Animal Husbandry and Dairying, Government of India.
Mission: National Fisheries Development Board (NFDB) works with the following Missions-

Holistic development of the fisheries sector through enhancement of fish production and productivity;
To supplement nutritious protein for the growing population;
To accelerate the overall economy of the country, besides improving health, economy, exports, employment and tourism in the country.

Key Functions: National Fisheries Development Board (NFDB) has following key functions-

Providing focused attention to fisheries and aquaculture (Production. Processing, Storage, Transport and Marketing)
Achieving sustainable management and conservation of natural aquatic resources
Applying modern tools of research and development for optimizing production and productivity from fisheries.
Providing modern infrastructure mechanisms for effective fisheries management and optimum utilization
Training and empower women in the fisheries sector and also generate substantial employment
Enhancing the contribution of the fish toward food and nutritional security
National Fisheries Development Board (NFDB)- Key Objectives
To bring activities relating to fisheries and aquaculture for focused attention and professional management.
To coordinate activities pertaining to fisheries undertaken by different Ministries/Departments in the Central Government and also coordinate with the State/Union Territory Governments.
To improve production, processing, storage, transport and marketing of the products of capture and culture fisheries.
To achieve sustainable management and conservation of natural aquatic resources including the fish stocks.
To Apply modern tools of research and development including biotechnology for optimizing production and productivity from fisheries.
To provide modern infrastructure mechanisms for fisheries and ensure their effective management and optimum utilization.
To generate substantial employment.
To train and empower women in the fisheries sector.
To enhance contribute of fish towards food and nutritional security.