Relevance
GS Paper 3: Environment – Conservation, environmental pollution, and degradation.
Context:
Recent National Mission for Clean Ganga (NMCG) guidelines directs cities situated on river banks to incorporate river conservation plans when they prepare their Master Plans.
The recommendations are currently for towns that are on the main stem of the river Ganga (97 towns encompassing 5 States — Uttarakhand, Uttar Pradesh, Bihar, Jharkhand, West Bengal).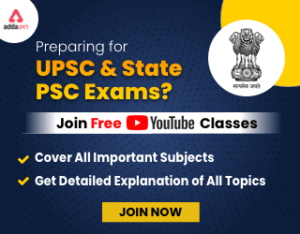 Get free video for UPSC CSE preparation and make your dream of becoming an IAS/IPS/IRS a reality
About NMCG
Origin: it is registered as a society under the Societies Registration Act 1860. It acted as the implementation arm of the National Ganga Council (which replaced the National Ganga River Basin Authority in 2016).
National Ganga Council: constituted in 2016 under the Environment (Protection) Act (EPA),1986, and headed by the Prime Minister of India.
Administrative structure:

It is part of the five-tier governance structure envisaged under the EPA act to ensure a clean river Ganga. They are-
National Ganga Council under the chairmanship of Hon'ble Prime Minister of India.
Empowered Task Force (ETF) on river Ganga under the chairmanship of Hon'ble Union Minister of Jal Shakti
National Mission for Clean Ganga (NMCG).
State Ganga Committees and
District Ganga Committees in every specified district abutting river Ganga and its tributaries in the states.
NMCG has two wings, both of them headed by Director General, NMCG (an Additional Secretary in Government of India).
Governing Council
Executive Committee: authorized to accord approval for all projects up to Rs.1000 crore.
Similar to the structure at the national level, State Program Management Groups (SPMGs) acts as implementing arms of State Ganga Committees.

Key objectives

To ensure effective abatement of pollution and rejuvenation of the river Ganga by adopting a river basin approach to promote inter-sectoral co-ordination for comprehensive planning and management and
To maintain minimum ecological flows in the river Ganga with the aim of ensuring water quality and environmentally sustainable development.

Key function to achieve above objectives
Implement the work program of the National Ganga Council (NGC).
Implement the World Bank-supported National Ganga River Basin Project.
Coordinate and oversee the implementation of projects sanctioned by the Government of India under NGC.
Undertake any additional work or functions as may be assigned by MoWR, RD &GJ in the area of conservation of river Ganga.
Accept or to provide any grant of money, loan securities, or property of any kind and to undertake and accept the management of any endowment trust, fund or donation not inconsistent with the objectives of NMCG.
Take all such action and enter all such actions as may appear necessary or incidental for the achievements of the objectives of the NGC.

Associated concerns
Widespread pollution: many cities across the five states are present on the banks of the Ganga river, polluting it indiscriminately. For example-

Industrial pollution: from tanneries in Kanpur, distilleries, paper and sugar mills in the Kosi, Ramganga, and Kali-river catchments are major contributors.
Untreated Sewerages flow: This brings many types of degradable and non-degradable pollutions from the habitations along the river banks.

Illegal Construction: The problem of illegal and rampant construction near river beds led to encroachment of the river banks, obstructing the river flow, and has become a major hurdle in cleaning the river.
Violation of ecological- flow (e-flow) of the river: mainly due to unscientific construction of hydropower projects.

Central Water Commission (CWC) findings: 4 of the 11 hydropower projects on the upper reaches of the river Ganga's tributaries are violating Ganga's e-flow norms which are further interrupting the natural flow of the river

Poor Governance: There is less utilization of funds allotted under the programs due to lack of monitoring and super-vison.
Legislative Council: A Complete Analysis
Steps needed to ensure clean and rejuvenated Ganga river system
Building and effectively operation critical Sewerage Treatment Plants (STP): in this context, the World Bank-funded initiative to build sewerage infrastructure in 20 pollution hotspots along the river is noteworthy.

The government should prepare a proper plan and ensure effective monitoring of the running STPs to ensure proper treatment of city sewerage before it gets into the rivers.

Sensitization and awareness campaign: to make it a 'Jan Andolan' so that each and every individual is aware of the importance of clean and e-flow of the rivers in a sustainable future of humankind.

In this context, Swachha Bharat Mission (SBM) is a notable step forward.

Collaborative approach: Government should further build on the success of the SBM initiative through a collaborative approach with concerned states, civil societies, and other motivated individuals.