Relevance
GS Paper III- Conservation, environmental pollution and degradation, environmental impact assessment; Disaster and disaster management.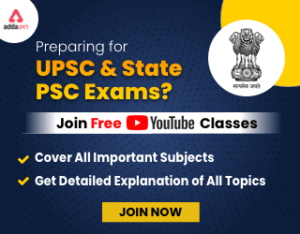 Get free video for UPSC CSE preparation and make your dream of becoming an IAS/IPS/IRS a reality
Context
Recently many people have lost their lives due to incessant rain in Mumbai, Maharashtra, reinforcing the gravity problem of urban flooding in Indian cities.
Earlier, in October 2020, a similar incident happened in Hyderabad, Telangana, resulting in the deaths of more than 50 people.
Important Prelims Articles- 19 July 2021
Urban flooding
Definition: Flood is defined as "an overflow of a large body of water over areas not usually inundated". Thus, flooding in urban areas is caused by intense and/or prolonged rainfall, which overwhelms the capacity of the drainage system.
Urban flooding is different from rural flooding, both in respect to magnitude and size of the population affected: this is because-

Urbanization increases flood risk by up to 3 times, increased peak flow result in flooding very quickly.
It affects a large number of people due to the high population density in urban areas.
Understanding the India- Afghanistan Conundrum
Natural factors causing Urban flooding
Meteorological Factors: Heavy rainfall, cyclonic storms, and thunderstorms cause water to flow quickly through paved urban areas and impound in low-lying areas.
Hydrological Factors: Overbank flow channel networks, the occurrence of high tides impeding the drainage in coastal cities are major hydrological factors responsible for urban flooding.
Changes in the rainfall pattern driven by Climate Change: The rainfall intensity, duration, and frequency are going to increase in the future, suggests the International Panel for Climate Change.

Flash floods: often caused by the incidence of cyclonic circulations and cloud bursts are increasing due to climate change. The recent flash flood in Germany is a case in point.
Anthropogenic factors responsible for Urban Flooding
Unplanned urbanization: it results in excessive and unplanned use of available resources, leading to overstressed city infrastructure, including drainage systems, reduced seepage, and encroachment by builders and contractors.
Poor waste management system: Domestic, commercial, and industrial waste and dumping of construction debris into the drains without proper collection and treatment, contribute significantly to reducing capacities of the drainage system.

Improper waste management system, clogging of storm-water drains because of silting, accumulation of non-biodegradable wastes, and construction debris are major concerns.

Indiscriminate encroachment of waterways and wetlands: Growing habitations into towns and cities alongside rivers and watercourses, led to their encroachment, causing urban flooding during high rainfall scenarios.

Unauthorized colonies and excess construction: result in reduced infiltration and decreased ground absorption and increases the speed and amount of surface flow, causing urban floods.

Issues with city drainage infrastructure: there is an issue with the city drainage system at both capacity and management levels.

There is a lack of adequate drainage infrastructure in the cities, leading to urban flooding during high-intensity rainfall.
Lack of maintenance of existing drainage infrastructure: for example, de-clogging the storm-water drains before monsoon season results in the malfunctioning of the drainage system, leading to urban flooding.

Neglect of pre-disaster planning: in India, the focus is mainly on post-disaster relief efforts rather than pre-planning to counter urban floods.
Lack of community participation: Indian cities lack participation from people, right from planning to implantation stages. This is mainly due to apathy on the part of government officials, members of municipal bodies, and a lack of awareness among the people of the city.
Reducing Seepage: Indian cities are becoming increasingly impervious to water, not just because of increasing built-up but also because of the nature of materials used.
Suggestive measure: mitigation of urban floods
Better forecasting of rainfall: by the concerned organization. This must be followed by real-time dissemination of flood warnings to concerned authorities and people in general.
Effective pre-disaster planning: for each city on a local level by involving all the stakeholders, including inhabitants of the city.

Concerned authorities should highlight flooding-prone areas in the cities and avoid building any emergency infrastructure in that area. People in that locality should also be informed and trained to effectively deal with such situations.
Each city should have its Flood mitigation plans strongly embedded within the master plan of the city.

Drainage infrastructure: adequate drainage infrastructure must be created and existing ones should be well-maintained.

The role of local bodies in this respect becomes very important.

Develop 'sponge' cities in line with cities in China: it envisages replacing concrete pavements with porous pavements to insure better infiltration of surface water. It further aims to restore wetlands, develop rain gardens and rooftop gardens for better absorption of rainwater.
Effective implementation of National Disaster Management Authority (NDMA) Guidelines on Urban Flood Management.
Better waste management system: by ensuring adequate collection and treatment infrastructure in each city. This will solve the issue of clogging the drainage system.
Important Prelims Articles- 17th July 2021