"UPSC Prelims Bits For Today" is every day published in the morning between 11:00 AM to 12:00 Noon and contains selective current affairs articles. "UPSC Prelims Bits For Today" covers various topics from UPSC Prelims Syllabus and is very helpful and time managing for UPSC Aspirants. The framing of this daily current affairs compilation article is easy to read and understandable also.
In the "UPSC Prelims Bits For Today" article, we focus on UPSC Preliminary exam-oriented current affairs covering various sections from leading National Newspapers, PIB, and other various official sources.
Mahakavi Bharatiyar
Why in news?
While inaugurating Kartavya Path, PM Modi proudly quoted verses from a patriotic poem(pArukkuLLE nalla nADu engaL bhArata nADu) of Tamil poet, freedom fighter and journalist Subramania Bharathi, popularly known as Bharathiar.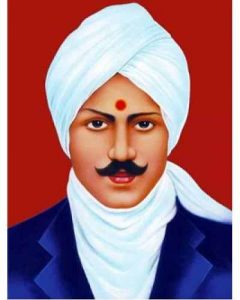 Know about Mahakavi Bharatiyar/Subramaniya Bharathiyar
Subramaniya Bharathi was a poet, freedom fighter and social reformer from Tamil Nadu.
He is known as Mahakavi Bharathiyar and the laudatory epithet Mahakavi means a great poet.
His songs on nationalism and freedom of India helped to rally the masses to support the Indian Independence Movement in Tamil Nadu.
Subramaniya Bharathiyar was born on 11th December 1882 and died on 11th September 1921.
Most part of his compositions are classifiable as short lyrical outpourings on patriotic, devotional and mystic themes.
Bharathi was essentially a lyrical poet. "Kannan Pattu" "Nilavum Vanminum Katrum" "Panchali Sabatam" "Kuyil Pattu" are examples of Bharathi's great poetic output.
Section 66A
Why in news?
The Supreme Court recently expressed "serious concern" over states continuing to register FIRs for offences under Section 66A of the Information Technology Act despite the court holding it unconstitutional in 2015.
When & why was Section 66A declared Unconstitutional?
On March 24, 2015, in the case Shreya Singhal v. Union of India, the Supreme Court struck down Section 66A of the Information Technology Act, 2000 in its entirety, and ruled that it was violative of Article 19(1)(a).
The court ruled that "it is clear that Section 66A arbitrarily, excessively and disproportionately invades the right of free speech and upsets the balance between such right and the reasonable restrictions that may be imposed on such right".
Queen Elizabeth II
Why in news?
Queen Elizabeth II, the UK's longest-serving monarch, has passed away after reigning for 70 years.
Key Facts
The Queen was born Elizabeth Alexandra Mary Windsor, in Mayfair, London, on 21 April 1926. Prince Philip, Duke of Edinburgh, was the husband of Queen Elizabeth II and served as the consort of the British monarch from her accession as queen on 6 February 1952 until his death in 2021.
The Queen came to the throne in 1952 and witnessed enormous social change.
Queen Elizabeth II's tenure as head of state spanned post-war austerity, the transition from empire to Commonwealth, the end of the Cold War and the UK's entry into – and withdrawal from – the European Union.
Her reign spanned 15 Prime Ministers starting with Winston Churchill and including Ms Truss. She held weekly audiences with her Prime Minister throughout her reign.
Pradhan Mantri TB Mukt Bharat Abhiyaan
Why in news?
President Droupadi Murmu to launch Pradhan Mantri TB Mukt Bharat Abhiyaan today to reinvigorate the mission of TB elimination.
Key Facts
The Pradhan Mantri TB Mukt Bharat Abhiyaan has been envisioned to bring together all community stakeholders to support those on TB treatment and accelerate the country's progress towards TB elimination.
Hon'ble President will also launch the Ni-kshay Mitra initiative which forms a vital component of the Abhiyaan.
The Ni-kshay Mitra portal provides a platform for donors to provide various forms of support to those undergoing TB treatment.
The three pronged support includes nutritional, additional diagnostic, and vocational support.
The donors, called Ni-kshay Mitras, could be a wide range of stakeholders from elected representatives, political parties, to corporates, NGOs, and individuals.
The launch event aims to highlight the need for a societal approach that brings together people from all backgrounds into a Jan Andolan to achieve the ambitious target of eliminating TB from the country by 2025.
Pradhan Mantri TB Mukt Bharat Abhiyaan is a step towards garnering community support towards a patient-centric health system.