Prime Minister's National Relief Fund (PMNRF)
Prime Minister's National Relief Fund (PMNRF) in News
The Prime Minister, Shri Narendra Modi has announced an ex-gratia from the Prime Minister's National Relief Fund (PMNRF) for the victims of the mishap in Morbi.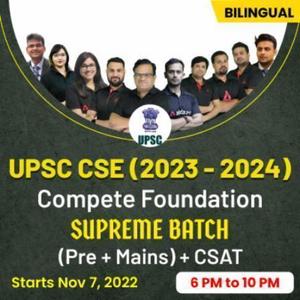 Background of PM's National Relief Fund (PMNRF)
Prime Minister's National Relief Fund (PMNRF) was established with public contributions to assist displaced persons from Pakistan.
PMNRF was established in pursuance of an appeal by the then Prime Minister, Pt. Jawaharlal Nehru in January, 1948.
Beneficiaries of PM's National Relief Fund (PMNRF)
The resources of the PMNRF are now utilized primarily to render immediate relief to families of those killed in natural calamities like floods, cyclones and earthquakes, etc. and to the victims of the major accidents and riots.
Assistance from PMNRF is also rendered, to partially defray the expenses for medical treatment like heart surgeries, kidney transplantation, cancer treatment and acid attack etc.
Key Features of PM's National Relief Fund (PMNRF)
Contributions: The fund consists entirely of public contributions and does not get any budgetary support.

The corpus of the fund is invested in various forms with scheduled commercial banks and other agencies.

Disbursement to Beneficiaries: Disbursements are made with the approval of the Prime Minister. PMNRF has not been constituted by the Parliament.

Prime Minister is the Chairman of PMNRF and is assisted by Officers/ Staff on honorary basis.

Legal Provisions: The fund is recognized as a Trust under the Income Tax Act and the same is managed by Prime Minister or multiple delegates for national causes.

PMNRF operates from the Prime Minister's Office, South Block, New Delhi-110011 and does not pays any license fee.
PMNRF is exempt under Income Tax Act, 1961 under Section 10 and 139 for return purposes.
Contributions towards PMNRF are notified for 100% deduction from taxable income under section 80(G) of the Income Tax Act, 1961.
C-295 Transport Aircraft Manufacturing Facility – Country's First in Private Sector
C-295 Transport Aircraft Manufacturing Facility in News
Recently, Prime Minister Shri Narendra Modi laid the foundation stone of C-295 transport aircraft manufacturing facility – the country's first in the private sector – in Vadodara, Gujarat.
C-295 Transport Aircraft Manufacturing Facility
The facility will manufacture C-295 aircraft for the Indian Air Force (IAF) through collaboration between Tata Advanced Systems Limited and Airbus Defence and Space S.A., Spain.
This is the first project of its kind in which a military aircraft will be manufactured in India by a private company.
The total cost of the C-295 aircraft manufacturing facility project is Rs 21,935 crore. The aircraft can be used for civilian purposes as well.
Timeline for C-295 Transport Aircraft Delivery
Sixteen (16) aircraft will be delivered in flyaway condition. They are scheduled to be received between September 2023 and August 2025.
Remaining forty (40) will be manufactured at the Vadodara manufacturing facility. The first Made in India aircraft is expected from September 2026.
What is C-295 Transport Aircraft?
The C-295 is a transport aircraft of 5-10 tonne capacity with contemporary technology that will replace the ageing Avro aircraft of IAF.
Robust and reliable, it is a versatile and efficient tactical transport aircraft which can perform a number of different missions.
The aircraft, with a flight endurance of up to 11 hours, can carry out multi-role operations under all weather conditions.
It can routinely operate day as well as night combat missions from desert to maritime environments.
It has a rear ramp door for quick reaction and para dropping of troops and cargo. Short take-off/land from semi-prepared surfaces is another of its features.
Rashtriya Ekta Diwas
Rashtriya Ekta Diwas in News
Union Education and Skill Development & Entrepreneurship Minister Shri Dharmendra Pradhan will lead the Unity Run on the occasion of Rashtriya Ekta Diwas from Delhi University.
Vice Chancellor, Delhi University Prof Yogesh Singh, along with Registrar, Principals, teachers, senior officials, administrative staff and students of CBSE Schools, Kendriya Vidyalaya and the University will also participate in the Unity Run.
Rashtriya Ekta Diwas
Government of India will observe the Rashtriya Ekta Diwas / National Unity Day on the 31st October 2022 in commemoration of the 147th birth anniversary of Sardar Vallabhbhai Patel – the Iron Man of India.
The celebration will also witness Rashtriya Ekta Diwas Pledge taking ceremony near Gandhi Statue adjacent Vice Regal Lodge and an address by the  Union Education Minister.
Special Exhibits on the life of Sardar Vallabhhai Patel will be displayed at Jawahar Park, Vice Regal Lodge to commemorate one of the most revered sons of the soil and learn from his life.
Diwali with a Difference – Massive Campaign for Swachhata led by School Children
Diwali with a Difference in News
Over 75 lakh students from nearly 45,000 schools from across India took part in the in what may be termed a massive awareness campaign on segregating wet and dry waste at source.
Diwali with a Difference Campaign 
The usual noise of crackers heard around Diwali was replaced by 'Humein Garv Hai'song and chants of Hara Geela Sookha Neela on roads and in community lanes as mobile vans and carts with two bins went door-to door collecting segregated waste.
Diwali with a Difference campaign is being organized by the Ministry of Housing and Urban Affairs (MoHUA) towards achieving the goal of garbage-free cities.
In addition, citizens, community groups, and organizations participated enthusiastically in this campaign led by their city's urban local bodies, the municipal corporations.
The campaign titled "Swachhata ke Do Rang" (two colours of cleanliness), with "Hara Geela Sookha Neela"(green bin for wet waste and blue bin for dry waste) as the campaign's call to action, stressed on minimum two-bin segregation at source.
UPSC Prelims Bits: October 29, 2022