"UPSC News Diary Today" is every day published in the evening between 6-7 PM and contains all current affairs articles from the day on a single platform. "UPSC News Diary Today" covers various topics from UPSC Syllabus and is very helpful and time managing for UPSC Aspirants. The framing of this daily current affairs compilation article is easy to read and understandable also.
In the "UPSC News Diary Today" article, we focus on both UPSC Preliminary and Mains exam-oriented current affairs & prepare a gist of daily important news articles from leading National Newspapers, PIB, and other various official sources.
Indian Nutrition Rating
Why in news?
The Food Safety and Standards Authority of India has issued a draft notification on front-of-package labelling, which proposes "Indian Nutrition Rating" (INR) modelled on the health star-rating system.
What is in the draft?
The draft of the amended Food Safety and Standards (Labelling & Display) Regulations, 2020 requires packaged food to display the prescribed format of INR by assigning a rating from 1/2 star (least healthy) to five stars (healthiest).
The INR is to be calculated on the basis of contribution of energy, saturated fat, total sugar, sodium and the positive nutrients per 100 gm of solid food or 100 ml of liquid food.
The star assigned to a product "shall be displayed close in proximity to the name or brand name of the product on front of pack.
Certain food products such as milk and milk-based products, egg-based desserts, infant formula, salads and sandwich spreads and alcoholic beverages have been exempted.
New National Logistics Policy
Why in news?
Prime Minister Narendra Modi announced the National Logistics Policy on Saturday.
Why logistics is important?
Crucial to trade
Logistics broadly includes facilities crucial to trade. It accounts for 13 to 14% of India's GDP, almost double of what the costs are in developed countries.
To reduce logistical cost
The logistical cost in India is about 13% of GDP. Such a situation does not exist in developed countries. Due to high logistical cost, the competitiveness of India's exports is greatly reduced.
4 Features of the new National Logistics Policy?
The new logistics policy has four features: Integration of Digital System (IDS); Unified Logistics Interface Platform (ULIP); Ease of Logistics (ELOG); and System Improvement Group (SIG).
Under the IDS, 30 different systems of seven departments are integrated – including data from the road transport, railways, customs, aviation and commerce departments.
A Unified Logistics Interface Platform ULIP will "bring all the digital services related to the transportation sector into a single portal.
Similarly, a new digital platform Ease of Logistics Services (E-Logs) has also been started for industry associations to resolve issues by reaching out to the government.
Popular Front of India
Why in news?
As many as 100 people linked to the Popular Front of India have been arrested following searches by the National Investigation Agency in connection with anti-terror activities.
What is the Popular Front of India?
The PFI was created in 2007 through the merger of three Muslim organisations in southern India, the National Democratic Front in Kerala, the Karnataka Forum for Dignity, and the Manitha Neethi Pasarai in Tamil Nadu.
The PFI emerged in the aftermath of the ban on the Students Islamic Movement of India (SIMI.
It has projected itself as an organisation that fights for the rights of minorities, Dalits, and marginalised communities.
In 2009, a political outfit named Social Democratic Party of India (SDPI) evolved out of the PFI, with the aim of taking up the political issues of Muslims, Dalits, and other marginalised communities.
The PFI does not maintain records of its members, and it has been difficult for law enforcement agencies to pin crimes on the organisation after making arrests.
International Conference on Consciousness
International Conference on Consciousness- Relevance for UPSC Exam
GS Paper 2: International Relations- Bilateral, regional and global groupings and agreements involving India and/or affecting India's interests.

International Conference on Consciousness in News
Recently, the Union Minister of Ayush Shri Sarbananda Sonowal inaugurated the International Conference on Consciousness at NIMHANS, Bengaluru.
He also inaugurated the Centre of Excellence (CoE) project in the Department of Integrative Medicine, NIMHANS, Bengaluru.

CoE project was inaugurated as part of "AYURSWASTHYA YOJANA", a flagship programme under Ministry of Ayush.
International Conference on Consciousness
About: Conference on Consciousness will bring together-

Some of the most eminent researchers and inventors in the areas of physics, biology, neuroscience, artificial intelligence, cybernetics, quantum computing and allied fields as well as
Scholars and spiritual teachers of the major Indic Spiritual and psychological disciplines and doctrines.

Organizing Body: International Conference on Consciousness is being organized by India Foundation and NIMHANS and supported by Ministry of Ayush.
Theme: Conference on Consciousness 2022 theme is "Exploring Consciousness- From Non- Locality to Non- Duality: The Man- Machine Debate".
Centre of Excellence (CoE) project at NIMHANS
About: The Centre of Excellence (CoE) project was launched with an aim to strengthen competencies of Ayush professionals in Education technology, Research & innovation and others.
Main objectives: CoE project at NIMHANS mains objective is to-

Conduct clinical trials in four neuro-psychiatric disorders to establish efficacy, safety and proposed mechanism of Integrated Yoga and Ayurveda treatment approaches.
Understand the Integrative neurobiology of Neuropsychiatric Disorders ("Doshic-Brain"),
Create a unified digital database and
Train and develop clinician-scientists who have niche skills-sets in examining brain-health from both traditional and modern scientific approaches.
National Institute of Mental Health & Neuro Sciences (NIMHANS)- Key Points
About NIMHANS: The National Institute of Mental Health and Neuro Sciences (NIMHANS) is a multidisciplinary institute for patient care and academic pursuit in the field of mental health and neurosciences.

Headquarter: National Institute of Mental Health & Neuro Sciences is a premier medical institution located in Bengaluru, India.
NIMHANS is the apex centre for mental health and neuroscience education in the country.

Parent ministry: NIMHANS Institute operates autonomously under the Ministry of Health and Family Welfare.
An Institute of National Importance: NIMHANS, Bangalore Act 2012 declares NIMHANS to be an Institute of National Importance and provides for its incorporation and matters connected therewith.

Earlier, the Central Government recognized NIMHANS's eminent academic position, growth and contributions, and declared it a 'Deemed University in 1994.
National Ayush Mission (NAM) | National Ayush Mission Scheme
Rules Governing Criminal Procedure (Identification) Act, 2022 Notified
Criminal Procedure (Identification) Act- Relevance for UPSC Exam
GS Paper 2: Governance, Administration and Challenges

Government policies and interventions for development in various sectors and issues arising out of their design and implementation.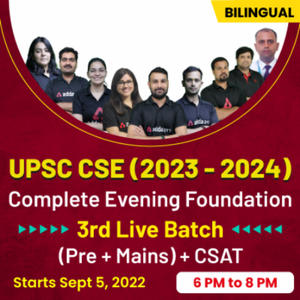 Criminal Procedure (Identification) Act, 2022 in News
The Ministry of Home Affairs (MHA) notified the rules governing The Criminal Procedure (Identification) Act, 2022.
Criminal Procedure (Identification) Act, 2022
Background: Criminal Procedure (Identification) Act, 2022 was passed in March 2022 by the Parliament.
About: Criminal Procedure (Identification) Act seeks to repeal the Identification of Prisoners Act, 1920, which is over 100-years-old.
Need: The old Act's scope was limited to capturing of finger impression, foot-print impressions and photographs of convicted prisoners and certain category of arrested and non-convicted persons on the orders of a Magistrate.

The Statement of Objects and Reasons of the bill said that new ''measurement'' techniques being used in advanced countries are giving credible and reliable results and are recognised world over.
It said that the 1920 Act does not provide for taking these body measurements as many of the techniques and technologies had not been developed then.
Key Features of Criminal Procedure (Identification) Act, 2022
Eligible Authority: The Act empowers a Magistrate to direct any person to give measurements, which till now was reserved for convicts and those involved in heinous crimes.

It also enables the police upto the rank of a Head Constable to take measurements of any person who resists or refuses to give measurements.

Data Repository: The National Crime Records Bureau (NCRB) under MHA will be the one-stop agency for storing and preserving the data of arrested persons.

The State governments can also store the data, but it shall provide compatible application programming interfaces for sharing the measurements or record of measurements with the NCRB.

Deletion of Records: The procedure for destruction and disposal of records are yet to be specified by the NCRB.
Rules Governing Criminal Procedure (Identification) Act, 2022
Definition of Measurement: As per the Criminal Procedure (Identification) rules 2022, "measurements" include-

Finger-impressions, palm-print, footprint, photographs, iris and retina scan, physical, biological samples and
Their analysis, behavioural attributes including signatures, handwriting or any other examination referred to in Section 53 or Section 53A of the Code of Criminal Procedure, 1973 (2 of 1974).

DNA Profiling: Though it has not been specified, analysis of biological samples could also include DNA profiling.
Preventive Detention: The notified rules state that samples of those detained under preventive Sections of the CrPC shall not be taken unless such person is charged or arrested in connection with any other offence punishable under any other law.

Above will be applicable on Preventive Sections such as 107, 108, 109, 110, 144, 145 and 151 of the CrPC.

Data Collection: The rules state that the NCRB will issue Stand SOP for collection of measurements which would include specifications of the equipment or devices to be used, specifications and the digital and physical format of the measurements etc.

In case any measurement is collected in physical form or in a non-standard digital format, it shall be converted into standard digital format and thereafter uploaded in the database as per the SOP.
Only authorised users could upload the measurements in the central database in an encrypted format.

Destruction of Records: The rules state that any request for destruction of records shall be made to the Nodal Officer who is to be nominated by the respective State Government.

The nodal officer will recommend the destruction after verifying that such record of measurements is not linked with any other criminal cases.
Criminal Procedure Identification Bill 2022
Tribal Art and Culture
Introduction
Tribal art generally reflects the creative energy found in rural areas that acts as an undercurrent to the craftsmanship of the tribal people.
Every tribe maintains its very own culture, dialect, and economic activities within its own ecological habitat.
Tribal art ranges through a wide range of art forms, such as wall paintings, tribal dances, tribal music, and so on.
Are Tribals Aliens?
The history of India's Adivasis dates back to the pre-Aryan era. For ages they reigned over the Subcontinent's hilly terrains.
But over the centuries those with access to the written word (apart from other things) gained prominence over those whose traditions were rooted in the oral culture.
During the colonial period, Adivasis were given the new designation of tribal, and in post independent India, they are known as the scheduled tribes.
Evolution of Tribal Culture
The evidence of the earliest tribal culture comes from India's Upper Palaeolithic period.
Twelve years before the discovery of Altamira in Spain – the location of the oldest rock paintings in the world – the first known discovery of rock paintings was made in India in 1867-1868.
Bhimbetka, Jogimara in MadhyaPradesh, Lakhudiyar in Uttarakhand, Tekkalakota in Karnataka and Kupgallu in Telangana, among other places are examples of early rock painting sites.
Characteristics of Early Paintings
Paintings are linear representations, in green and dark red, of huge animal figures, such as multi-legged lizard and foxes beside stick-like human figures.
Mostly they are filled with geometric patterns.
The subjects of paintings evolved with time and creatures like bulls, elephants, sambars, sheeps,horses, styled humans started to appear.
The Mesolithic period has the greatest concentration of Paintings, the majority of which features hunting scenes. A common theme is presented by community dances.
The Indus Valley Civilisation which coincided with the copper and bronze age placed great emphasis on art and culture.
Examples of Tribals Paintings
Bhils
India has numerous tribal painting styles each with its own sets of colours and themes.
Bhils, largest tribal group in India places high value on art. Their paintings, rich textures,steeped in rituals, symbolism and traditions, connect them to nature.
Bhil Paintings are characterised by large, un-life-like shapes of everyday characters that are filled in with earthy, yet bold colours before being covered with an overlay of uniform dots in a diverse array of colours and patterns that stand out against the background.
The Udaipur Bhils decorate the walls of their houses and temples with images of the gods, flowers, animals and birds. They call these wall paintings mandno. Bhil mandno are stylized line drawings.
Warli Painting
Warli painting is a traditional Maharashtra art form that traces its origins back to the 10th century A.D.
Saura
The 'Saura' is a tribe from the jungles of Odisha, Jharkhand, Madhya Pradesh, Andhra Pradesh, and Maharashtra.
Nature's splendour is celebrated in Saura art.
The 'Tree of Life', which has human and animal inhabitants on its branches and symbolises the harmonious coexistence of humans and animals, is the basis for the majority of paintings.
Idital, the primary deity of the Sauras, is honoured by the wall paintings created by the Saura people, known as 'talons or Ikons. The ritualistic significance of these paintings is derived from their use of tribal folklore.
Digna
The Gond paint the inner and outer walls of their house with Digna which is the traditional geometric pattern, while bhittichitra is a composition of likenesses of animals, leaves and flowers.
Vegetable and mineral dyes are used for colour –flowers, leaves, clay, stones, rice, turmeric. Brush are handmade made from a neem or babul twig and a rag.
Tribal Crafts
Indian tribal crafts are typically ritualistic, drawing a clear distinction between the artist and the art lover.
Each group has its own festivals, myths, taboos, rituals, music, dance and music which have a profound influence on the group's art and crafts.
Dhokra
The eastern Indian states of West Bengal, Odisha, Jharkhand, and Chhattisgarh are home to the ancient folk-art tradition known as 'Dhokra'.
Dhokra craft objects are made using lost wax-casting technique.
Each tribal region creates something distinct in design and form that carries the impression of its own mystic ideology, the life and attributes, as well as belief and reflections of its people.
Tribal Dance Forms
Kalbelia
The Kalbelia dance is performed as a celebration and an integral part of Kalbelia culture.
Their dances and songs are a matter of pride and a marker of identity for the Kalbelias, as they represent the creative adaptation of this community of snake charmers to changing socio-economic conditions and their own role in rural Rajasthani society.
Kalbelia songs are based on stories taken from folklore and mythology and special dances are performed during Holi.
In 2010, the Kalbelia folk songs and dances of Rajasthan were declared a part of its Intangible Heritage List by UNESCO.
Dumhal Dance
It is performed in Jammu and Kashmir by the Watal tribe.
Only the female folk of the wattal are privileged to perform this dance, on specific occasions and at set locations.
The dancers sing in the chorus. Drums are used to assist the music.
The performers move in a ritual manner and dig a banner into the ground on set occasions.
Usually, the dance begins with men dancing around this banner.
Hojagiri Dance
Performed in the state of Tripura by the Reang people.
It is performed by women and young girls, about 4 to 6 members in a team, singing, balancing on an earthen pitcher and managing other props such as a bottle on the head and earthen lamp on the hand.
Bhavada Tribal Dance
By Kokna tribesmen from Dadra and Nagar Haveli.
Gussadi
By Raj Gonds in Telangana.
Saila, Rina and Dadariya
The Gonds express themselves through different forms of dance like the Saila, Rina and Dadariya, which are performed during festivals.
The Saila was once performed with swords. Now these have been replaced by sticks. The Dadariya is sung when the groom arrives and again when she leaves with her groom. But it is the Karma that can be performed any time of the year.
When a guest arrives, the family gathers and they all do the Karma dance together. The themes of the Karma songs are about life.
Tribal Music
Indian tribal music features lyrical chanting, traditional sounds and modern musical variations.
Learning process of tribal music is inherited through generations, given the passage of time and changing tastes, variations in the current form are to be expected.
Songs in tribal societies are mostly functional with added sanctity of a ceremonial rite.
Gudna
Another form of creative expression is the gudna or tattoo.
Images of the sun, moon, birds and various elements are traced on body parts in the belief that the wearer carries the gudna to the next world.
Internal Democracy
Internal Democracy- Relevance for UPSC Exam
GS Paper 2: Governance, Administration and Challenges

Government policies and interventions for development in various sectors and issues arising out of their design and implementation.
Internal Democracy in News
The Election Commission of India (ECI) has rejected the idea of a 'permanent president' for a party, while taking issue with the Yuvajana Shramika Rythu Congress Party (YSRCP), which rules Andhra Pradesh.
The party reportedly elected Chief Minister Y.S. Jagan Mohan Reddy as its president for life in July 2022.
ECI's View on Internal Democracy
The ECI says the idea of a 'permanent president' for a party is inherently anti-democratic.
There is merit in the ECI's view and its insistence on internal democracy, as no individual should be elected leader for life.
Any party that participates in a democratic process, and wants to govern and legislate, should include formal and periodic election of office-bearers as part of the way it functions as an association.
The ECI has periodically used guidelines issued for registration of parties under Section 29A of the Representation of the People Act, 1951 to remind parties to conduct elections and to ensure that their leadership is renewed, changed or re-elected every five years.
Main Type of Political Parties in India
Indian political parties are of myriad kinds — some, such as-
Ideologically Driven Parties: Bharatiya Janata Party or the Communist parties, are structured, cadre-based organisations that function towards an ideological goal or a principle;
Liberal Parties: the Congress, are more loosely structured collections of individuals with even different strands of opinion but functioning within an association that has core ideals;
Regional Parties: They reflect social or regional cleavages of Indian society.
Reasons for Emergence of One Man Dominated Party
Fragmentation of Indian Polity: the fragmentation of India's polity into a federalised, multi-party system has also given way to domination by "charismatic" individuals or their families.

This has happened mainly because of the nature of support that these parties enjoy or due to their financing structures which necessitates centralised control by a single coterie or a family.

Absence of Meaningful Internal Democracy: several political parties today do not insist on thoroughgoing internal elections to secure their leadership.

Even if they do conduct polls, they lack sufficient contestation and are done to reaffirm the dominance of the high command.
In some cases, with electoral politics being a zero-sum game, political parties are loath to allow internal contest, fearing that this could foster disunity, as opposed to nomination and consensus-building on leadership.

Lack of Substantive Power of ECI:  the election commission does not have any statutory power to enforce internal democracy in parties or to mandate elections.

The lack of such substantive power only leads to parties carrying out the ECI's edicts in a mechanical manner.
Conclusion
With dynasticism and a lack of internal democracy becoming a matter of public debate, perhaps public pressure would finally bear upon parties to do the right thing.