"UPSC News Diary For Today" is every day published in the evening between 6-7 PM and contains all current affairs articles from the day on a single platform. "UPSC News Diary For Today" covers various topics from UPSC Syllabus and is very helpful and time managing for UPSC Aspirants. The framing of this daily current affairs compilation article is easy to read and understandable also.
In the "UPSC News Diary For Today" article, we focus on both UPSC Preliminary and Mains exam-oriented current affairs & prepare a gist of daily important news articles from leading National Newspapers, PIB, and other various official sources.
Paris Agreement for the Ocean
Why in news?
Negotiations involving 168 countries, including the European Union, to agree on a UN treaty for protecting oceans failed.
In June, UN Secretary-General Antonio Guterres had declared an "ocean emergency" at the UN Ocean Conference in Lisbon, Portugal, citing threats to the world's oceans.
About Paris Agreement for the Ocean
Paris Agreement for the Ocean or UN High Seas Treaty is the treaty to deal with Biodiversity Beyond National Jurisdiction has been under discussion for several years.
The proposed treaty concerns the ocean existing beyond the Exclusive Economic Zones that lie from the coast of a country to about 200 nautical miles or 370 km into the sea, till where it has special rights for exploration. Waters beyond that are known as open seas or high seas.
The treaty was to be negotiated under the United Nations Convention on Laws of the Sea (UNCLOS) of 1982 which governs the rights of countries regarding marine resources. As there is no treaty for conserving the health of vast swathes of the earth's oceans, a UN resolution in 2017 had decided to rectify this while setting 2022 as the deadline.
NALSA
Why in news?
1st First Meeting of the All India District Legal Services Authority, organised by the National Legal Services Authority was inaugurated by the PM.
What is NALSA?
The National Legal Services Authority (NALSA) has been constituted under the Legal Services Authorities Act, 1987 to provide free Legal Services to the weaker sections of the society.
It also organizes Lok Adalats for amicable settlement of disputes.
It monitors and reviews various legal aid programs. It provides rules and principles for legal services under the Act.
It also distributes funding and grants to state legal services authorities and non-profit organisations to help them execute legal aid systems and initiatives.
Hon'ble Mr. Justice N. V. Ramana, The Chief Justice of India is the Patron-in-Chief. NALSA is housed at Supreme Court of India.
The Ramon Magsaysay Award
Why in news?
Former Kerala health minister K K Shailaja has declined her nomination for the 2022 Ramon Magsaysay Award, considered to be Asia's equivalent to the Nobel Prize.
Shailaja was considered for the award for her performance as state health minister from 2016 to 2021, a period which saw Kerala fight against the Nipah virus and Covid-19.
About Ramon Magsaysay Award
In 1957, the Ramon Magsaysay award was set up by trustees of the Rockefeller Brothers Fund and the Philippine government to carry forward Magsaysay's legacy of service to the people, good governance, and pragmatic idealism.
In the six decades since 1958 — the first year the Award was given out — over 300 organisations and individuals have been recognised for their developmental endeavours crucial to Asia, and, consequently, to the world.
The award is given out every year on August 31, on Magsaysay's birth anniversary.
Indian winners
Vinoba Bhave in 1958, Mother Teresa in 1962, Kamaladevi Chattopadhyay in 1966, Satyajit Ray in 1967, Mahasweta Devi in 1997.  In recent years, Arvind Kejriwal (2006), Anshu Gupta of Goonj (2015), human rights activist Bezwada Wilson (2016), and journalist Ravish Kumar (2019) have won the award.
Martand Temple
Brief History of Martand Temple
The Martand Temple was built by the Karkota dynasty king Lalitaditya Muktapida, who ruled Kashmir from 725 AD to 753 AD.
Although some historians believe that an earlier temple existed here and was incorporated into Lalitaditya's grander structure, others credit Lalitaditya entirely for it.
Lalitaditya built his capital at Parihaspora, the ruins of which also survive to this day.
Dedicated to Vishnu-Surya, the Martand Temple has three distinct chambers—the mandapa, the garbhagriha, and the antralaya—probably the only three-chambered temple in Kashmir. This points to the position it enjoyed.
The temple is built in a unique Kashmiri style, though it has definite Gandhar influences.
A major historical source for Kashmir's history remains Rajatarangini, written in the 12th century by Kalhana, and various translations of the work contain descriptions of Martand's grandeur.
Teachers Day 2022
Teachers Day 2022- Relevance for UPSC Exam
GS Paper 2: Governance, Administration and Challenges

Government policies and interventions for development in various sectors and issues arising out of their design and implementation.
Teachers Day 2022 in News
On the occasion of Teachers' Day 2022, the President of India, Smt Droupadi Murmu, conferred National Awards on 45 teachers from across the country at a function held at Vigyan Bhavan, New Delhi (September 5, 2022).
Teachers Day 2022
September 5 is annually celebrated as Teachers' Day. Teachers' Day is dedicated to teachers and the role they play in shaping their students' lives.
India annually celebrates the birth anniversary of Dr. Sarvepalli Radhakrishnan as National Teachers' Day as a tribute to his contributions and achievements.

Teachers' Day is celebrated to honour the memory of India's first Vice President and to commemorate the importance of teachers in our lives.

Once, Dr. Radhakrishnan implored, "Instead of celebrating my birthday, it would be my proud privilege if September 5 is observed as Teachers' Day."

Since then, from 1962, his birthday has been observed as 'Teacher's Day' in the country.

India traditionally has another similar day to honour teachers, called the Guru Purnima, which usually falls in July and is based on the lunar calendar.
Teachers Day 2022- Importance
Teachers' Day is celebrated as the most important day in schools and colleges.
On Teachers Day, schools usually hold special celebratory activities for teachers and students alike.
Students usually present a kind of remembrance and tribute for all the hard work their teachers put in all through the year for them, as a gesture of appreciation.
Dr Sarvepalli Radhakrishnan
Birth: Dr. Sarvepalli Radhakrishnan was born on September 5, 1888 a poor Telugu Brahmin family.
About: Dr Radhakrishnan was the first vice president and second president of independent India. He was also a scholar, philosopher, and Bharat Ratna awardee.
Education: Radhakrishnan completed his entire education through scholarships.
Literary Work: He possessed a master's degree in Philosophy and authored the book 'The Philosophy of Rabindranath Tagore' in 1917.
Key Achievements:

He also served as the Vice-Chancellor of Andhra University from 1931 to 1936 and the Vice-Chancellor of Banaras Hindu University (BHU) in 1939, succeeding Madan Mohan Malviya.
He went on to teach at Chennai's Presidency College and Calcutta University.
Dr Radhakrishnan was awarded the Bharat Ratna — the highest civilian award in India in 1954.
Dr Radhakrishnan was also admitted as an honorary member of the British Royal Order of Merit in 1963.
National Awards to Teachers 2022
About: The National Awards to Teachers 2022 seek to celebrate the unique and major contributions of the teachers in the nation-building of India.

The National Awards to Teachers accords public recognition to meritorious teachers working in elementary and secondary schools.

Objective: The purpose of National Awards to Teachers is to celebrate and honour the unique contribution of some of the finest teachers in the country who through their commitment and hard work have not only improved the quality of school education but also enriched the lives of their students.
Associated Ministry: Department of School Education and Literacy, Ministry of Education, annually on Teachers Day, organizes the national level function to confer the National Awards to Teachers to the best teachers in the country.
National Awards to Teachers 2022 Winners
On the occasion of Teachers' Day 2022, President of India Draupadi Murmu conferred the National Awards to Teachers 2022 to 45 teachers at Vigyan Bhawan in New Delhi.
Among the 45 teachers who have been selected for the National Awards to Teachers, two teachers, one from Andaman and Nicobar Islands and another one from Uttarakhand will be awarded under the Special Category for differently-abled teachers.
Internationalisation of Higher Education
Single-use Plastics Ban
Single-use Plastics Ban- Relevance for UPSC Exam
GS Paper 3: Environment- Conservation, environmental pollution and degradation.

Single-use Plastics in News
The Plastic Waste Management Amendment Rules, 2021, prohibited the manufacture, import, stocking, distribution, sale, and use of plastic carry bags whose thickness is less than 75 microns.
What is Single-use Plastic?
About: Single-use Plastic refers to plastic items that are used once and discarded. Single-use plastic has among the highest shares of plastic manufactured.

A 2021 report by the Minderoo Foundation said single-use plastics account for a third of all plastic produced globally, with 98% manufactured from fossil fuels.

Application: Single-use Plastics are used from packaging of items, to bottles (shampoo, detergents, cosmetics), polythene bags, face masks, coffee cups, cling film, trash bags, food packaging etc.
Harmful Effects of Single-use Plastics
Environmental Impact: Plastic waste has drastic impacts on the environment and human health.

Littered single-use plastic items have an adverse effect on both terrestrial and aquatic ecosystems.
There is a greater likelihood of single-use plastic products ending up in the sea than reusable ones, badly affecting the ocean ecosystem.

Green House Gas (GHC): On the current trajectory of production, it has been projected that single-use plastic could account for 5-10% of greenhouse gas emissions by 2050.
Indian Initiative at UN Environment Assembly
India piloted a resolution on single-use plastics pollution at the 4th United Nations Environment Assembly in 2019, recognising the urgent need for the global community to address this issue.

This resolution was adopted at the UN Environment Assembly as an important step forward.

In the recently concluded 5th session of the United Nations Environment Assembly in March 2022, India engaged constructively with all member states to develop a consensus on a resolution to drive global action against plastic pollution.
Single-use Plastic Ban by Other Countries
India is not the first country to ban single-use plastics. As of July 2019, 68 countries have plastic bag bans with varying degrees of enforcement.
Examples:

Bangladesh became the first country to ban thin plastic bags in 2002; New Zealand banned plastic bags in July 2019.
China had issued a ban on plastic bags in 2020 with a phased implementation.
Plastic Waste Management Amendment rules 2021- Key Features
Prohibition on manufacture, import, stocking, distribution, sale, and use of following single-use plastic:

Earbuds with plastic sticks, plastic sticks for balloons, plastic flags, candy sticks, ice-cream sticks, polystyrene [Thermocol] for decoration;
Plates, cups, glasses, cutlery such as forks, spoons, knives, straw, trays, wrapping or packing films around sweet boxes, invitation cards, and cigarette packets, plastic or PVC banners less than 100 micron, stirrers.

Increasing the thickness of lightweight plastic carry bags: to 75 microns by September 2021 and 120 microns with effect from the 31st December 2022.

This will also allow the reuse of plastic carry due to increased thickness.

Extended Producer Responsibility of the Producer, importer, and Brand owner (PIBO): They will be responsible for collecting and managing plastic packaging waste in an environmentally sustainable way.

The 2021 rules give legal force to guidelines for Extended Producer Responsibility (EPR) for ensuring its Effective Implementation.
Way Forward
Awareness Generation: The consumer needs to be informed about the ban through advertisements, newspaper or TV commercials, or on social media.
Investment in R&D: In order to find sustainable alternatives, companies need to invest in research and development.
Collaborative Approach: The solution to the plastic pollution problem is not the responsibility of the government alone, but of industries, brands, manufacturers and most importantly consumers.
Development and Promotion of Greener Alternatives: Finding alternatives to plastic seems a little difficult, however, greener alternatives to plastic may be considered a sustainable option.

For example, compostable and bio-degradable plastic, etc., may be considered as an option.
Conclusion
While the total ban on the use of plastic sounds a great idea, its feasibility seems difficult at this hour, especially in the absence of workable alternatives.
Plastic Waste Management Amendment Rules, 2021
LEADS Survey 2022
LEADS Survey 2022- Relevance for UPSC Exam
GS Paper 2: Governance, Administration and Challenges

Government policies and interventions for development in various sectors and issues arising out of their design and implementation.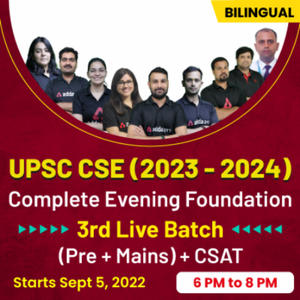 LEADS Survey 2022 in News
Recently, the Logistics Division of DPIIT, Ministry of Commerce & Industry completed the Survey for LEADS 2022 (Logistics Ease Across Different States).
LEADS Survey 2022
Background: The first Logistics Ease Across Different States (LEAD) report was released in 2018.

LEADS 2020 ranking was not released due to the COVID-19 pandemic.

About: "Logistics Ease Across Different States (LEADS)" survey is an annual exercise taken in all States/ UTs to assess and suggest various improvements in logistics sector of the country.

In the annual LEADS Report for 2021, Gujarat, Haryana and Punjab held top three ranks among States respectively.
On the other hand, Jammu Kashmir, Sikkim and Meghalaya were top three in North-eastern States and Himalayan UTs respectively.

Mandate: LEADS Survey aims to develop a robust and cost-efficient logistics ecosystem in Indian States/UTs.
Parent Ministry: LEADS Survey is conducted by the logistics division of Department for Promotion of Industry and Internal Trade (DPIIT), Ministry of Commerce and Industry.
LEADS Survey 2022: The LEADS 2022 exercise is scheduled to be completed by the end of September 2022, which shall be followed by release of LEADS 2022 Report in October 2022.
Parameters Used: LEADS Survey is based on the following eight parameters-

Infrastructure,
Services,
Timeliness,
Track and trace,
Competitiveness of pricing,
Safety of cargo,
Operating environment and
Regulatory process.
LEADS Survey Assessment and Ranking Process
The LEADS survey assesses viewpoints of various users and stakeholders across value chain to understand the 'enabler' and 'impediments' to logistics ecosystem in the country.

Various Stakeholders across logistics value chain are Shippers, Terminal Infrastructure Service Providers, Logistics Service Providers, Transporters and Government agencies.

The annual LEADS survey, processes the data received from stakeholders (perception data) and States/ UTs (objective data) and ranks logistics ecosystem of each State/ UT using a statistical model.
Significance of LEADS Survey 2022
The LEADS 2022 survey, along with PM GatiShakti's transformative approach, is to break the silos and improve the logistics efficiency of the country.

The LEADS 2022 survey further propels the transformative approach by of PM-Gati Shakti.

This will also reflect positively on international indices, such as Logistics Performance Index (LPI) conducted biennially by the World Bank.
LEADS Survey identifies issues and bottlenecks which need immediate action and can help synergize supply chain.
INS Vikrant
INS Vikrant- Relevance for UPSC Exam
GS Paper 2: Governance, Administration and Challenges

Government policies and interventions for development in various sectors and issues arising out of their design and implementation.
INS Vikrant in News
Recently, the Prime Minister Shri Narendra Modi commissions India's first indigenous aircraft carrier INS Vikrant at Cochin Shipyard Limited (CSL) in Kochi.
INS Vikrant
About: INS Vikrant is India's first indigenous aircraft carrier. INS Vikrant has been built with state of the art automation features and is the largest ship ever built in maritime history of India.
Manufacturing: INS Vikrant is designed by Indian Navy's in-house Warship Design Bureau (WDB) and built by Cochin Shipyard Limited, a Public Sector Shipyard under the Ministry of Ports, Shipping & Waterways.
Key Features: The 262.5 m long and 61.6 m wide Vikrant displaces approx 43,000 T, having a maximum designed speed of 28 Knots with endurance of 7,500 Nautical Miles.

The INS Vikrant ship has around 2,200 compartments, designed for a crew of around 1,600 including women officers and sailors.
The Vikrant carrier is designed with a very high degree of automation for machinery operations, ship navigation and survivability.
The INS Vikrant carrier is equipped with the latest state of the art equipment and systems.

Capabilities: The ship is capable of operating air wing consisting of 30 aircraft comprising of MiG-29K fighter jets, Kamov-31, MH-60R multi-role helicopters, in addition to indigenously manufactured Advanced Light Helicopters (ALH) and Light Combat Aircraft (LCA) (Navy).

Using a novel aircraft-operation mode known as Short Take Off But Arrested Recovery (STOBAR), INS Vikrant is equipped with a ski-jump for launching aircraft, and a set of 'arrester wires' for their recovery onboard.
Significance of INS Vikrant
Major Step to AtmaNirbharta: INS Vikrant showcased the 'Aatmanirbhar' credentials during 'Azadi ka Amrit Mahotsav'.

INS Vikrant is also a real testimony to the Nation's resolve for self-reliance and 'Make in India'.

Strengthening Maritime Security Capabilities in the IOR: a true testament to the country's zeal and fervour in pursuing capability build up towards enhanced maritime security in the Indian Ocean Region (IOR).
Global Recognition: With the commissioning of INS Vikrant, India has entered into a select band of Nations having niche capability to indigenously design and build an Aircraft Carrier.
Employment Generation: With 76% indigenous content, construction of INS Vikrant has resulted in direct employment generation for over 2,000 employees of CSL.

In addition, it has resulted in indirect employment generation for approx 12,500 employees for over 550 OEMs, sub-contractors, ancillary industries and over 100 MSMEs as well, thereby bolstering plough back effect on economy.