"UPSC News Diary For Today" is every day published in the evening between 6-7 PM and contains all current affairs articles from the day on a single platform. "UPSC News Diary For Today" covers various topics from UPSC Syllabus and is very helpful and time managing for UPSC Aspirants. The framing of this daily current affairs compilation article is easy to read and understandable also.
In the "UPSC News Diary For Today" article, we focus on both UPSC Preliminary and Mains exam-oriented current affairs & prepare a gist of daily important news articles from leading National Newspapers, PIB, and other various official sources.
West Seti Hydroelectric Project
In News
Nepal has decided to hold talks with India for the development of the West Seti Hydropower Project, which has remained in hibernation for six decades over investment concerns.
Key Points
The proposed 750-megawatt West Seti Hydropower Project, which is to be built on the Seti river in far-western Nepal, has remained on the drawing board for the last six decades.
In November 2017, Nepal signed the final agreement with China to develop the 750-megawatt West Seti Project.
In 2018, China pulled out of the project saying it was financially unfeasible because of the steep resettlement and rehabilitation costs.
Lately, the Nepalese government has remodelled the project as West Seti and Seti River (SR-6), a joint storage project, with the capacity to generate 1,200 megawatts of electricity.
This storage or reservoir will fill up during the monsoon season (mid-June to late September) and the water will be drawn to generate power during peak hours each day in the dry season.
India's Concerns
India, early this year and earlier too, communicated to the Nepalese government and independent power producers that they must ensure there will be no Chinese components in their hydropower projects if Nepal's private sector plans to sell electricity in India's power exchange market.
PM's Awards for Outstanding Contribution towards the Development and Promotion of Yoga
In News
The Prime Minister's Award for Outstanding Contribution towards the Development and Promotion of Yoga, one of the most coveted honours in the field of Yoga, has been announced for the year 2021.
Know about the awards
The awards for the Outstanding Contribution towards the Development and Promotion of Yogawas announced by the Prime Minister of India on the occasion of the 2nd International Day of Yoga celebrations at Chandigarh on 21st June, 2016.
The Ministry of Ayush, Government of India developed the guidelines for the said awards.
A two-stage selection process through a Screening Committee (for preliminary evaluation) and Evaluation Committee, is followed in a transparent manner for finalizing the awards.
Kapilvastu Relicts
In News
In a landmark step for India-Mongolia relations, a 25-member Indian delegation led by Union Minister Kiren Rijiju recently reached Ulaanbaatar, Mongolia with the holy relics of Lord Buddha to coincide with Mongolian Budhha Purnima celebrations.
What are Kapilvastu Relicts?
These are four relics come from among 22 Buddha relicts, currently housed at Delhi's National Museum. Together, they are known as the 'Kapilvastu Relics' since they are from a site in Bihar believed to be the ancient city of Kapilvastu.
Lord Buddha was cremated as a universal king by the Mallas of Kushinagar.
The relics were divided into eight shares among the Licchavis of Vaishali, Sakyas of Kapilavastu, Ajathsatrus of Magadha, Mallas of Kushinagar, Mallas of Pava, Bullies of Allakappa, Koliyas of Ramagrama and a Brahmana of Vethadipa.
Know more about the Kapilvastu Relicts
These relics were recovered from a site in 1898 in Bihar – the ancient city of Kapilavastu.
Located at the stupa site in Piprahwa (near Siddharthnagar in Uttar Pradesh), an inscribed casket was found.
This helped in identifying the ancient city of Kapilavastu. The inscribed casket contained relics of Buddha and Sakya, his community.
Archaeological Survey of India, excavation of the stupa in 1971-77 brought to light two more steatite relic caskets containing 22 sacred bone relics. This is now under the National Museum.
Along with this, over 40 terracotta sealings were also discovered.
Mysuru Palace
In News
Prime Minister Sri Narendra Modi participated in the celebrations of the 8th International Yoga Day on the premises of the historical Mysuru Palace.
Key Details
The Palace of Mysore (also known as the Amba Vilas Palace) is a historical palace in the city of Mysore in Karnataka.
Designed by the English Architect, Henry Irwin, the Mysore Palace dominates the skyline of Mysore.
A three storied structure in the Indo-Saracenic style built between 1897-1912, the palace has beautifully designed square towers at cardinal points, covered with domes.
The Durbar Hall with its ornate ceiling and sculpted pillars and the Kalyanamantapa (marriage pavilion) with its glazed tiled flooring and stained glass, domed ceiling are worth noting.
Intricately carved doors, the golden howdah (elephant seat), paintings as well as the fabulous, jewel encrusted golden throne (displayed during Dasara) are amongst the palace's other treasures.
The walled palace complex houses the Residential Museum (incorporating some of the Palace's living quarters), temples and shrines including the Shwetha Varahaswamy temple.
The Palace has four entrances. Main entrance is called "Jaya Maarthaanda" to the east, "Jayarama" to the North, "Balarama" to the South and "Varaha" to the west.
"Prasad Scheme and Swadesh Darshan Scheme"
Introduction
Pilgrimage and Rural tourism are interlinked owing to the presence of major pilgrimage centres in close vicinity to rural areas leading to employment generation and development of peripheral infrastructure, thus, benefitting both tourists and locals alike.
The Ministry of Tourism with an objective to create tourism infrastructure in the country, provides financial assistance to the State Governments/ Union Territory Administrations/ Central Agencies under its schemes of 'Swadesh Darshan' and 'Pilgrimage Rejuvenation and Spiritual, Heritage Augmentation Drive' (PRASHAD).
Prasad Scheme
About Prasad Scheme
The Government of India launched the PRASAD scheme in the year 2014-2015 under the Ministry of Tourism. The full form of the PRASAD scheme is 'Pilgrimage Rejuvenation And Spiritual Augmentation Drive'.
What it aims for?
This scheme focuses on developing and identifying pilgrimage sites across India for enriching the religious tourism experience.
It aims to integrate pilgrimage destinations in a prioritised, planned and sustainable manner to provide a complete religious tourism experience.
The growth of domestic tourism hugely depends on pilgrimage tourism.
For tapping the potential of pilgrimage tourism, there is a need for holistic development of the selected pilgrimage destinations by the government along with the cooperation of other stakeholders.
The PRASAD scheme aims at paving the way for the development and promotion of religious tourism in India.
Swadesh Darshan Scheme
About Swadesh Darshan Scheme
Swadesh Darshan Scheme is a Central Sector scheme launched in 2014-15 by the Ministry of Tourism and Culture,Government of India for the integrated development of theme-based tourist circuits.
What it aims for?
The scheme aims to promote, develop and harness the potential of tourism in India.Under the Swadesh Darshan scheme, the Ministry of Tourism provides Central Financial Assistance – CFA to State Governments, Union Territory Administrations for the infrastructure development of circuits.
This scheme is envisioned to synergise with other schemes like Swachh Bharat Abhiyan, Skill India, Make in India etc. with the idea of positioning the tourism sector as a major engine for job creation, the driving force for economic growth, building synergy with various sectors to enable tourism to realise its potential.
Thematic Circuits
The Ministry of Tourism, under the Swadesh Darshan scheme is developing thematic circuits in the country in planned and prioritized manner.
Under the scheme fifteen thematic circuits have been identified for development namely; North-East Circuit, Buddhist Circuit, Himalayan Circuit, Coastal Circuit, Krishna Circuit, Desert Circuit, Tribal Circuit, Eco Circuit, Wildlife Circuit, Rural Circuit, Spiritual Circuit, Ramayana Circuit, Heritage Circuit, Sufi Circuit, and Tirthankara Circuit.
Conclusion
As government has turned its focus on Rural Tourism to develop the true potential of Indian Tourism Sector "PRASAD Scheme" and "Swadesh Darshan Scheme" could play a key role in developing Rural Tourism in the country.
Forced Displacement in 2021
Relevance
GS 2: Issues relating to development and management of Social Sector/Services relating to Health, Education, Human Resources.
UNHCR report: Context
Recently, UN Refugee Agency (UNHCR) has released a new report titled, Global Trends: Forced Displacement in 2021 where it has said that the number of people forced to flee has more than doubled by the end of 2021 as compared to 2012.
Forced Displacement in 2021: Key points
The number of people forced to flee due to persecution, conflict, violence, human rights violations and events seriously disturbing public order increased to around 90 million by the end of 2021.
The number of people displaced by conflict, violence, persecution and human rights abuses rose for the tenth straight year in 2021 to reach the highest level since records began.
It represents a sharp 8 per cent increase of almost 7 million people in the span of just 12 months.
1 in 88 people were forcibly displaced at the end of 2021. This compares with 1 in 167 at the end of 2012.
Reasons of forced displacement
Since the start of this year, the Russian invasion of Ukraine has pushed the number of forcibly displaced people worldwide to over 100 million.
Taliban takeover of Afghanistan in August, which caused widespread displacement within the country and across borders.
Conflict in the Tigray region of Ethiopia forced at least 2.5 million people to flee within the country, with some 1.5 million returning to their homes later in the year.
Violent insurgencies in the Central Sahel region of Africa sparked fresh internal displacement, particularly in Burkina Faso and Chad.
In Myanmar, a military takeover in February 2021 caused violence that forced many to flee, while the number of Venezuelans displaced abroad grew by more than 500,000 last year.
Forced displacement in India
The report has said that around five million people in India were internally displaced due to climate change and disasters in 2021.
The largest displacements in the context of disasters in 2021 occurred in China (6.0 million), the Philippines (5.7 million) and India (4.9 million).
Read current affairs for UPSC
Critical Information Infrastructure (CII)
Relevance for UPSC Exam
Critical Information Infrastructure (CII): Critical Information Infrastructure (CII) are important part of national security. Ensuring safety and security of Critical Information Infrastructure (CII) is important for proper governance and functioning of the Country. Critical Information Infrastructure (CII) is important part of UPSC Mains GS Paper 2 (Government policies and interventions for development in various sectors and issues arising out of their design and implementation) and GS Paper 3 (Challenges to internal security through communication networks).
Critical Information Infrastructure (CII) in News
Recently, the Union Ministry of Electronics and IT (MeitY) has declared IT resources of ICICI Bank, HDFC Bank and UPI managing entity NPCI as 'critical information infrastructure'.
What is Critical Information Infrastructure (CII)?
The Information Technology Act of 2000 defines "Critical Information Infrastructure" as a "computer resource, the incapacitation or destruction of which shall have debilitating impact on national security, economy, public health or safety".
Payment Infrastructure Development Fund Scheme
Who can declare an Infrastructure as Critical Information Infrastructure (CII)?
The Union Ministry of Electronics and IT (MeitY) under the Information Technology Act 2000, has the power to declare any data, database, IT network or communications infrastructure as CII to protect that digital asset.
What is the punishment for violating the Critical Information Infrastructure (CII) security?
Any person who secures access or attempts to secure access to a protected system- Critical Information Infrastructure (CII), in violation of the law can be punished with a jail term of up to 10 years.
Need for Protecting Critical Information Infrastructure (CII)
Interconnections: IT resources form the backbone of countless critical operations in a country's infrastructure, and given their interconnectedness, disruptions can have a cascading effect across sectors.

World over governments have been moving with alacrity to protect their critical information infrastructure.

Protecting Infrastructure: An information technology failure at a power grid can lead to prolonged outages crippling other sectors like healthcare, banking services.
Protecting from Outside threats: possibility of hostile state and non-state actors probing internet-dependent critical systems in other countries, and the necessity to fortify such assets requires protecting the Critical Information Infrastructure (CII).

For example, On October 12, 2020 as India battled the pandemic, the electric grid supply to Mumbai suddenly snapped hitting the mega city's hospitals, trains and businesses.
Later, a study by a US firm that looks into the use of the internet by states, claimed that this power outage could have been a cyberattack, allegedly from a China-linked group, aimed at critical infrastructure.
However, Indian Government denied the attack.
Who is entrusted with protecting Critical Information Infrastructure (CII) in India?
The National Critical Information Infrastructure Protection Centre (NCIIPC) is the nodal agency for taking all measures to protect the nation's critical information infrastructure.
National Critical Information Infrastructure Protection Centre (NCIIPC) is mandated to guard CIIs from "unauthorized access, modification, use, disclosure, disruption, incapacitation or distraction".
NCIIPC will monitor and forecast national-level threats to CII for policy guidance, expertise sharing and situational awareness for early warning or alerts. The basic responsibility for protecting the CII system shall lie with the agency running that CII.
In the event of any threat to critical information infrastructure the NCIIPC may call for information and give directions to the critical sectors or persons serving or having a critical impact on Critical Information Infrastructure.
Major and Minor Tectonic Plates
Relevance For UPSC
Tectonic plates are and important topic for UPSC exams. It is an important part of the GS 1 mains syllabus and it also forms an important segment of UPSC Prelims 2023. In this article we will discuss tectonic plates and a list of major and minor tectonic plates of earth.
What is plate tectonics?
Plate tectonics was a theory developed in 1960s that explains how major landforms on earth were created as a result of Earth's subterrain movement.
The theory transformed the earth sciences by explaining many phenomena, including mountain building events,

volcanoes

, and

earthquakes

.
There are three main types of plate boundaries
Divergent: extensional; the plates move apart. Spreading ridges, basin-range
Convergent: compressional; plates move toward each other. Includes: Subduction zones and mountain building.
Transform: shearing; plates slide past each other. Strike-slip motion.
What is a tectonic plate?
A tectonic plate or a lithospheric plate is a massive, irregularly shaped slab of solid rock, generally composed of both continental and oceanic lithosphere.
The size of the tectonic plates can vary greatly, from a few hundred to thousands of kilometers.
Plate thickness also varies greatly, ranging from less than 15 km for young oceanic lithosphere to about 200 km or more for ancient continental lithosphere.
Major and minor plates of earth
Tectonic plates are sometimes subdivided into three categories: major (or primary) plates, minor (or secondary) plates, and microplates (or tertiary plates).
List of major plates of earth
Plates
Description
African Plate
It is a major tectonic plate underlying Africa west of the East African Rift.
Antarctic Plate
It is a major tectonic plate containing Antarctica and the surrounding ocean floor.
Eurasian Plate
It is a tectonic plate which includes most of the continent of Eurasia.
Indo-Australian plate

1.      Australian Plate

2.      Indian Plate

It is a major tectonic plate formed by the fusion of the Indian and Australian plates.

1.      Major tectonic plate, originally a part of the ancient continent of Gondwana

2.      A minor tectonic plate that got separated from Gondwana

North American Plate
It is a large tectonic plate including most of North America, Greenland and part of Siberia
Pacific Plate
It is an oceanic tectonic plate under the Pacific Ocean.
South American Plate
It is a major tectonic plate which includes most of South America and a large part of the south Atlantic
List of Minor plates of earth
| | |
| --- | --- |
| Plate | Description |
| Amurian Plate | A minor tectonic plate in eastern Asia |
| Arabian plate | Minor tectonic plate |
| Burma plate | Minor tectonic plate in Southeast Asia |
| Caribbean plate | A mostly oceanic tectonic plate including part of Central America and the Caribbean Sea |
| Caroline plate | Minor oceanic tectonic plate north of New Guinea |
| Cocos plate | Young oceanic tectonic plate beneath the Pacific Ocean off the west coast of Central America |
| Indian plate | A minor tectonic plate that got separated from Gondwana |
| Nazca plate | Oceanic tectonic plate in the eastern Pacific Ocean basin |
| New Hebrides plate | Minor tectonic plate in the Pacific Ocean near Vanuatu |
| Okhotsk plate | Minor tectonic plate in Asia |
| Philippine sea plate | Oceanic tectonic plate to the east of the Philippines |
| Scotia plate | Minor oceanic tectonic plate between the South American and Antarctic Plates |
| Somali plate | Minor tectonic plate including the east coast of Africa and the adjoining seabed |
| Sunda plate | Tectonic plate including Southeast Asia |
| Yangtze plate | Small tectonic plate carrying the bulk of southern China |
Read current affairs for UPSC
Pragati Maidan Integrated Transit Corridor
Relevance for UPSC Exam
GS Paper 2: Governance, Administration and Challenges- Government policies and interventions for development in various sectors and issues arising out of their design and implementation.
Pragati Maidan Integrated Transit Corridor in News
Recently, the Prime Minister, Shri Narendra Modi dedicated to the nation the main tunnel and five underpasses of Pragati Maidan Integrated Transit Corridor Project.
The Integrated Transit Corridor project is an integral part of Pragati Maidan Redevelopment Project.
Key Points about Pragati Maidan Integrated Transit Corridor
About: The Pragati Maidan Integrated Transit Corridor is part of the campaign to transform Pragti Maidan according to the needs of the 21st Century.
Funding: The Pragati Maidan Integrated Transit Corridor project has been built at a cost of more than Rs. 920 crore, entirely funded by the Central Government.
Objective: Pragati Maidan Integrated Transit Corridor is aimed to provide hassle free and smooth access to the new world class exhibition and convention centre being developed at Pragati Maidan.

Hence, it will facilitate easy participation of exhibitors and visitors in the programmes being held at Pragati Maidan.

Significance:

it will ensure hassle-free vehicular movement, helping save time and cost of commuters in a big way.
It is part of the overarching vision of the government to ensure ease of living for people through transforming urban infrastructure.
Critical Information Infrastructure (CII): Definition, Need and Protection
Pragati Maidan Integrated Transit Corridor Tunnel Features
The main Tunnel connects Ring Road with India Gate via Purana Qila Road passing through Pragati Maidan.
The six lane divided Tunnel has multiple purposes, including access to the huge basement parking of Pragati Maidan.
A unique component of the Tunnel is that two cross tunnels below the main tunnel road have been constructed in order to facilitate movement of the traffic from either side of the parking lot.
It is equipped with the latest global standard facilities for smooth movement of traffic such as smart fire management, modern ventilation and automated drainage, digitally controlled CCTV and Public Announcement system inside the Tunnel.
This long-awaited Tunnel will serve as an alternative route to Bhairon Marg, which is running much beyond its carriage capacity and is expected to take more than half of the traffic load of Bhairon Marg.
Along with the tunnel, there will be six underpasses – four on Mathura Road, one on Bhairon Marg and one on the intersection of Ring Road and Bhairon Marg.
National Investment and Infrastructure Fund
Project NIPUN
Relevance For UPSC
GS 2: Government policies and interventions for development in various sectors
NIPUN scheme: Context
Recently, Ministry of Housing & Urban Affairs has launched an innovative project for skill training of construction workers called 'NIPUN' i.e., National Initiative for Promoting Upskilling of Nirman workers.
NIPUN project MoHUA: Key points
The project NIPUN is an initiative of the Ministry of Housing & Urban Affairs (MoHUA) under its flagship scheme of the Deendayal Antyodaya Yojana-National Urban Livelihoods Mission (DAY-NULM).
The scheme will promote skilling in the construction sector where it has not spread horizontally across the industry.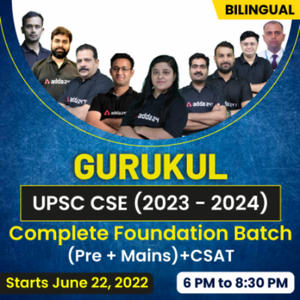 What is project NIPUN?
The scheme objective is to train over 1 lakh construction workers, through fresh skilling and upskilling programmes and provides them with work opportunities in foreign countries also.
The NIPUN Project will enable the construction workers to seek better job opportunities, increase their wages and even pursue overseas placements.
Through suitable skilling initiatives such as NIPUN, a future labour force for the construction industry will be created, which will propel innovation and large-scale development in the country.
National Skill Development Corporation (NSDC) will be the Implementation Partner for the project NIPUN.
Under NIPUN, it is also envisaged that NSDC will place approximately 12,000 people in foreign countries such as the Kingdom of Saudi Arabia, UAE and other GCC countries.
Project NIPUN will also facilitate and support convergence with related line ministries.
Meanwhile, NSDC will be responsible for the overall execution of training, monitoring and candidate tracking.
It will provide trainees with 'Kaushal Bima', a three-year accidental insurance with coverage of INR 2 lakhs, digital skills.
About DAY NULM
DAY-NULM is a Centrally Sponsored Scheme, being implemented since 2014-15 by the Ministry of Housing & Urban Affairs.
The objective is to reduce poverty and vulnerability of urban poor households in the country by enabling them to access self-employment and skilled wage employment opportunities, resulting in an appreciable improvement in their livelihoods on a sustainable basis.
The project implementation is divided into three parts – training through Recognition of Prior Learning (RPL) at construction sites, training through Fresh Skilling by Plumbing and Infrastructure SSC and International Placement through industries/ builders/ contractors.
Onsite skill training will be provided to approximately 80,000 construction workers through industry associations under the RPL certification.
The courses are aligned with National Skills Qualifications Framework (NSQF) and will be imparted at accredited and affiliated training centres.
Construction sector in India
The construction industry is poised to become the largest employer by 2022 and needs 45 million additional skilled workers over the next 10 years.
To fulfil this mission, the National Real Estate Development Council (NAREDCO) and the Confederation of Real Estate Developers' Associations of India (CREDAI) have joined Project NIPUN as industry partners.
These industry partners will identify training job roles of aspirational value in the construction sector in collaboration with the SSC.
Read current affairs for UPSC
Single-use Plastic Ban
Relevance for UPSC Exam
GS Paper 2: Governance, Administration and Challenges- Government policies and interventions for development in various sectors and issues arising out of their design and implementation.
Single-use Plastic Ban in News
Single-use Plastic is to be banned from 1st July, 2022. The Ministry for Environment, Forest and Climate Change has now defined a list of single use plastic items that will be banned from next month.

What all Single use plastics are banned?
MoFCCC notification said that manufacture, import, stocking, distribution, sale and use of following single-use plastic, including polystyrene and expanded polystyrene, commodities shall be prohibited with effect from the 1st July, 2022.
Central Pollution Control Board (CPCB) have announced a ban of-

Earbuds;
Balloon sticks;
Candy and ice-cream sticks;
Cutlery items including plates, cups, glasses, forks, spoons, knives, trays;
Sweet boxes;
Invitation cards;
Cigarette packs;
PVC banners measuring under 100 microns; and
Polystyrene for decoration.

The Ministry had already banned polythene bags under 75 microns in September 2021, expanding the limit from the earlier 50 microns.

From December, the ban will be extended to polythene bags under 120 microns.
While manufacturers can use the same machine for 50- and 75-micron bags, the machinery will need to be upgraded for 120 microns.

According to the Plastic Waste Management Rules, 2016, there is also a complete ban on sachets using plastic material for storing, packing or selling gutkha, tobacco and pan masala.
WMO Greenhouse Gas Bulletin 2021
About Single-use Plastics
About: Single-use Plastic refers to plastic items that are used once and discarded. Single-use plastic has among the highest shares of plastic manufactured.

A 2021 report by the Minderoo Foundation said single-use plastics account for a third of all plastic produced globally, with 98% manufactured from fossil fuels.

Application: Single-use Plastics are used from packaging of items, to bottles (shampoo, detergents, cosmetics), polythene bags, face masks, coffee cups, cling film, trash bags, food packaging etc.
Associated Concerns with Single Use Politics
Single-use plastic accounts for the majority of plastic discarded- 130 million metric tonnes globally in 2019- "all of which is burned, buried in landfills or discarded directly into the environment".
Green House Gas (GHC): On the current trajectory of production, it has been projected that single-use plastic could account for 5-10% of greenhouse gas emissions by 2050.
High Single use plastic generation in India: The report found that India features in the top 100 countries of single-use plastic waste generation – at rank 94 (the top three being Singapore, Australia and Oman).

With domestic production of 11.8 million metric tonnes annually, and import of 2.9 MMT, India's net generation of single-use plastic waste is 5.6 MMT, and per capita generation is 4 kg.
Microplastic in Cauveri Harming Fish
Enforcement of Single-use Plastic Ban
Monitoring Agencies: The ban will be monitored by the CPCB from the Centre, and by the State Pollution Control Boards (SPCBs) that will report to the Centre regularly.

Directions have been issued at national, state and local levels — for example, to all petrochemical industries — to not supply raw materials to industries engaged in the banned items.

Directions have also been issued to SPCBs and Pollution Control Committees to modify or revoke consent to operate issued under the Air/Water Act to industries engaged in single-use plastic items.
Role of Local Authorities: Local authorities have been directed to issue fresh commercial licenses with the condition that SUP items will not be sold on their premises, and existing commercial licences will be cancelled if they are found to be selling these items.
Last week, the CPCB issued one-time certificates to 200 manufacturers of compostable plastic and the BIS passed standards for biodegradable plastic.
Punishment for Violation of Single-use Plastic Ban
Those found violating the ban can be penalised under the Environment Protection Act 1986 – which allows for imprisonment up to 5 years, or a penalty up to Rs 1 lakh, or both.
Violators can also be asked to pay Environmental Damage Compensation by the SPCB. In addition, there are municipal laws on plastic waste, with their own penal codes.
International Summit on Plastics Recycling & Waste Management
Unemployment in India
Relevance For UPSC
GS 3 Indian Economy and issues relating to planning, mobilization, of resources, growth, development and employment.
Job crisis in India: Context
Recently, the PM has announced that 10 lakh government jobs will be provided over the next 18 months on a "mission mode".
10 lakh jobs: Message of the announcement
One, the creation of employment is indeed a problem and can no longer be hidden from the public discourse.
Two, the private sector, especially modern sectors such as the service and manufacturing sectors, have not created many jobs.
Three, the government in the Nehruvian scheme of development occupied an important place in the labour market.
And four, the NDA government has blown the 2024 general election bugle.
Issues in employment trends
Data reliability
Last year for which we have information on employment in the organised sector from the Directorate General of Employment and Training is 2012.
The present government is at present relying on the Employees' Provident Fund Organisation/National Pension System/Employees' State Insurance Scheme registrations and exits as indicators of the formal labour market.
This could be misleading as companies may be increasing registrations to cross the threshold to become eligible to fall under any of these. Hence, this might be more a case of formalisation rather than employment generation.
Vacancies in the government departments
Media reports show that more than 85% of those aspiring for those 10 lakh jobs could be consumed by existing vacancies in Central government departments (8,72,243).
In that sense, the pr1onouncement possibly does not indicate 10 lakh new jobs.
PSUs
Third, 241 central public sector enterprises (CPSEs) have been shedding jobs in recent years — jobs declined from 10.84 lakh in 2017-18 to 10.71 lakh in 2018-19 and to 9.22 lakh in 2019-20.
Role of private sector
The private sector creates jobs in response to market forces and while taking into consideration radically altering technological developments.
Projects in the modern private sector consume a lot of capital to generate very few jobs.
Way forward
The government should re-establish its role as the principal employment generator through jobs in its ministries and CPSEs and through assured employment generation programmes like MGNREGA.
Read current affairs for UPSC
Mental health
Relevance For UPSC
GS 2: Issues relating to development and management of Social Sector/Services relating to Health, Education, Human Resources.
WHO report on mental health: Context
Recently, WHO has released its largest review of world mental health since the turn of the century where it has provided blueprint for various stakeholders with an ambition to support the world in transforming mental health.
World Mental Health Report: Key points
In 2019, around a billion people were suffered with mental disorder. Worryingly, the population included 14% adolescents.
Suicide accounted for more than 1 in 100 deaths and 58% of suicides occurred before age 50.
Mental disorders are the leading cause of disability, causing one in six years lived with disability.
The report finds that people with severe mental health conditions die on average 10 to 20 years earlier than the general population, mostly due to preventable physical diseases.
The major causes of depression include childhood sexual abuse and bullying victimization.
Major threats to mental health: Social and economic inequalities, public health emergencies, war, and the climate crisis.
Issues with mental health
Stigma, discrimination and human rights violations against people with mental health conditions.
20 countries still criminalize attempted suicide.
Poorest and disadvantageous section of society are at greatest risk of mental ill-health and least likely to receive adequate services.
Even in high-income countries, only one third of people with depression receive formal mental health care.
World Mental Health Report: Recommendations
Step us investment in mental health along with committed leadership, pursuing evidence-based policies and practice, and establishing robust information and monitoring systems.
Reshape environments that influence mental health, including homes, communities, schools, workplaces, health care services, natural environments.
Mental health care needs to be strengthened by changing where, how, and by whom mental health care is delivered and received.
Care options need to be diversified and scaled up for common mental health conditions such as depression and anxiety, which has a 5 to 1 benefit – cost ratio.
Steps taken to improve mental healthcare
Globally:

WHO:

launched 'Mental Health Atlas' in 2017.
WHO Special Initiative for Mental Health (2019-2023): Universal Health Coverage for Mental Health to ensure access to quality and affordable care for mental health conditions in 12 priority countries to 100 million more people.

Target 3.4 and 3.5 of the Sustainable Development Goals (SDGs) talk about reducing mental health illness for the global community.

Indian government:

National Mental Health Program (NMHP), 1982: to improve the status of mental health in India, focusing on three main components:

Treatment of the Mentally ill,
Rehabilitation and
Prevention and promotion of positive mental health.

The Mental Health Care Act (MHCA) 2017: repealed the Mental Health Act, 1987. It seeks to ensure the person's rights with mental illness to receive care and live a life with dignity.
Decriminalizes suicide under section 309 of the Indian Penal Code: by presuming a suicidal person to be "suffering from severe stress''. The person will also not subject to any investigation or prosecution.
Right to mental healthcare: is provided under the Act to ensure access to mental healthcare facilities to suffering individuals.
Read current affairs for UPSC