"UPSC News Diary For Today" is every day published in the evening between 6-7 PM and contains all current affairs articles from the day on a single platform. "UPSC News Diary For Today" covers various topics from UPSC Syllabus and is very helpful and time managing for UPSC Aspirants. The framing of this daily current affairs compilation article is easy to read and understandable also.
In the "UPSC News Diary For Today" article, we focus on both UPSC Preliminary and Mains exam-oriented current affairs & prepare a gist of daily important news articles from leading National Newspapers, PIB, and other various official sources.
Protected Areas Representativeness Index(PARI)
The Protected Areas Representativeness Index (PARI) indicator measures how well terrestrial protected areas represent the ecological diversity of a country.
PARI estimates the extent to which terrestrial biodiversity is included in protected areas.
It integrates information from a global protected areas database with modelled fine-scaled spatial variation in biodiversity composition.
This metric is calculated by CSIRO using high-resolution remote sensing data and biological records of species' locations.
A score of 100 indicates that a country's terrestrial protected areas nearly perfectly represent the country's ecosystem diversity, and a score of 0 indicates very low representativeness (≤5th-percentile of PARI values).
Indian Ocean Dipole (IOD)
What is IOD?
The Indian Ocean Dipole (IOD) is defined by the difference in sea surface temperature between two areas (or poles, hence a dipole) – a western pole in the Arabian Sea (western Indian Ocean) and an eastern pole in the eastern Indian Ocean south of Indonesia.
In scientific terms, the IOD is a coupled ocean and atmosphere phenomenon, similar to ENSO but in the equatorial Indian Ocean.
The IOD affects the climate of countries that surround the Indian Ocean Basin, and is a significant contributor to rainfall variability in this region.
Key Factors that determine Indian Monsoon
The expectations of a good monsoon are premised on the persistence of a La Niña, the converse of the El Niño and characterised by a cooling of the Central Pacific waters.
However, the Indian Ocean Dipole (IOD), another index of significance to the monsoon, is expected to be negative. Whether the La Niña can compensate for the dampening of the IOD remains to be seen.
Geneva Package
Key Points
On June 17, member countries of the WTO wrapped up the Ministerial Conference's twelfth outing (MC12) securing agreements on relaxing patent regulations to achieve global vaccine equity; ensuring food security, according subsidies to the fisheries sector and continuing moratoriums relevant to e-commerce, among others. Together they constitute the "Geneva Package."
Negotiators could not reach agreements on issues such as permissible public stockholding threshold for domestic food security, domestic support to agriculture, cotton, and market access.
Within the next six months, members are expected to decide on increasing the scope of the agreement to cover the production and supply of COVID-19 diagnostics and therapeutics as well.
 WTO's Ministerial Conference
The MC is at the very top of WTO's organisational chart.
It meets once every two years and can take decisions on all matters under any multilateral trade agreement. Unlike other organisations, such as the International Monetary Fund or World Bank, WTO does not delegate power to a board of directors or an organisational chief.
All decisions at the WTO are made collectively and through consensus among member countries at varied councils and committees.
This year's conference took place in Geneva, Switzerland.
Marine Heatwaves (MHWs)
About Marine Heatwaves
Due to global warming, the tropical Indian Ocean, at the surface, is warming at a faster rate as compared to the rest of the global ocean. The high sea surface temperatures are more susceptible to generating extreme temperature conditions that persist over days to months and are termed as Marine Heatwaves (MHWs).
Why the Bay of Bengal is more prone to tropical cyclones?
The Bay of Bengal exhibits high sea surface temperatures (about 28°C) throughout the year and is more prone to tropical cyclones.
The Bay of Bengal is home to about 5-7% of the total number of tropical cyclones occurring globally each year and this makes the North Indian Ocean vulnerable to the highest number of fatalities globally.
Amphan was the first super cyclone in the Bay of Bengal in the last 21 years and intensified from category 1 (cyclonic storm) to category 5 (super cyclone) in less than 24 hours.
India-EU Free Trade Agreement
Relevance for UPSC Exam
India-EU FTA: India-EU Free Trade Agreement is important part of India's International Relations and also from its trade and economy's perspective. India-EU FTA is part of UPSC Mains GS Paper 2 (International Relations- Bilateral, regional and global groupings and agreements involving India and/or affecting India's interests) and UPSC Mains GS Paper 3 (Indian Economy- Issues relating to planning, mobilization of resources, growth, development and employment).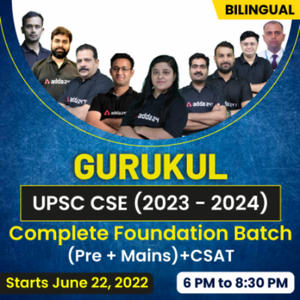 India-EU Free Trade Agreement (FTA) in News
Recently, Indian Union Commerce Minister and Executive Vice-President of European Commission formally re-launched the India-EU Free Trade Agreement (FTA) negotiations.
Besides, negotiations were also launched for a stand-alone Investment Protection Agreement (IPA) and a Geographical Indicators (GIs) Agreement.
About Free Trade Agreements (FTA)
The FTA negotiations are part of India's broader strategy to forge balanced trade agreements with key economies and revamp existing trade pacts to improve trade and investment.
India earlier this year has concluded FTAs with Australia and the UAE in a record time. The FTA talks with Canada and the UK are also underway.
India-EU Free Trade Agreement (FTA)
Background: Negotiations on India-EU Bilateral Broad-based Trade and Investment Agreement (BTIA) (Also known as India-EU FTA) started in 2007 but later got stuck due to differences on various issues.

India-EU are now resuming the FTA talks after a gap of about nine years since the earlier negotiations were left off in 2013 due to difference in the scope and expectations from the deal.

India-EU Leaders' Meeting 2021: an agreement was reached for-

Resuming negotiations for a balanced, ambitious, comprehensive and mutually beneficial FTA and
Starting fresh negotiations on the IPA and a separate agreement on GIs.

India-EU Trade: The India-EU merchandise trade has registered an all-time high value of USD 116.36 Billion in 2021-22 with a year-on growth of 43.5%.

India's export to the EU jumped 57% in FY 2021-22 to $65 billion.
India has a surplus trade with EU.

Discussion on India-EU FTA: India-EU are aiming for the trade negotiations to be broad-based, balanced and comprehensive, based on the principles of fairness and reciprocity.

There will also be discussions on resolving the Market Access Issues which are impeding the bilateral trade.

Significance: India-EU FTA would be one of the most significant FTAs for India as EU is its second largest trading partner after the US.

India-EU trade deal will help to diversify and secure the supply chains, boost economic opportunities for our businesses, and bring significant benefits to the people.
India- EU IPA and GIs
India- EU IPA: The proposed India-EU Investment Protection Agreement (IPA) would provide a legal framework for cross-border investments to enhance the confidence of investors.
India-EU GIs: GI pact is expected to establish a transparent and predictable regulatory environment, to facilitate trade of GI products including handicrafts and agri-commodities.
India- European Union Relations
WTO 12th meeting
Relevance
GS 2: Bilateral, regional and global groupings and agreements involving India and/or affecting India's interests
WTO ministerial conference: Context
Recently, 12th WTO Ministerial Conference 2022 concluded in Geneva where a number of deals relating to many issues including waiver of COVID 19 vaccines, food security, was signed.
WTO 12th Ministerial Conference: Key takeaways
Curbing fishery subsidies
In the recently concluded meeting, WTO passed a multilateral agreement that is aimed at curbing 'harmful' subsidies on illegal, unreported and unregulated fishing for the next four years.
Objective: Better protection of global fish stocks.
Significance: Since 2001, member states have been negotiating the banning of subsidies that promote overfishing.

First time there is an agreement in WTO that is aimed at environmental sustainability.
It caters to the needs of the livelihoods of the 260 million people who depend directly or indirectly on marine fisheries.

India: India successfully lobbied with other like-minded nations to remove a section of the proposal that would threaten some subsidies which would assist small-scale artisanal fishing.

Artisanal and traditional farmers would not face any restrictions under this agreement.
Global food security
Member nations have agreed to a legally binding agreement to exempt food purchased by the UN's World Food Programme (WFP) for humanitarian purposes, from any export restrictions.
Why needed? Due to global food shortages and rising prices caused by the war between Ukraine and Russia.
However, countries would be allowed to restrict food supplies to ensure domestic food security needs.
India: India's demand to allow it to export food from its public stockholdings to other countries will be discussed in the next Ministerial Conference in 2023.
E-commerce
All member nations agreed to continue the moratorium on custom duties on e-commerce transmissions until the subsequent Ministerial Conference.
Significance: WTO members had first agreed to not impose custom duties on electronic transmissions in 1998. However, internet was relatively new at this point of time.

Since then, the moratorium has been periodically extended.

Issue: From 2017-2020, developing countries lost a potential tariff revenue of around $50 billion on imports from only 49 digital products.
India: India has asked WTO to review the extension of the moratorium on custom duties on e-commerce transactions as developing countries faced the brunt of the financial consequences of such a moratorium.
COVID-19 Vaccine production
WTO members agreed to temporarily waive intellectual property patents on Covid-19 vaccines without the consent of the patent holder for 5 years.
Objective: To ease the manufacture the vaccines domestically.
Significance: It will contribute to ongoing efforts to concentrate and diversify vaccine manufacturing capacity so that a crisis in one region does not leave others cut off.
Issue: The agreement has been opposed by the rich pharmaceutical companies as they argue that IP's do not restrict access to Covid vaccines.
WTO-related news for UPSC
Major Economies Forum on Energy and Climate (MEF)
Relevance for UPSC Exam
Major Economies Forum on Energy and Climate (MEF): it is important for UPSC exam as MEF can come under GS Paper 2 (International Relations- Bilateral, regional and global groupings and agreements involving India and/or affecting India's interests) and GS Paper 3 (Environment and Ecology- Conservation, environmental pollution and degradation).
Major Economies Forum on Energy and Climate (MEF) in news
The Union Minister for Environment, Forest and Climate Change, Shri Bhupender Yadav represented India at the virtual meeting of the Major Economies Forum on Energy and Climate (MEF).
India called upon the members of MEF to launch a global movement on LIFE i.e. Lifestyle for Environment as espoused by the Prime Minister Shri Narendra Modi at the COP26 in Glasgow.
Major Economies Forum on Energy and Climate (MEF)
Background: Major Economies Forum on Energy and Climate (MEF) was launched in 2009 by US President Barack Obama.
About: MEF is aimed at facilitating candid dialogue among major emitting countries, both developed and developing, to garner the political leadership needed to advance efforts against climate change.
Participation: MEF meeting was attended by twenty three major economies including India across the world and the Secretary General of United Nations.
India at MEF 2022
Indian minister at MEF 2022 highlighted that-
India has already installed 159 GW of non-fossil fuel based electricity generation capacity.

During the last 7.5 years, India's installed solar energy capacity has increased over 18 times.

India's annual per capita emissions are only a third of the global average and its cumulative GHG emissions are less than 4 percent, but India's climate targets are ambitious and reflect its commitment to the global good.
India's Panchamrit goals are being fructified through one of the largest clean energy development plans in the world.

India is on track to meet its commitments, through adoption of low carbon policies across key sectors of our economy ranging from green hydrogen mission to e-mobility.
India's International Cooperation in disability sector- An Overview
E-commerce in India
Relevance
GS 2: Government policies and interventions for development in various sectors and issues arising out of their design and implementation.
Open Network for Digital Commerce: Context
Recently, a parliamentary panel has brought up a new report on promotion and regulation of ecommerce in India where the panel called for identifying entities that act as 'gatekeeper' platforms.
Regulation of E-commerce in India: Recommendations
Tighter regulation on ecommerce companies.
Amending the Competition Act, 2002 to set parameters for the ecommerce platform to qualify as gatekeepers.
The Competition Commission of India (CCI) should formulate a mandatory code of conduct specifying the acceptable conduct between marketplaces and their customers.
Stringent regulation, including the drafting of epharmacy rules, for e-pharmacies in our country over the alleged misuse of epharmacies for distribution of illegal and counterfeit medications.
Digital Market Division: Creation of a separate expert division, Digital Market Division, within the CCI to regulate ecommerce platforms and bridge gaps in enforcement.
Setting up a framework to ensure periodic exchange of information between the CCI and other regulatory bodies to ensure effective coordination.
The exemption provided to offline sellers with regard to GST registration should be extended to online sellers as well.

Reason: The mandatory GST registration has placed an undue burden on small sellers operating on ecommerce platforms that had resulted in high dropout rate of 60-70% from online platforms.

Finalise the draft national ecommerce policy at the earliest.
10-minute delivery model: Government should address the concerns related to safety of riders in the 10-minute delivery model.
Open Network for Digital Commerce (ONDC): The panel has urged the government to formulate a strategy to ensure a level playing field between small business and big online vendors.

Reason: The panel has raised concerns regarding the operational strategy of ONDC and have also raised questions on the technical capability of MSMEs to leverage the network.
Open Network for Digital Commerce: Key points
The government has set up a nine-member advisory council headed by National Health Authority CEO R S Sharma, on steps required to design and accelerate adoption of ONDC.
ONDC is a not-for-profit online network to check the dominance of e-commerce giants such as Amazon and Flipkart.
A budget of about Rs 10 crore for initial work on the Open Network for Digital Commerce (ONDC) initiative was approved by the Government.
ONDC is expected to curb digital monopolies and standardize the on-boarding of retailers on e-commerce sites.
Read current affairs for UPSC
Designation Failure
Relevance for UPSC Exam
GS Paper 2: International Relations- Bilateral, regional and global groupings and agreements involving India and/or affecting India's interests.
UNSC Resolution on Designation of Terrorists
Recently, China again decided to block the UN Security Council designation of Lashkar-e-Taiba (LeT) deputy chief Abdul Rahman Makki as a terrorist.
Beijing had repeatedly blocked the UNSC designation as terrorist of the Jaish-e-Mohammad chief Masood Azhar until 2019, and other terror designations prior to that.
New Delhi has termed China's move to place a hold on the process (this could delay it for as much as six months) as "regrettable" and "extremely unfortunate".
Evidence Presented against Abdul Rahman Makki in UNSC
he is part of the command and control of the UNSC-designated terror group LeT, later renamed the Jamaat ud Dawa (JuD).

Jamaat ud Dawa (JuD) is also a UN-designated terror group.

He was not just a member of the governing body or "Shura"; he served as the head of its "foreign relations" department, and raised funding.
He is also a member of LeT chief Hafiz Saeed's family (brother in law).

The LeT/JuD has been prosecuted in India, the United States and even Pakistan for the 26/11 Mumbai attacks.

Makki was himself tried and sentenced by a Pakistani special court to nine years imprisonment on terror financing charges — a ruling overturned a year later.
UNSC Pledges to Stop Nuclear Proliferation
Makki on India's Watch List
India wants him for his involvement in attacks over the past two decades, including the Red Fort attack in Delhi in 2000, and, more recently, in attacks on security forces in Jammu and Kashmir.
He is on India's UAPA list of designated terrorists and also the U.S.'s Specially Designated Global Terrorists with a $2 million reward for information that would convict him.
Given what India and the U.S. forwarded the proposal to put him on the UNSC's 1267 list of terrorists linked to the al Qaeda and ISIL.
Chinese Angle on UNSC-designated Terror Group
While China's actions may be motivated by growing acrimony with the U.S. and India, it is necessary to analyse the situation beyond bilateral tensions.
While China defends its actions on Makki and previous designations that it blocked as "technical objections" based on "procedural" loopholes, it is clearly part of a pattern of protecting Pakistan internationally.
Conclusion
Beyond criticism and continued pursuance of the listing, it is necessary for the Government to continue to gather evidence and systematically build its case on cross-border terrorism on the international stage that cannot be derailed by political or geopolitical considerations.
United Nations Security Council: Composition, Functioning and Indian Engagement at UNSC
Payment vision 2025 UPSC
Relevance
GS 3: Indian Economy and issues relating to planning, mobilization, of resources, growth, development and employment.
Payment vision RBI: Context
Recently, RBI has published Payment Vision 2025 to provide every user with safe, secure, fast, convenient, accessible and affordable e-payment options.
Payment Vision 2025 RBI: Key points
The Payments Vision 2025 has the core theme of 'E-Payments for Everyone, Everywhere, Everytime' (4Es).
Payments Vision 2025 has been prepared by considering the guidance from the Board for Regulation and Supervision of Payment and Settlement Systems of the RBI.
Payments Vision 2025 builds on the initiatives of Payments Vision 2019-21.
The Payments Vision 2025 document is presented across the five anchor goalposts of Integrity, Inclusion, Innovation, Institutionalisation and Internationalisation.
Payment vision 2025
The Payments Vision 2025 promises to further elevate our payment systems towards a realm of empowering users with affordable payment options accessible anytime and anywhere with convenience.
It proposes enabling of geotagging of digital payment infrastructure and transactions and revisiting guidelines for prepaid payment instruments (PPIs), including closed system PPIs.
The document also proposes a framework for regulation of all significant intermediaries in payments ecosystem and linking credit cards and credit components of banking products to UPI.
The document also proposes to bring in enhancements to Cheque Truncation System (CTS), including One Nation One Grid clearing and settlement perspective, and creating payment system for processing online merchant payments using internet and mobile banking.
It also proposed regulation of BigTechs and FinTechs in the payments space.
It further recommends examining of BNPL (Book Now Pay Later) methods and exploration of appropriate guidelines on payments involving BNPL.
What is BNPL services?
Buy now, pay later is a type of installment loan.
It divides purchases into multiple equal payments, with the first due at checkout.
The remaining payments are billed to the debit or credit cards until the purchase is paid in full.
BNPL services have developed into a new payment mode alongside the existing payment modes like cards, UPI, and net banking.
Expected outcomes of payment vision 2025
Volume of cheque-based payments to be less than 0.25% of the total retail payments;
More than 3x increase in number of digital payment transactions;
UPI to register average annualised growth of 50% and IMPS / NEFT at 20%;
Increase of payment transaction turnover vis-à-vis GDP to 8;
Increase in debit card transactions at PoS by 20%;
Debit card usage to surpass credit cards in terms of value;
Increase in PPI transactions by 150%;
Card acceptance infrastructure to increase to 250 lakh;
Increase of registered customer base for mobile based transactions by 50% CAGR; and
Reduction in Cash in Circulation (CIC) as a percentage of GDP.
Read current affairs for UPSC