UPSC CSE 2.0 Complete Foundation Batch (Pre + Mains)+CSAT
Are you preparing for UPSC Civil Services Examination? Forget your worries as Adda247 has launched UPSC CSE 2023 – 2024 (Pre + Mains) + CSAT Complete Foundation Batch. The course lays the foundation for Civil Services Examination and covers all the important aspects of Prelims and Mains Exam, with Interview guidance. You get 900+ hours of live classes, preparation tips, counselling sessions, and a lot more. Our teachers are from different backgrounds from IIT, Delhi University, JNU, Delhi School of Economics and other top institutions with vast experience of tutoring thousands of successful aspirants for UPSC CSE examination conducted by UPSC. The is the best chance for UPSC aspirants to prepare comprehensively for UPSC CSE Examination. Hurry Up! The Batch Starts on 13th July 2022. Limited Seats Left.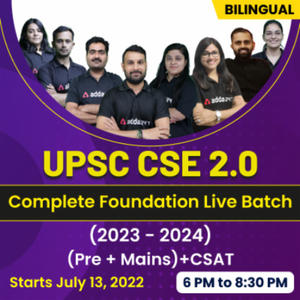 UPSC CSE Complete Preparation Batch
Super Specialty of this batch – You will get Mentorship Program (1 to 1 discussion with Top Faculties & IAS Officers)
UPSC CSE (2023 – 2024) Complete Foundation Batch is aimed at providing a comprehensive preparation programme for UPSC CSE Aspirants. The batch provides a holistic approach to UPSC CSE Preparation, covering the various aspects and requisites of this Examination, that includes Prelims Examination (GS Paper I & CSAT), Essay Writing, Hindi Compulsory Subject and all four Mains Exams (General Studies Paper 1,2,3 & 4). The classes are power packed and brainstormed through practice questions based on amalgamation of static and current portion of the topics so that students can understand the concepts and solve the questions easily in the examination.
Our faculty members are from different backgrounds like IITs,  Delhi University, JNU, Delhi School of Economics and other top institutions and they have also participated in UPSC Interviews.
UPSC CSE 2.0 Complete Foundation Batch (Pre + Mains)+CSAT (2023 – 2024) Online Live Classes By Adda247
Batch Start: 13 July 2022
Time: 6:00 PM to 8:30PM
Weekend – 6 PM TO 10 PM
Check the study plan here.
UPSC CSE Foundation Batch – Course Highlights
900 +Hours of interactive Live Classes
Classes will be conducted on a smart board so you feel like this as an offline class.
You will get E-Notes after every class.
You will get a lecture base quiz after each & every class.
You will get Prelims test series & Mains answer writing discussion with this pack
You will get a free special batch of CSAT
You will also get a free Current Affairs batch with this pack.
Focus on conceptual clarity and current based approach
Selection Oriented Approach
Recorded Videos available 24/7 for quick Revision.
Solve Unlimited doubts with experts.
Get Preparation tips from the experts & Learn Time Management.
Exam Covered:
UPSC CSE (IAS) 2023- 2024
Subject Covered With Lecture Hours
Subjects (PRE+MAINS)
Number of Lecture Hours
History
125
Art & Culture
25
Geography
80
Society
40
Polity
70
Gov. & Social Justice
30
IR
40
Economy
80
Enviro. & Ecology
25
Disaster Management
10
internal Security
25
Science & Tech
50
Ethics
50
Essay Writing
15
Mains Answer Writing
36
Compulsory English
50
Current Affairs
100
CSAT
Comprehension

100

Interpersonal skills including communication skills;
Logical reasoning and analytical ability
Decision-making and problem solving
General mental ability
Basic numeracy (numbers and their relations, orders of magnitude, etc.) (Class X level), Data interpretation (charts, graphs, tables, data sufficiency etc. – Class X level)
Total
951
Topics to be covered in General Studies (Pre + Mains) 
Current events of National & International importance.
History of India & Indian National Movement.
Indian & World Geography – Physical, Social, Economic Geography of India & the World.
Indian Polity & Governance – Constitution, Political System, Panchayati Raj, Public Policy, Rights Issues, etc.
Economic & Social Development – Sustainable Development, Poverty, Inclusion, Demographics, Social Sector Initiatives, etc.
General issues on Environmental ecology, Biodiversity & climate change – that do not require subject specialization.
General Science.
Society, Ethics, Internal Security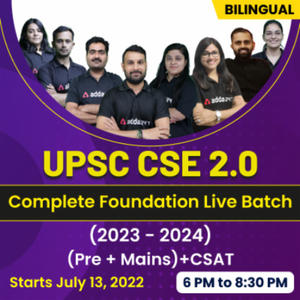 Topics to be covered in CSAT
Comprehension
Interpersonal skills including communication skills;
Logical reasoning and analytical ability
Decision-making and problem solving
General mental ability
Basic numeracy (numbers and their relations, orders of magnitude, etc.) (Class X level), Data interpretation (charts, graphs, tables, data sufficiency etc. – Class X level)
Course Language
Classes: Hindi and English (HINGLISH)