UPSC Answer Writing Preparation
UPSC Answer Writing: UPSC Answer Writing Practice is one of the most important aspects in your IAS Preparation. It's just as critical to develop your writing skills as it is to prepare for the IAS mains exam. This is due to the fact that, regardless of what you have read, learned, and practiced, what really matters is what you have put in the answer booklet. The amount of time you spent studying doesn't matter to the examiner; you only get graded on what the examiner actually reads in the form of your answers. It follows that writing responses that are appropriate and consistent with what is expected of candidates is a vital skill.
Improve your Writing Skills (IWS) by Adda247
If you are preparing for UPSC Civil Services Examination, then needless to say, a good command on answer writing is required. To enhance your Answer Writing Skills, Adda247 has launched IWS IMPROVE YOUR WRITING SKILLS Programme by Ashirwad Sir. With this course, you get 300+ hours of live interactive classes, counselling sessions, preparation tips, and a lot more.
IWS IMPROVE YOUR WRITING SKILLS by Ashirwad Sir
Batch Start Date: 21-Nov-2022
Time: 2:30 PM (M,W,F)
Language: Bilingual
Study Plan will be available soon.
आशीर्वाद सर द्वारा करें अपनी लेखन क्षमता का विकास.
कैसी हो आपकी ANSWER FORMATTING ?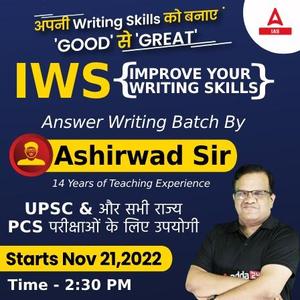 UPSC Answer Writing Course Highlights
3 Days Class in a Week (Monday, Wednesday & Friday)
Total 400+ Questions will be Discussed.
10 Questions Writing practice + Assessment per class.
Out of 10, 6 from traditional 4 from Current Affairs
Copy will be checked by Experts
1 to 1 mentorship
Every weekend feedback class by Ashirwad Sir .
Best Copy will be provided
UPSC+PCS separate Questions and Evaluation
Full Program under the Guidance of Ashirwad Sir
Course की विशेषताएं –
आशीर्वाद सर द्वारा प्रतिक्लास 10 प्रश्नों की Answer Formatting
कुल 400 से अधिक प्रश्नों पर चर्चा
10 में से 6 परंपरागत, 4 प्रश्न करेंट अफेयर्स
विशेषज्ञों द्वारा कॉपी की जांच
1 to 1 मेंटॉरशिप
प्रति रविवार आशीर्वाद सर द्वारा फीडबैक क्लॉस लेंगे .
सबसे अच्छे अंक प्राप्त करने वाली कॉपी प्रदान की जायेगी
UPSC+PCS के अलग अलग प्रश्न और मूल्यांकन
 संपूर्ण कार्यक्रम आशीर्वाद सर के निर्देशन में रहेगा।
Exam Covered:
Subject Covered:
Course Language:
Classes: BILINGUAL
FAQs
Q1.  What is the best platform for UPSC Answer Writing Practice?
Ans. Adda247 provides one of the best and affordable Answer Writing Course for UPSC CSE & State PCS Exams.
Q2. Is Answer Writing important for UPSC CSE Preparation?
UPSC Answer Writing Practice is one of the most important aspects in your IAS Preparation.