Unique Identification Authority of India- Relevance for UPSC
GS Paper 2: Indian Constitution- Statutory, regulatory and various quasi-judicial bodies.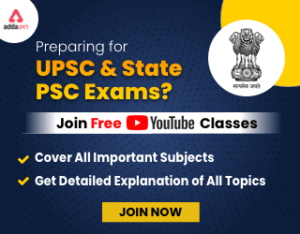 Get free video for UPSC CSE preparation and make your dream of becoming an IAS/IPS/IRS a reality
Unique Identification Authority of India- Context
Recently, UIDAI's IT systems were down according to many users who were unable to update their Aadhaar particulars to correct mismatches with other identity documents.
The Unique Identification Authority of India (UIDAI) acknowledged that there were "some intermittent service interruptions" in its systems over the last week and attributed them to "an essential security upgrade".
North-Eastern Region (NER) District SDG Index and Dashboard 2021-22
Unique Identification Authority of India- Key Points
About: UIDAI is a statutory authority established under the provisions of the Aadhaar (Targeted Delivery of Financial and Other Subsidies, Benefits and Services) Act, 2016 by the Government of India.

Earlier, UIDAI was created through a government notification in 2009 and was functioning as an attached office of the then Planning Commission (now NITI Aayog).

Parent Ministry of UIDAI: It functions under the Department of Electronics & Information Technology (DeitY) of the then Ministry of Communications and Information Technology.
Objective of UIDAI: To issue Unique Identification numbers (UID), named as "Aadhaar", to all residents of India
Deepor Beel Wetland and Wildlife Sanctuary
Mandate of UIDAI
Under Aadhaar Act 2016, UIDAI is responsible for

Aadhaar enrolment and authentication, including operation and management of all stages of Aadhaar life cycle
Developing the policy, procedure, and system for issuing Aadhaar numbers to individuals and
Perform authentication and the security of identity information and authentication records of individuals.
Unique Identification Authority of India (UIDAI)- Key Functions
UIDAI aims to establish a digital infrastructure in the country by providing each resident of the country with a unique identification number- Aadhar. In this context, UIDAI's key functions are-

To provide for good governance, efficient, transparent, and targeted delivery of subsidies, benefits, and services.
Ensure availability, scalability, and resilience of the technology infrastructure.
Build a long-term sustainable organization to carry forward the vision and values of the UIDAI.
To make rules and regulations in line with the Aadhaar Act.
To ensure compliance with the Aadhaar Act by all individuals and agencies in letter and spirit.