Swami Vivekananda Biography
Swami Vivekananda was a renowned Hindu monk and spiritual leader who played a significant role in introducing Indian spirituality and philosophy to the western world. Swami Vivekananda was born on January 12, 1863, in Kolkata, India, and was named Narendranath Datta by his parents.
Swami Vivekananda Early Life
Swami Vivekananda was born into an aristocratic Bengali family. His father, Vishwanath Datta, was a successful attorney, while his mother, Bhuvaneshwari Devi, was a pious woman. From a young age, Swami Vivekananda showed a keen interest in spirituality and philosophical discussions.
Swami Vivekananda Education
Swami Vivekananda was a brilliant student and excelled in academics. Swami Vivekananda completed his schooling at the Metropolitan Institution in Kolkata and then joined the Presidency College, where he studied philosophy, Western logic, and European history. He was a voracious reader and had a deep interest in Eastern and Western philosophy.
Swami Vivekananda: Views on Education
Swami Vivekananda was a strong advocate of education as a means of empowerment and enlightenment.
He believed that education should not just focus on intellectual development but also on the holistic development of an individual's character, morality, and spiritual growth.
Swami Vivekananda emphasized the importance of practical education that equips individuals with the skills and knowledge necessary for their personal and social development.
Swami Vivekananda believed that education should be accessible to all, irrespective of their caste, gender, or social status.
Swami Vivekananda Family
Swami Vivekananda was born into a traditional Bengali family in Kolkata, India.
His father, Vishwanath Datta, was a successful attorney, and his mother, Bhuvaneshwari Devi, was a pious housewife. Swami Vivekananda had several siblings, including two younger brothers and a younger sister.
Swami Vivekananda's parents were both devout Hindus, and his mother played a particularly important role in shaping his spiritual beliefs.
She taught him the stories and principles of Hinduism from a young age and instilled in him a deep respect for all religions.
Despite his family's relative affluence, Swami Vivekananda was deeply affected by the poverty and inequality he witnessed around him.
Swami Vivekananda was particularly disturbed by the caste system, which he saw as a major obstacle to social progress in India.
Swami Vivekananda's family was supportive of his interest in spirituality and encouraged him to pursue his studies at the prestigious Scottish Church College in Kolkata.
However, after the death of his father in 1884, Swami Vivekananda was forced to take on various odd jobs to support his family.
Despite these challenges, Swami Vivekananda remained committed to his spiritual pursuits, and he eventually became a disciple of the Indian saint Ramakrishna Paramahamsa. He went on to become one of the most important spiritual leaders of his time and played a key role in spreading the teachings of Vedanta and Hinduism to the West.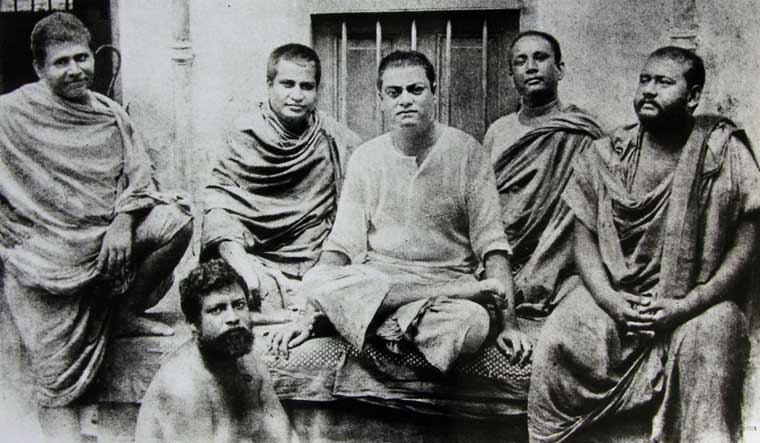 Swami Vivekananda Wife
Swami Vivekananda was a monk and spiritual leader who played a significant role in introducing Vedanta and Yoga to the Western world. Swami Vivekananda did not marry during his lifetime and remained celibate, dedicating himself entirely to his spiritual pursuits and the service of humanity. Vivekananda's focus was on attaining self-realization and achieving the ultimate goal of life, which he believed could not be attained through the pursuit of worldly relationships such as marriage.
Swami Vivekananda Spiritual Journey
Swami Vivekananda's spiritual journey began when he met Sri Ramakrishna, a spiritual guru, and mystic, at the age of 18. Sri Ramakrishna became Swami Vivekananda's spiritual mentor and taught him about various spiritual practices, including meditation and yoga.
Under the guidance of Sri Ramakrishna, Swami Vivekananda explored various spiritual paths and gained profound insights into the nature of reality.
After Sri Ramakrishna's death, Swami Vivekananda took the vow of monasticism and traveled extensively throughout India, seeking spiritual knowledge and enlightenment.
In 1893, Swami Vivekananda represented India at the Parliament of the World's Religions in Chicago, where he delivered a historic speech that captivated the audience.
His speech on "Universal Brotherhood" and the "Harmony of Religions" earned him worldwide recognition and established him as a spiritual leader and philosopher.
Swami Vivekananda Legacy and Contributions
Swami Vivekananda's contributions to Indian spirituality and philosophy are immense.
He was a proponent of Vedanta, a Hindu philosophy that emphasizes the oneness of the universe and the divinity of the self.
Swami Vivekananda also advocated the practice of Raja Yoga, which involves the cultivation of mental discipline and concentration.
Swami Vivekananda founded the Ramakrishna Mission, a spiritual organization that aims to promote selfless service, spiritual knowledge, and social welfare.
The Ramakrishna Mission has established numerous hospitals, schools, and charitable institutions throughout India, and has made significant contributions to society.
Swami Vivekananda's teachings and philosophy continue to inspire people around the world, and his legacy remains an essential part of Indian spirituality and philosophy. His message of universal brotherhood and the harmony of religions continues to resonate with people from all walks of life, and his life serves as an inspiration to millions of people worldwide.
Swami Vivekananda Death
Swami Vivekananda, the Indian Hindu monk and philosopher, passed away on July 4, 1902, at the age of 39. His death was caused by a sudden cardiac arrest.
Swami Vivekananda was known for his teachings on Vedanta, Yoga, and other Hindu spiritual traditions.
Swami Vivekananda was also instrumental in bringing Indian philosophy and spirituality to the Western world, and he played a key role in the introduction of Yoga to the West.
After returning to India in 1897, Swami Vivekananda spent much of his time traveling and teaching throughout the country.
His health began to decline in 1901, and he spent several months in a monastery in the Himalayas to recuperate.
However, Swami Vivekananda continued to work tirelessly on his mission of promoting Hinduism and Indian spirituality until his sudden death in 1902.
Today, Swami Vivekananda is widely regarded as one of the most influential spiritual leaders of modern India, and his teachings continue to inspire people around the world. His message of universal brotherhood, tolerance, and self-realization remains relevant and important in today's world.
Swami Vivekananda Quotes
Here are some popular quotes by Swami Vivekananda:
"Arise, awake and stop not until the goal is reached."
"Take up one idea. Make that one idea your life – think of it, dream of it, live on that idea. This is the way to success."
"In a conflict between the heart and the brain, follow your heart."
"The greatest religion is to be true to your own nature. Have faith in yourselves."
"The only way to do great work is to love what you do. If you haven't found it yet, keep looking. Don't settle. As with all matters of the heart, you'll know when you find it."
"Condemn none: if you can stretch out a helping hand, do so. If you cannot, fold your hands, bless your brothers, and let them go their own way."
"Stand up, be bold, be strong. Take the whole responsibility on your own shoulders, and know that you are the creator of your own destiny."
"All the powers in the universe are already ours. It is we who have put our hands before our eyes and cry that it is dark."
"The world is the great gymnasium where we come to make ourselves strong."
"We are what our thoughts have made us; so take care about what you think. Words are secondary. Thoughts live; they travel far."
Also Read: