"Sagar Parikrama" Program- Relevance for UPSC
GS Paper 3: Governance, Administration and Challenges- Government policies and interventions for development in various sectors and issues arising out of their design and implementation.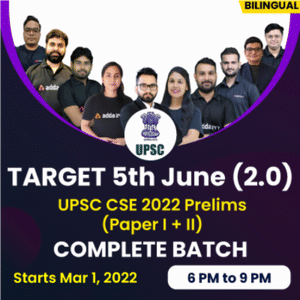 "Sagar Parikrama" Program- Context
Ministry of Fisheries, Animal Husbandry and Dairying is organizing the "Sagar Parikrama" program on the occasion of the 75th Azadi Ka Amrit Mahotsava.

"Sagar Parikrama" Program- Key Points
About: As a mark of gratitude to our seas, Sagar Parikrama Program is saluting our great freedom fighters, sailors and fishers.

The first leg of 'Sagar Parikrama' shall begin from Gujarat on 5th Feb 2022 for 2 days.

Objective: Sagar Parikrama aims to focus on the sustainable balance between the utilization of marine fisheries resources for food security of nation and livelihoods of coastal fisher communities and protection of marine ecosystems.
Organization of the Program: Sagar Parikrama program is proposed to be celebrated in all coastal states/UTs.

Sagar Parikrama Program is to be celebrated through a pre-decided sea route down right from Gujarat, Diu, Maharashtra, Goa, Karnataka, Kerala, Tamil Nadu, Andhra Pradesh, Odisha, West Bengal, Andaman & Nicobar and Lakshadweep Islands.
Sagar Parikrama Program is to have an interaction program with fishermen, fisher communities and stakeholders in these locations and districts.

Significance:

Sagar Parikrama Program is being celebrated as a part of the 75th "Azadi Ka Amrit Mahotsava" in order to know the problems of Coastal Fisherfolk.
Under Sagar Parikrama, an evolutionary journey is envisaged in the sea across the coastal belt demonstrating solidarity with all fisherfolk, fish farmers and concerned stakeholder's as a spirit of Aatmanirbhar Bharat.

Parent Ministry and Other Stakeholders: Sagar Parikrama is to be celebrated by the Department of Fisheries, Ministry of Fisheries, Animal Husbandry and Dairying, Government of India and National Fisheries Development Board along with-

Department of Fisheries, Government of Gujarat,
Indian Coast Guard,
Fishery Survey of India,
Gujarat Maritime Board and
fishermen representatives
Azadi Ka Digital Mahotsav- Digital Payment Utsav
"Sagar Parikrama" Program- Key Events
During the event, certificates /sanctions related to the Pradhan Mantri Matsya Sampadha scheme, KCC & State Scheme shall be awarded to the progressive fishermen, especially coastal fishermen, fishers and fish farmers, young fishery entrepreneurs etc.
Literature on PMMSY scheme, State schemes, FIDF, KCC, etc. shall be popularized through print media, electronic media, videos, digital campaigns through jingles to popularize among fishers for wide publicity of schemes.
Azadi Ka Amrit Mahotsav- Climate Change Awareness Campaign and National Photography Competition
Azadi Ka Amrit Mahotsav- Climate Change Awareness Campaign and National Photography Competition