Context
On India's 75th Independence Day, the Prime Minister of India announced that the Centre will launch 'PM Gati Shakti Master Plan'.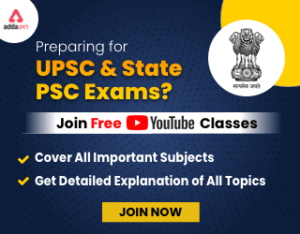 Get free video for UPSC CSE preparation and make your dream of becoming an IAS/IPS/IRS a reality
Key features
About Gati Shakti Master Plan: It will be a Rs. 100 lakh-crore projects for developing 'holistic infrastructure'. It is expected to be the source of employment opportunities for the youth in the future.
Aim: To make a foundation for holistic infrastructure and give an integrated pathway to our economy.
Key Objectives: It has the following objectives-

To provide easier interconnectivity and reduce travel time between road, rail, air, and waterways
To improve industrial productivity
To make local manufacturing globally competitive
To facilitate future economic zones and
To create employment.

Expected Outcomes

Enhanced Competitiveness of Local Indian Manufactures in the global economy, helping them compete with their counterparts worldwide.
Multiplier effect: Investment in Infrastructure development have a multiplier effect with every rupee invested, yielding much higher returns.
It also raises possibilities of new future economic zones.
Mission Schools of Excellence Project of Gujarat Government
Additional Information
National Infrastructure Pipeline (2019-25): similar to the above plan, it was launched in the Union budget speech of 2019-2020.

It provides for an outlay of Rs 102 lakh Crore for infrastructure projects over the next 5 years, with the center, States, and the private sector to share the capital expenditure in a 39:39:22 formula.
Objectives:

To provide world-class infrastructure across the country and improve the quality of life for all citizens.
Ensure Inclusive Growth: by investing in socio-economic infrastructure that creates jobs, improves ease of living, and provides equitable access to infrastructure for all.

Coverage: Both economic and social infrastructure projects are to be developed under this master plan.
Classification of Directive Principles of State Policy (DPSPs)