"GS Paper – 3: Growth & Development, Mobilization of Resources, Issues Relating to Development"
Why in News?
Recently a report which is authored by Soumya Kanti Ghosh, Group Chief Economic Advisor, State Bank of India concluded that India is now ahead of China in financial inclusion metrics on the basis of a number of Bank Branches.
The number of bank branches per 100,000 adults rose to 14.7 in 2020 from 13.6 in 2015, which is higher than Germany, China and South Africa.
What is Financial Inclusion?
Financial inclusion has been defined as "the process of ensuring access to financial services, timely and adequate credit for vulnerable groups such as weaker sections and low-income groups at an affordable cost". (Committee on Financial Inclusion – Chairman: Dr C Rangarajan, RBI, 2008)
Importance Given to Financial Inclusion in UNSDGs
It is also noteworthy to state that, seven of the seventeen United Nations Sustainable Development Goals (SDG) of 2030 view financial inclusion as a key enabler for achieving sustainable development worldwide by improving the quality of lives of poor and marginalized sections of the society. (Home- Sustainable Development Goals, 2018
The National Strategy for Financial Inclusion 2019-2024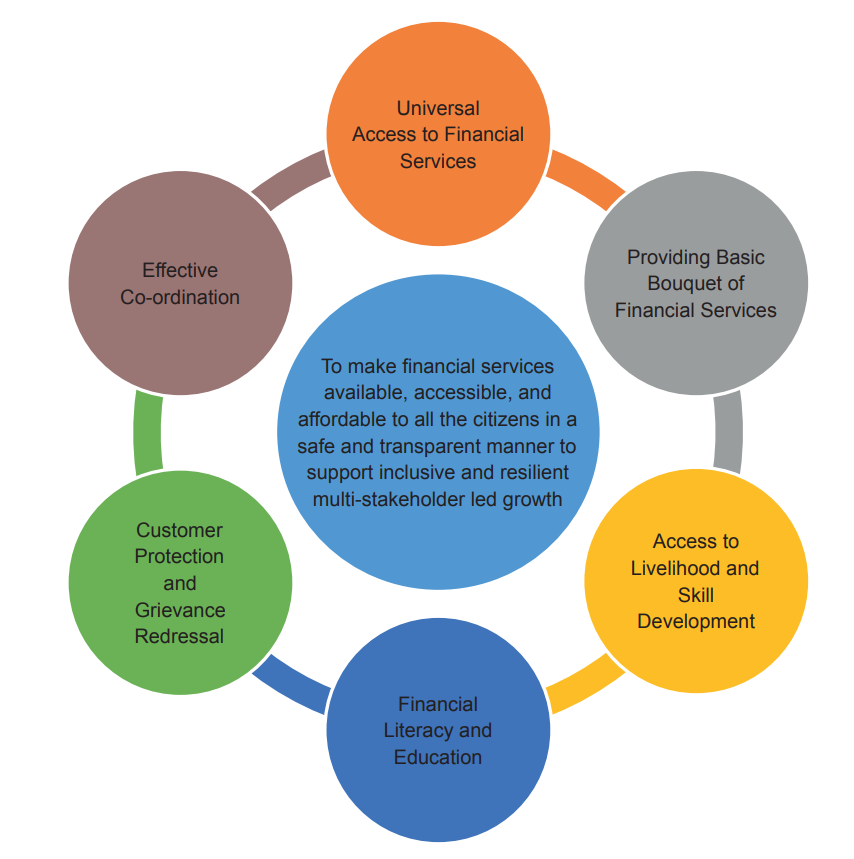 It sets forth the vision and key objectives of the financial inclusion policies in India to help expand and sustain the financial inclusion process at the national level through a broad convergence of action involving all the stakeholders in the financial sector.
Key Findings of the Report
Research also shows that states with higher Pradhan Mantri Jan-Dhan Yojana accounts balances have seen a perceptible decline in crime
There is both a statistically significant and economically meaningful drop in consumption of intoxicants such as alcohol and tobacco products in states where more PMJDY accounts are opened.
The report highlighted that the Banking Correspondent (BC) model in India is enabled to provide a defined range of banking services at low cost and hence is instrumental in promoting financial inclusion.
Key Initiatives that led to the success of financial inclusion in the country:
Initiation of PMJDY accounts since 2014.
Robust digital infrastructure.
Careful recalibration of bank branches.
Using the BC model judiciously for furthering financial inclusion.
Use of digital payments as between 2015 and 2020
mobile and internet banking transactions per 1,000 adults have increased to 13,615 in 2019 from 183 in 2015
How Banking Correspondence(BC) Model Proved a Game Changer?
The new branch authorisation policy of 2017 – which recognises BCs that provide banking services for a minimum of 4-hours per day and for at least 5-days a week as banking outlets has progressively obviated the need to set up brick and mortar branches.
For example, the number of 'Banking Outlets in Villages – BCs' has risen from 34,174 in Mar'10 to 12.4 lakh in Dec'20.
The BCs are enabled to provide a defined range of banking services at a low cost and hence are instrumental in promoting financial inclusion.
Such progress shows an impressive outreach of banking services through branchless banking.