HPSC HCS Prelims Exam Analysis 2022: Introduction
Haryana Public Service Commission (HPSC) has conducted the HPSC HCS Prelims Examination 2022 today i.e 24-07-2022.
The General Studies paper was held from 10 am to 12 noon. While the CSAT paper was held from 3 pm to 5 pm.
In this article, we are providing the HPSC HCS Prelims Exam Analysis 2022 of  General studies Paper which was held in Shift 1.
HPSC HCS 2022 Exam Analysis: Overview
Exam Pattern
HPSC HCS Prelims Question Paper 2022 consists of two papers including General studies and CSAT (Civil Service Aptitude Test). Therefore, the examination is also organized in two shifts of two hours each. There is a gap of 3 hours between the two shifts.
Here, we shall provide HPSC HCS 2022 Exam Analysis on the basis of the General studies Paper For Today's HPSC HCS Prelims Exam 2022.
As the cut-off in the HPSC HCS preliminary examination will be determined on the basis of marks obtained in the first paper 'General Studies', while the second paper 'CSAT' is of qualifying nature.
It is mandatory to obtain 33% qualifying marks for the second paper.
It is to be noted that there is a provision of one-fourth (1/4) negative marking for every wrong answer in this examination.
HPSC HCS Prelims 2022 analysis: The difficulty level of the HPSC HCS Pre exam 2022
The difficulty level of the HPSC HCS Pre Examination 2022 was of moderate level. Most of the questions from subjects like History, Geo, Environment and Ecology, Art and Craft, General Science, & Economy were asked from traditional sides and questions from Current Affairs could also be easily handled.
Subject-wise Analysis of HPSC Prelims 2022: Subject-wise Weightage of Questions
| | |
| --- | --- |
| Subject | Question Weightage |
| History and A&C | 24 |
| Geography, Environment & Ecology | 21 |
| Polity | 8 |
| Economy | 8 |
| General Science | 24 |
| Current Affairs | 15 |
| Total Questions | 100 |
HPSC Prelims 2022 Question Paper Analysis: Subject Wise Distribution Of Questions of Set B
| | |
| --- | --- |
| Subject | Question No. From SET B |
| History and A&C | 6, 8, 9, 10, 11, 13, 15, 16, 17, 18, 19, 50, 51, 52, 53, 54, 55, 69, 83, 84, 85, 86, 87, 88 |
| Geography, Environment & Ecology | 14, 36, 37, 38, 39, 40, 41, 47, 48, 49, 72, 74, 75, 76, 89, 90, 91, 92, 93, 94, 96 |
| Polity | 22, 23, 24, 25, 79, 80, 81, 82 |
| Economy | 3, 4, 5, 31, 42, 44, 95, 98 |
| General Science | 12, 20, 21, 26, 27, 29, 30, 32, 33, 34, 35, 56, 57, 58, 59, 60, 61, 62, 63, 64, 65, 66, 77, 78 |
| Current Affairs (National + International) | 1, 28, 43, 45, 46, 67, 68, 70, 71, 73, 97, 99, 100 |
| Total Questions | 100 |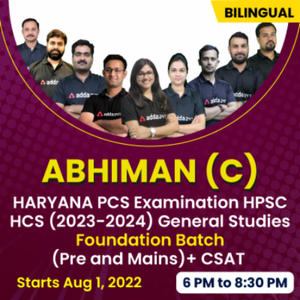 HCS Prelims Question Paper Analysis 2022: Question Paper and Answer Key
HPSC HCS Prelims Question Paper 2022
Question Paper PDF For Paper 1(General Studies)
Question Paper PDF For Paper 2(CSAT)
HPSC HCS Prelims Answer Key 2022, Paper 1