Haryana PSC Latest Updates 2021
Haryana HCS Main exam date 2021 postponed. Haryana PCS has published an official notice announcing that HPSC Mains Date 2021 will be extended till further notice. Candidates who have qualified the HPSC HCS Prelims Exam 2021 must know that HPSC HCS Mains Exam 2021 that was scheduled to be conducted from 03 December 2021 to 05 December 2021 at Panchkula, will now be conducted to the date that will be declared by the HPSC later.
Earlier, HPSC HCS Result 2021 for the prelims exam was released officially on 25th September 2021. HPSC has conducted the HCS Prelims exam 2021 on 12th September 2021.  The HPSC HCS Prelims exam 2021 was conducted in two sessions from 10 a.m. to 12 noon and 3 p.m. to 5 p.m for Paper 1 and Paper 2 respectively.
HPSC HCS Recruitment Notification 2021
Organization Name
Haryana Public Service Commission (HPSC)
Exam Name
HPSC HCS Exam 2021
Total Vacancies
156
Starting Date
03rd March 2021
Closing Date
02nd April 2021
Application Mode
Online
Exam mode
Offline
Selection Process
Prelims-Mains-Interview
Job Location
Haryana
HCS exam admit card release
31st August 2021
Prelims Date
12th September 2021
Prelims Result
24th September 2021
Previous Mains Date
03 December 2021 to 05 December 2021
New Mains Date
To be announced soon.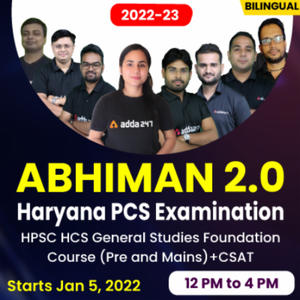 HPSC HCS posts 2021
HPSC HCS exam is the most prestigious exam of the state conducted by the Haryana Public Service Commission (HPSC). The HPSC conducts the Haryana Civil Services exam every year to recruit candidates for the state civil services. This year, the Haryana Government changed the HCS prelims exam pattern and now it is similar to the UPSC Civil Services prelims exam. HCS exam is conducted for the following services:
Haryana Civil Service (Executive Branch)
Deputy Superintendent of Police (D.S.P.)
Excise and Taxation Officer
District Food and Supplies Controller
'A' Class Tehsildar
Assistant Registrar Cooperative Societies
Assistant Excise & Taxation Officer
Block Development & Panchayat Officer
Traffic Manager
District Food & Supplies Officer
Assistant Employment Officer
HCS Exam: Age Limit
The upper age limit for the unreserved category candidates in HCS exam is 42 years (except for the posts of D.S.P.). The lower age limit, however, is 21 years. The age is counted from January 1 of the exam year.
HCS Exam: Application fee
Category
Application fee
1. General category candidates male including Dependent Son of Ex-Serviceman of Haryana and

2. For Male candidates of General Category and all reserved categories of other states

Rs 1000/-
3. For all Females candidates of General category including Female Dependents of ESM of Haryana only

4. For Female candidates of General category and all reserved categories of other States

Rs 250/-
5. For Male & Female candidates of SC/ BC-A/ BC -B/ ESM categories of Haryana only.
Rs 250/-
6. For all PwD i.e. Persons with Disabilities category candidates (with at least 40% disability) of Haryana only
NIL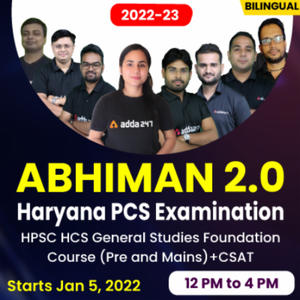 HCS Main Exam
HCS Main exam is the second state of the HCS exam process.  The HCS main exam consists of 5 subjects where candidates have to write answers through pen and paper mode. Important details regarding HCS Mains Exam are given below.
| | | |
| --- | --- | --- |
| Subject Name | Marks Allotted | Time allotted |
| English and English Essay | 100 marks | 3 Hours |
| Hindi Including Hindi Essay in Devnagri Script | 100 marks | 3 Hours |
| General Studies | 100 marks | 3 Hours |
| Optional Subject 1 | 150 marks | 3 hours |
| Optional Subject 2 | 150 marks | 3 hours |
|  Total |  600 Marks | |
HCS Syllabus 2021
Candidates who are appearing for the HPSC exam 2021 should know the topics included in the HPSC HCS syllabus 2021 carefully before starting with their exam preparations. The detailed exam syllabus for all the stages of the exam is provided below.
HCS Prelims Syllabus 2021
HPSC Prelims exam consists of two papers including General studies and CSAT (Civil Service Aptitude Test). All the questions included in prelims exam are objective in nature.
HPSC Prelims Exam: General Studies Syllabus
General Science: Questions included in General Science covers general science, which deals with things happening in our daily life. Some of the subjects which candidates are supposed to study while preparing for this exam include Chemistry, Biology, and Physics.
Importance of Current Events (National & International): This section includes current events happening both nationally and internationally.
History of India and Indian National Movement: In this section, the questions linked to Indian history are asked in the exam. The kind of questions asked in the exam are related to the Indian National Movement, growth of nationalism, etc.
Indian and World Geography: Questions will be based on the social, economical, and physical geography of India and candidates also have to prepare about Indian agriculture as well.
Culture, Politics, Economy of India: Questions on Indian Polity and Economy will test knowledge on the country's political system and Constitution of India, economic developments in the country, Panchayati Raj, etc.
General Mental Ability: Haryana–Economy, and people. Social, economic, and cultural institutions and language of Haryana.
HPSC Prelims Exam: CSAT Syllabus
Comprehension
Interpersonal skills including communication skills
Logical reasoning and analytical ability
Decision making and problem-solving
General mental ability
Basic numeracy (asked till Class X level)
Data interpretation (asked till Class X level)
HCS Mains Syllabus 2021
The HPSC HCS main exam is divided into five conventional-style question papers. The mains exam has a total of five papers out of which two are optional papers. Among the 20 subjects mentioned, candidates can select two subjects as optional based on their preferences. The other three papers asked in the HPSC HCS syllabus include English, Hindi, and General studies. Candidates must know that qualifying the HPSC HCS main exam is important to get selected for the personality test. It is to be noted that secured in all the papers will be considered while preparing the final HPSC HCS result.
HPSC English and English Essay Syllabus
The English paper is included to judge candidates based on their ability to read and understand serious discursive prose and how smartly they can express their thoughts and ideas in English. The pattern of questions asked in the exam is mentioned underneath:
English subjects
Precise Writing  Comprehension of given passages
Essay     Usage and Vocabulary
General Grammar / Composition
In essay writing, candidates are supposed to write on a particular topic assigned to them. Candidates will be given scores based on their effective and exact expressions.
HPSC Hindi and Hindi Essay Syllabus
Candidates appearing for the HPSC HCS Hindi exam must have to write the paper in Hindi Devnagri Script. Detailed syllabus includes
Hindi Syllabus
Translation of an English passage into Hindi Essay on a specific topic.        Explanation of Hindi passage in Hindi only
Composition (idioms, corrections, etc.)   Letter / precise writing
HPSC HCS General Studies Syllabus
The general studies syllabus is further segmented into two parts and candidates have to attempt both parts as both of them are mandatory. Part 1 includes the traditional general studies topics while part 2 includes international orientation and the syllabus included in this is huge.
HPSC HCS General Studies Syllabus: Part-1
(a) History of Modern India and Indian Culture: The 'History of Modern India' includes history from the mid of the nineteenth century and includes questions related to eminent personalities who helped a lot in the Indian freedom movement.
(b) Geography of India: In this section, questions related to the country's physical, economic and social geography are asked.
(c) Indian Polity: Candidates have to prepare answers related to the Indian Constitution, Political system, and other similar matters.
(d) Current National issues and topics of social relevance: This part is included to evaluate candidate's awareness related to the existing national issues and topics of social relevance. Some of the topics asked in the exam include;
Demography and Human Resources & related problems.
Behavioral and social concerns and social welfare problems like gender equality, child labor, adult literacy, rehabilitation of the handicapped, etc.
Law enforcement issues, human rights, corruption in public life, communal harmony, etc. Internal Security and other similar problems.
Environmental issues, ecological preservation, conservation of natural resources, and national heritage.
HPSC HCS General Studies Syllabus: Part-2
India and the World        The purpose of including this section is to test the candidate's awareness related to India's relationship with the rest of the world in different spheres. Questions related to Foreign Affairs. External Security and related matters, Nuclear Policy, etc. are asked in the exam.
Indian Economy In this section, questions related to the planning and economic development in India, economic and trade issues, World Bank, W.T.O., etc. come in the exam.
International Affairs & Institutions            Questions related to important events in world affairs and on international institutions are asked in the exam.
Developments in science and technology, communications, and space sector       Candidate's awareness regarding overall developments in the field of science and technology, communications, etc. is tested.
Statistical analysis, graphs, and diagrams.             This part includes some exercises aimed at testing the candidate's ability to come up with some common-sense conclusions based on the facts mentioned in the statistical, graphical, or diagrammatic form, etc.
HCS Optional Subject List
The other two subjects included in the Mains have to be selected by the candidates themselves. The available optional subjects are given below.
Mathematics
Economics
Botany
Political science & international relations
Law
Chemistry
Zoology
Physics
Agriculture
Psychology
Animal husbandry & Veterinary science
Commerce & Accountancy
Punjabi literature
Public administration
Civil engineering
Mechanical engineering
Electrical engineering
Geography
Sociology
Indian history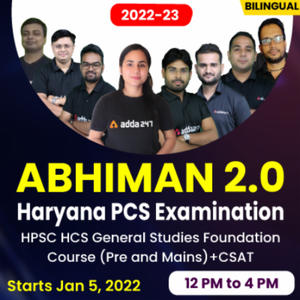 HPSC HCS 2021: Personality Test
The personality test is the last phase of the three-phase selection procedure to shortlist candidates for HPSC HCS posts. Candidates qualifying the prelims and mains will be called for the personality test or personal interview round. The interview round will take place in HPSC premises, Panchkula, and candidates qualifying this test will be finally selected for the posts.