"G.S. Paper 2: Important International institutions"
Context
India's contributions to UN peacekeeping operations (UNPKOs) have been underscored by the experience and professionalism of India's armed forces.
Background
For long India has been one of the top troop contributors for various UN missions. Since the UN's first mission more than 2,50,000 Indian troops have served in UN's 52 missions, the largest number from any country. Till now, 175 Indian peacekeepers have paid the ultimate price in service to peace, losing their lives serving under the UN flag.
What UN peacekeeping does?
UN Peacekeeping helps countries navigate the difficult path from conflict to peace.
It has unique strengths, including legitimacy, burden sharing, and an ability to deploy troops and police from around the world, integrating them with civilian peacekeepers to address a range of mandates set by the UN Security Council and General Assembly.
What is Seoul UN Peacekeeping Ministerial?
The 2021 Seoul UN Peacekeeping Ministerial will be hosted by the Republic of Korea on 7-8 December 2021.
It will focus on achieving concrete and tangible outcomes to improve peacekeeping operations, in line with ongoing peacekeeping reform efforts, specifically Action for Peacekeeping+ (A4P+).
The Secretary-General has put forward A4P+ as a new implementation strategy for Action for Peacekeeping.
It encompasses seven priority areas and is designed to enhance the implementation of the Declaration of Shared Commitments. The Ministerial will serve as a platform for the Member States to contribute their support to this strategy.
India's Demands
There are no proper histories of the 49 missions in which India has participated.
Official records of India and UN peacekeeping must focus on all aspects, including the disproportionately large number of women peacekeepers, police personnel and force commanders, as well as the operational expertise that India has contributed.
This is fundamental to India's petition for an amplified position at the UNSC.
Indian Contribution to UN's Peacekeeping Missions
As an original founder member of the United Nations, India has not hesitated to respond to the calls of the UN to contribute troops for maintaining international peace and security.
From protecting civilians, disarming ex-combatants and helping countries transition from conflict to peace, Indian men and women in uniform have served the cause of peace from the earliest years of United Nations peacekeeping and continue to do so in some of the most challenging missions.
India has a long tradition of sending women on UN peacekeeping missions. In 1960, women serving in the Indian Armed Forces Medical Services were deployed to the Republic of the Congo for the first time.
India lost most of its personnel to "malicious acts" (deaths due to factors like revolution, riots, sabotage, terrorism and murder). Accidents and illness were other causes.
Nearly 80% of the Indian peacekeepers are deployed in the Central African Republic and South Sudan in various sections.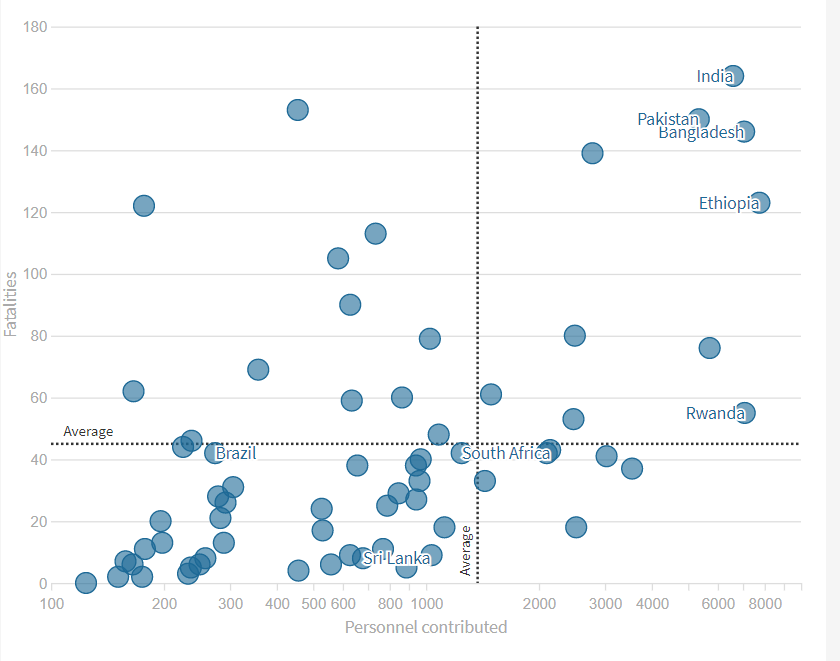 India's contribution in deploying Police Personnel in UN peacekeeping missions
India deployed around 3,000 police officers in 24 UN peacekeeping operations.
India remains an active participant in UN deliberations on women empowerment and gender mainstreaming issues, supports action for accelerated implementation of the WPS agenda in "Action for Peacekeeping (A4P)" and "A4P priorities."
Indian women Police officer Shakti Devi, who was deployed in the UN Assistance Mission in Afghanistan, was awarded the International Female Police Peacekeeper Award in 2014 for her contribution in the creation of a Women's Police Council in Herat.
In 2007, India became the first country to deploy an all-women contingent to a UN peacekeeping mission. The Formed Police Unit in Liberia provided 24-hour guard duty and conducted night patrols in the capital Monrovia and helped to build the capacity of the Liberian police.
Nearly 5,500 Indian soldiers serve in eight of the 13 UN Missions at present.