If you are preparing for the 68th BPSC Combined Competitive Examination (Bihar PCS), then forget your worries as Adda247 has launched this Foundation Batch exclusively for you. With this course, you get 500+ hours of live interactive classes, counselling sessions, expert guidance, preparation tips, and a lot more. The classes are power packed and brain stormed through practice questions based on amalgamation of static and current portion of the topics so that students can understand concepts and solve the questions easily in the examination. Our teachers are from different backgrounds like IIT, Delhi University, JNU, Delhi School of Economics and other top institutions with vast experience of tutoring thousands of successful aspirants for UPSC and PCS Examinations.
नवीनतम BPSC कैलेंडर के अनुसार, 68th BPSC PRE की  परीक्षा 8th January, 2023 को आयोजित की जाएगी। ये बैच आपकी परीक्षा को ध्यान में रखते हुए बनाया गया है, इसमें प्रतिदिन 6 घंटे की क्लास होगी जिससे की समय से आपका पूरा Syllabus पूरा कराया जा सके |
The Bihar Public Service Commission (BPSC) will release BPSC 68th Exam Notification tentatively in the month of October 2022, with the examination tentatively scheduled for 08th January 2023. The BPSC 68th Exam will be divided into three stages: preliminary, mains, and interview. The various posts come under the General Administrative Department such as Deputy Commissioner, Assistant Director, Superintendent of Bihar police, Commerce Tax Officer, Election Officer, Revenue Officer, Welfare Officer, etc.
68th BPSC Online Preparation
Super Specialty of this Batch – 1 to 1 Mentorship by BPSC officers.
अन्य मुख्य विशेषता – इस बैच में आपको हिंदुस्तान के Best faculties के द्वारा पढाया जायेगा जो की स्वयं UPSC और बिहार PCS के INTERVIEW तक पहुंचे हैं 
नालंदा 68th BPSC – बिहार PCS Prelims (P.T.) Final Selection batch by Adda247 PCS.
Batch Start: 12-Oct-2022
Time: 12:00 PM to 06:00 PM
Class Days: 6 Days in a Week (Mon-Sat)
Check the Study Plan here.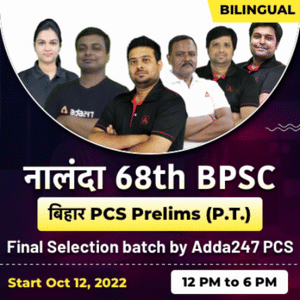 पाठ्यक्रम की मुख्य विशेषताएं
500+ घंटे इंटरएक्टिव लाइव क्लासेस
Class के बाद आपको PDF मिलेगी
बिहार PCS के SELECTED OFFICERS के द्वारा आपको सप्ताह में एक बार Mentorship करायी जाएगी |
पाठ्यक्रम पिछले वर्षों की परीक्षा और संशोधित पैटर्न पर आधारित है
इस बैच में नामांकन करें, सीमित सीटें उपलब्ध हैं।
रिकॉर्ड किए गए वीडियो त्वरित संशोधन के लिए 24/7 उपलब्ध हैं।
विशेषज्ञों के साथ असीमित शंकाओं का समाधान करें।
विशेषज्ञों से तैयारी के टिप्स प्राप्त करें और समय प्रबंधन सीखें।
BPSC Batch Course Highlights
500+ Hours Two-way Interactive Live Classes
Mentorship by BPSC selected officers.
You will get PDF after class.
Syllabus is based on Previous Years Exam and the Revised Pattern
Enroll in this Batch, Limited Seats available.
Recorded Videos available 24/7 for quick Revision.
Solve Unlimited doubts with experts.
Get Preparation tips from the experts & Learn Time Management.
Exam Covered:
68th BPSC Subject Covered
General  Science
Events of National and International importance
History of Bihar and Indian History
Geography
Geography of Bihar
Indian Polity and Economy
Changes in the Economy of Bihar Post-Independence
Indian National Movement and Role of Bihar
Science & Tech & Environment & Ecology
Current Affairs
Complete Bihar GK
General Mental Ability
Course Language:
Classes: HINGLISH