UPSC CSE 2022 Syllabus
UPSC CSE 2022 syllabus download: The Preliminary Examination of UPSC Civil Services is the first elimination round which consists of two papers. It can be referred as a screening test where candidates are asked objective type questions and they need to clear the minimum cut-off to be eligible to write UPSC CSE Mains.
In this article, we will discuss the UPSC CSE prelims 2022 syllabus that the candidates must understand and cover comprehensively to clear the UPSC CSE Prelims 2022 examination.
Aiming for UPSC Prelims 2022? Get the best test series for sure selection:  Click Here
Get Free Study Material for UPSC and State PCS Examinations
UPSC IAS syllabus 2022: UPSC Prelims Syllabus
UPSC CSE Prelims 2022 is divided into two parts:
General Studies Paper I
CSAT or General Studies Paper-II
The preliminary examination of UPSC (IAS) Civil Services is for screening purpose only. It is of qualifying nature that is the marks obtained in the UPSC prelims examination qualifies the candidate to take the UPSC Main examination and will not be counted for determining a candidate's final order of merit.
Both the papers are conducted on the same day. Paper I is conducted in morning from 9:30 to 11:30AM and Paper-II is conducted from 2:30 to 4:30 PM. The questions are of multiple-choice, objective type. Candidates need to choose one from the four options given in the question.
UPSC syllabus 2022: UPSC prelims syllabus paper 1
Current events of national and international importance.
History of India and Indian National Movement.
Indian and World Geography-Physical, Social, Economic Geography of India and the World.
Indian Polity and Governance-Constitution, Political System, Panchayati Raj, Public Policy, Rights Issues, etc.
Economic and Social Development-Sustainable Development, Poverty, Inclusion, Demographics, Social Sector Initiatives, etc.
General issues on Environmental ecology, Bio-diversity and Climate Change – that do not require subject specialization.
Science and Technology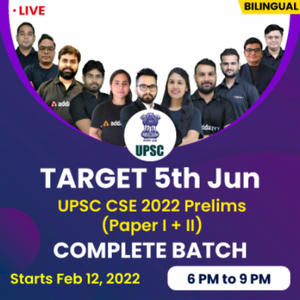 UPSC prelims syllabus : UPSC prelims syllabus subject wise
Subject-Wise Division
Syllabus in Detail
Current Events: Events covered are of National and International Importance
Current Affairs

Current Affairs with all Dimensions

History: Indian History and Indian Freedom Struggle
Ancient History of India

Medieval History of India

Modern History (1857-1947)

Indian National Movement

Geography: Geography of India and Concept of Physical Geography
Physical Geography

Human Geography

Economic Geography

World Geography

Polity: Indian Polity and Governance issues
Constitutional Framework

Union Executives

State Executives

Federalism in India

Judicial System

Panchayati Raj

Economy: Indian Economy and Social Development
– Basic Principles of Indian Economy

– Social Schemes of Government

– Social Development through Economic Empowerment

– Sustainable Development

Demographics

– Poverty, Inclusion, etc.

Environment and Ecology:

Principles of Environment and Ecology

General Principles

Climate Change and

Climate Summits and Conferences

Biodiversity, etc.

General Science: Physics, Chemistry, Biology and Science and Technology
General Principles

Latest Science and Technological Development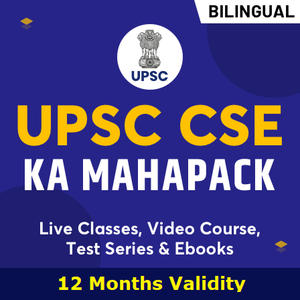 UPSC syllabus pdf download : UPSC prelims syllabus paper 2
Below is the UPSC CSE prelims syllabus 2022 of Paper 2
Comprehension
Interpersonal skills including communication skills
Logical reasoning and analytical ability
Decision making and problem-solving
General mental ability
Basic numeracy (numbers and their relations, orders of magnitude, etc.) (Class X level)
Data interpretation (charts, graphs, tables, data sufficiency etc. (Class X level)
Paper-II of the Civil Services (Preliminary) Examination will be a qualifying paper with minimum qualifying marks fixed at 33%.
It is mandatory for the candidate to appear in both the Papers of Civil Services (Prelim) Examination for the purpose of evaluation. Therefore a candidate will be disqualified in case he/she does not appear in both the papers of Civil Services (Prelim) Examination.
UPSC civil services exam 2022 notification: Important Dates
| | |
| --- | --- |
| Activity | Dates |
| Notification released | 2nd February 2022 |
| Online Registration begins | 2nd February 2022 |
| Last date for applying | 22nd February 2021 |
| UPSC CSE Prelims 2022 Exam | 5 June 2021 |
| UPSC CSE Prelims 2022 Result | July 2021 (Tentative) |
| UPSC Exam Date 2022- CSE Mains Exam | 16 Sep 2022 |
| UPSC CSE Mains 2022 result | December 2022 (Tentative) |
Also Read:
UPSC CSE Prelims 2022 Notification
UPSC Online Registration: UPSC CSE 2022 apply online
UPSC CSE 2022 Exam Pattern and Selection Process
UPSC CSE 2022 Eligibility Criteria
UPSC CSE 2022 Salary Structure