UPPSC RO/ARO Online Preparation
If you are preparing for the Uttar Pradesh UPPSC Review Officer/Assistant Review Officer (UPPSC RO/ARO) Exam, then forget your worries as Adda247 has launched this Batch exclusively for you. This Course has been launched for those students who want to cover the whole syllabus in a limited time period. With this course, you get 300+ hours of live interactive classes, counseling sessions, expert guidance, preparation tips, and a lot more. The classes are power packed and brain stormed through practice questions based on amalgamation of static and current portion of the topics so that students can understand concepts and solve the questions easily in the examination.
नवीनतम UPPSC की जानकारी के अनुसार UPPSC RO ARO (समीक्षा अधिकारी ) का NOTIFICATION जल्दी ही जारी किया जायेगा ।
As per the latest UPPSC News, The UPPSC RO ARO notification will be announced soon.
कर्मयोगी – UPPSC RO/ARO (समीक्षा अधिकारी एवं सहायक समीक्षा अधिकारी ) 2022-2023 – Pre+Mains Complete Foundation batch- Bilingual – Live Classes By Adda247
Batch Start: 17-Oct 2022
Time: 2:00PM to 5:00PM
Check the Study Plan here.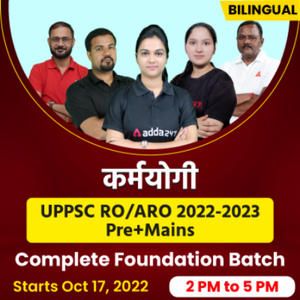 UPPSC RO/ARO पाठ्यक्रम की मुख्य विशेषताएं
आप सभी की बेहद Demand पर UPPSC RO ARO का foundation  बैच ADDA247 पर पुनः लाया गया है |
300+ घंटे इंटरएक्टिव क्लासेस
प्रतिदिन 3 घंटे live क्लासेज चलेंगी |
इसमें आपको UPPSC RO ARO परीक्षा की PRE और MAINS दोनों की तैयारी करायी जाएगी |
पाठ्यक्रम पिछले वर्षों की परीक्षा और संशोधित पैटर्न पर आधारित है
इस बैच में नामांकन करें, सीमित सीटें उपलब्ध हैं।
रिकॉर्ड किए गए वीडियो त्वरित संशोधन के लिए 24/7 उपलब्ध हैं।
विशेषज्ञों के साथ असीमित शंकाओं का समाधान करें।
विशेषज्ञों से तैयारी के टिप्स प्राप्त करें और समय प्रबंधन सीखें।
UPGK और Current Affairs की special class आपको इसमें अलग से free मिलेंगी |
UPPSC RO/ARO Course Highlights
As per your high demand Adda247 launches UPPSC RO ARO Foundation  Batch
300+ Hours Two-way Interactive Live Classes
You will get full classes for PRE & Mains.
Per Day 3 hour live classes
Syllabus is based on Previous Years Exam and the Revised Pattern
Enroll in this Batch, Limited Seats available.
Recorded Videos available 24/7 for quick Revision.
Solve Unlimited doubts with experts.
Get Preparation tips from the experts & Learn Time Management.
You will get free special classes of UPGK & Current Affairs.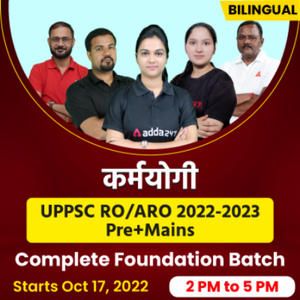 Exam Covered
UPPSC RO ARO (समीक्षा अधिकारी ) 2022-2023