SANKALP – UP PCS Examination 2022-23: Key Details of the SANKALP Course
SANKALP – UP PCS Examination UPPSC General Studies Paper Foundation Live Course (Pre and Mains) + CSAT
Batch Start: 01-Dec-2021
Time: 12:00 PM to 4:00PM
Language: Bilingual
Class Days: Mon-Sat 
Check the study plan here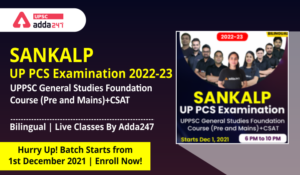 SANKALP – UP PCS Examination UPPSC General Studies Paper Foundation Live Course (Pre and Mains) + CSAT

 SANKALP – UP PCS Examination 2022-23: More about the Foundation Course
Subjects Covered: General Studies Foundation Programme is aimed to prepare for the UPPSC aspirants for General Studies Prelims (Paper-1) and General Studies Main (Paper1 -4), Essay, Hindi and English Compulsory Subjects.
Innovative and Interactive Classes: The classes are power-packed and brainstorming through practice questions based on an amalgamation of the static and current portion of the topics so that students can understand concepts and solves the questions easily in the examination.
Our Esteemed Teachers: Our teachers are from different backgrounds from IIT, Delhi University, JNU, Delhi School of Economics and other top institutions with vast experience of tutoring thousands of successful aspirants for UP PCS examination conducted by UPPSC.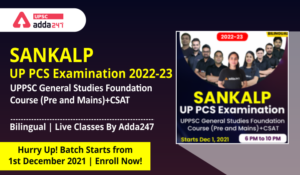 SANKALP – UP PCS Examination UPPSC General Studies Paper Foundation Live Course (Pre and Mains) + CSAT

Course Highlights:
Study plan (Fixed Class schedule)
550 hours of Live GS (Foundation Course) + CSAT
English Medium only
Comprehensive Study Material
Pre-Class Study Material
Mains Class Study Material
Special Issues (Annual Current Affairs, Economic Survey and Budget)
Testing Plan
Weekly Class Tests
Subject-End Class Tests
Prelims Test Series
Main Test Series
Doubt Clearance with Personal Mentors.
Hindi and English compulsory Class
Essay writing Class
Current Affairs
SANKALP – UP PCS Examination UPPSC General Studies Paper Foundation Live Course (Pre and Mains) + CSAT

Subject Covered GS (Pre + Mains):
Ancient India
Medieval India
Modern India
Contemporary History
World History
Art & Culture
Economy
Geography
Environment & Ecology
Polity & Governance
International Relation
Internal Security
Social Issue and Justice
Ethics
General Science & Technology
Disaster Management
SANKALP – UP PCS Examination UPPSC General Studies Paper Foundation Live Course (Pre and Mains) + CSAT

 Subject Covered CSAT:
Comprehension
Interpersonal skills including communication skills;
Logical reasoning and analytical ability
Decision-making and problem solving
General mental ability
Basic numeracy (numbers and their relations, orders of magnitude, etc.) (Class X level), Data interpretation (charts, graphs, tables, data sufficiency etc. – Class X level)
SANKALP – UP PCS Examination UPPSC General Studies Paper Foundation Live Course (Pre and Mains) + CSAT

Exam Covered:
UPPSC 2022 – 2023 GS (Pre + Mains) + CSAT
Course Language
 Classes: Hindi and English (Bilingual)
Validity:
12 Months
Benefits:
Stay safe and learn from the comfort of your home
Save time and money as there is no need to travel or stay outside your home/hometown
You can repeat and revise the Recorded Lecture again and again.
Compete with students all over the country and get your rank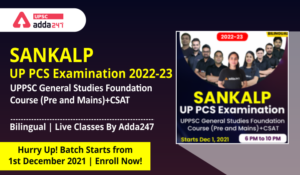 SANKALP – UP PCS Examination UPPSC General Studies Paper Foundation Live Course (Pre and Mains) + CSAT