76th I-Day Address of PM- Relevance for UPSC Exam
GS Paper 2: Governance, Administration and Challenges- Government policies and interventions for development in various sectors and issues arising out of their design and implementation.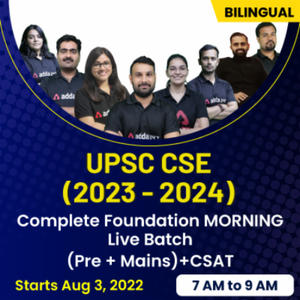 76th I-Day Address of PM in News
Recently, Prime Minister Narendra Modi addressed the nation from the ramparts of Red Fort on the 76th Independence Day.
While addressing the nation, he also asserted India's fight against corruption is entering a "decisive period" as he listed two big challenges of corruption and nepotism that are facing the country.
76th I-Day Address of PM- Key Details
Five Resolution for Amrit Kal: PM Modi also announced five resolutions for the country for the next 25 years that he described as Amrit Kal. Following are the five resolves or panchpran he announced for the next 25 year-

First: Big resolve;
Second: To abandon the slave mentality;
Third: we have to feel proud about our heritage;
Fourth: Unity and solidarity; and
Fifth: The duty of citizens.

Fight Against Corruption: he said that corruption is hollowing the country like a termite and we will have to fight it.

The prime minister said that the country's fight against corruption is entering a "decisive period [nirnayak kalkhand]".
He also added that the country needs to be aware of the corruption and corrupt.

Jai Jawan, Jai Kisan, Jai Anusandhan: He emphasised the need for innovation and added a new phrase—Jai Anusandhan—to the slogan Jai Jawan, Jai Kisan.

It was coined by the then prime minister Chaudhary Charan Singh and expanded to Jai Jawan, Jai Kisan and Jai Vigyan by former prime minister Atal Bihari Vajpayee.
Now after addition of , Jai Anusandhan, it is to be known as "Jai Jawan, Jai Kisan, Jai Vigyan, Jai Anusandhan,".

Call for Nepotism Free Nation : PM Modi in his address to the Nation on 76th Independence, emphasised on eliminating nepotism from every institution of India and not just from the Politics.

He said that Nepotism has gripped many institutions of the country and this hurts the nation's talent and potential and also one of the causes of the corruption in the Nations.

Increasing Women Participation in Nation Building: PM Modi also urged people to take a resolve to respect women and called for increasing their contribution to the progress of the country during the next 25 years.
Indian Independence Day 2022- Background
British Rule: The Englishmen entered Surat and Gujarat in 1619 for trading purposes.

After the victory of the English East India Company at the Battle of Plassey in 1757, the Britishers made their control over India.

British Domination over India: Britishers dominated over India for almost 200 years starting from 1757 after their victory in the Battle of Plassey which was further consolidated after Battle of Buxur.
Freedom Struggle: To free India from British rule, many Indian Freedom Fighters like Bhagat Singh, Chandrashekhar Azad, Netaji Subhas Chandra Bose, Sardar Vallabhbhai Patel, Mahatma Gandhi and others sacrificed their everything.
India's Independence: The Indian Independence movement began during World War I and was led by Mohandas Karamchand Gandhi.

On August 15, 1947, India got its freedom, ending an almost 200-year British rule.

I-Day Address of Prime Minister of India: India's first prime minister Jawaharlal Nehru raised the Indian national flag above the Lahori Gate of Red Fort in Delhi on August 15, 1947.

It is a tradition that has since been followed by the incumbent Prime Minister, followed by an address to the country.