One Nation One Ration Card (ONORC)- Relevance for UPSC Exam
One Nation One Ration Card (ONORC): One Nation One Ration Card is important part of ensuring food security of the nation, especially of poor and marginalized section of people. One Nation One Ration Card (ONORC) is part of UPSC Mains GS Paper 2 (Governance, Administration and Challenges- Government policies and interventions for development in various sectors and issues arising out of their design and implementation.)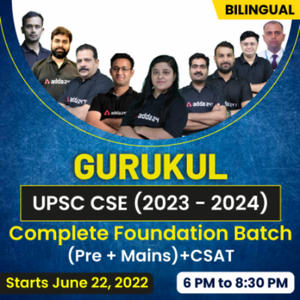 One Nation One Ration Card (ONORC) in News
Recently, Assam has become the 36th State/UT to implement One Nation One Ration Card (ONORC).
With this, the ONORC plan is successfully implemented in all the 36 states/UTs, making food security portable throughout the country.

One Nation One Ration Card (ONORC)
About: ONORC was launched in August 2019 to bridge the accessibility gap in the National Food Security (NFS) Act, 2013 by ensuring portability of their ration cards within and among various states.
Key Objective: to ensure hassle-free delivery of subsidized food grains to all migratory beneficiaries anywhere in the country by ensuring nationwide portability of their ration cards under the National Food Security Act (NFSA).
Significance:

ONORC will help in empowering all NFSA beneficiaries to become AtmaNirbhar for their food security anywhere in the country.
Atmanirbharata is to be ensured through portability of their existing ration cards enabling them to seamlessly lift their entitled subsidized foodgrains (in part or full) from any Fair Price Shop of their choice.
This also enables their family members to lift balance/required amount of foodgrains on the same ration card at their native/ any place from the FPS of their choice.

Nodal Ministry: One Nation One Ration Card (ONORC) scheme is implemented by the Ministry of Consumer Affairs, Food, and Public Distribution.
Beneficiaries: ORORC has been swiftly implemented in a short-span of time covering about 80 Crore beneficiaries, after being initiated in August 2019.
Analysis Of Sansad TV Discussion: "One Nation, One Election"
Working of One Nation One Ration Card (ONORC) Scheme
Technology-enabled ONORC:

It involves details of beneficiaries' ration card, Aadhaar number, and electronic Points of Sale (ePoS).
Identification of beneficiary: through biometric authentication on ePoS devices at fair price shops.

Two portals to run the system that also hosts all the relevant data:

Integrated Management of Public Distribution System (IM-PDS) portal: records the inter-state transactions.
Annavitran Portal: maintains a record of intra-state transactions (inter-district and intra-district).

'MERA RATION' mobile application: it has been rolled out to take maximum advantage of the ONORC plan.

The mobile app is providing a host of useful real time information to the beneficiaries and is available in 13 languages.
So far, the App has been downloaded more than 20 Lakh times from Google play store.
Performance of One Nation One Ration Card (ONORC) Scheme
Since its inception in August 2019, about 71 Crore portable transactions (43.6 crore NFSA and 27.8 crore PM-GKAY transactions) have taken place under ONORC, delivering foodgrains equivalent to about Rs. 40,000 Crore in food subsidy through portability.
About 64 Crore portable transactions have been recorded during COVID-19 period itself (from April 2020 till date) delivering foodgrains equivalent to about Rs. 36,000 Crore in food subsidy through portability.

Out of these 64 crore portable transactions, 27.8 crore portability transactions were recorded under PMGKAY (Pradhan Mantri Garib Kalyan Anna Yojana).
MPGKAY was announced in March 2020 for distribution of additional free-of-cost foodgrains (Rice/Wheat) to NFSA beneficiaries to mitigate the Covid induced hardships.

Additionally, presently a monthly average of about 3 Crore portable transactions are being recorded, delivering the subsidised NFSA and free PMGKAY foodgrains with anywhere flexibility to the beneficiaries.