Digital India BHASHINI Platform- Relevance for UPSC Exam
GS Paper 2: Governance, Administration and Challenges– Government policies and interventions for development in various sectors and issues arising out of their design and implementation.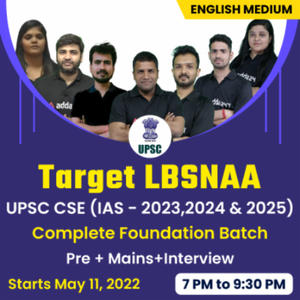 Digital India BHASHINI Platform in News
Recently, Minister of State for Electronics and Information Technology (Meity) held Brainstorming with Researchers & Start-ups to shape strategy for Digital India BHASHINI – India's AI led language translation platform.
Digital India BHASHINI Platform
About: Bhashini is a digital platform that acts as an orchestrator to unify and align a large diverse network across government, industry, academia, research groups and start-ups to bring all their contributions into an open repository.
Mandate: Bhashini aims to build a National Public Digital Platform for languages to develop services and products for citizens by leveraging the power of artificial intelligence and other emerging technologies.
Connecting India: Whereas BharatNet & 5G shall catalyze the 'connecting all Indians' to Internet goal, initiatives like Bhashini shall ensure that the citizens consume the internet and Digital Government service in their own languages.

Enabling access to knowledge resources, and digital empowerment of the citizens is of high priority to achieve the goals of Digital India.

Implementing Ministry: Digital India BHASHINI Platform is being implemented by the Ministry of Electronics and Information Technology (Meity).
Significance of Mission Digital India BHASHINI
Catalysing Entrepreneurship: A Bhashini Platform will make Artificial Intelligence (AI) and Natural Language Processing (NLP) resources available to MSMEs, Start-ups and Individual Innovators in the public domain.

Multi-linguality presents a major opportunity to start-ups for developing innovative solutions and products that can cater to all Indian citizens irrespective of the language they know.

Breaking the Language Barrier: Digital India BHASHINI mission aims to empower Indian citizens by connecting them to the Digital Initiatives of the country in their own language thereby leading to digital inclusion.
Promoting Digital Government: The Bhashini platform is interoperable and will catalyze the entire Digital Ecosystem. It is a giant step to realize the goal of Digital Government.
Creating Ecosystem for Products in Local Languages: Mission Digital India Bhashini will create and nurture an ecosystem involving Central/State government agencies and start-ups, working together to develop and deploy innovative products and services in Indian languages.
Increased Digital Content in Indian Languages: Mission Digital India Bhashini also aims to increase the content in Indian languages on the Internet substantially in the domains of public interest, particularly, governance-and-policy, science & technology, etc.

This will encourage citizens to use the Internet in their own language.
Azadi Ka Digital Mahotsav- Digital Payment Utsav
adda247.com/…/azadi-ka-digital-mahotsav-digital-payment-utsav