Context
As of August 2021, there are a total of 42 Ramsar wetlands of international importance sites in India, highest in the South Asia.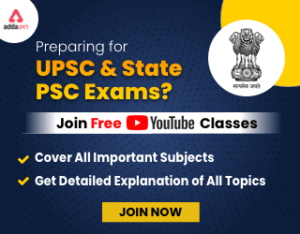 Get free video for UPSC CSE preparation and make your dream of becoming an IAS/IPS/IRS a reality
Key points about Ramsar Wetlands of International Importance
Ramsar Convention on Wetlands, 1971: It is an international treaty for the conservation and sustainable utilization of wetlands, recognizing the fundamental ecological functions of wetlands and their economic, cultural, scientific, and recreational value.

It entered into force in India on 1 February 1982.
The main theme of the Ramsar philosophy is the "wise use" of wetlands.
Number of parties to the convention: 171 parties are part of the convention (as of August 2021)

World Wetlands Day: celebrated annually on the 2nd of February.
Largest Ramsar site in India: Sundarbans wetland (4220 sq-km) of West Bengal.
Smallest Ramsar site in India: Renuka Wetland (0.2 sq. km) of Himachal Pradesh.
State with the highest number of Ramsar sites: Uttar Pradesh has the highest number (8) of Ramsar sites in India.
Nodal agency: Ministry of Environment, Forest and Climate Change (MoEFCC)
Global scenario:

There are about 2400 Ramsar sites globally, covering around 2.5 million sq km.
Country with the largest number of Ramsar sites: United Kingdom (175) followed by Mexico (142).
Country with the largest area under Ramsar sites: Bolivia has the largest area (148,000 sq-km) under Ramsar protection.
World's first Ramsar site: the Cobourg Peninsula in Australia was the first Ramsar site identified in 1974.
Red Fort of Delhi: All You Need to Know
State-wise list of Ramsar wetland sites in India
                           State/Union Territories
                  Ramsar Wetland sites
Jammu and Kashmir
1. Hokera Wetland

2. Surinsar- Mansar lakes

3. Wular lake

4. Tsomoriri Lake

UT of Ladakh
5. Tso Kar Wetland Complex
Punjab
6. Beas Conservation Reserve

7. Harike Wetlands

8. Kanjli Wetland

9. Keshopur-Miani Community Reserve

10. Nangal Wildlife Sanctuary

11. Ropar Wetland

Himachal Pradesh
12. Chandra Taal

13. Pong Dam Lake

14. Renuka lake

Uttarakhand
15. Asan Barrage
Rajasthan
16. Keoladeo National Park

17. Sambhar Lake

Uttar Pradesh
18. Nawabganj Bird Sanctuary

19. Parvati Agra Bird Sanctuary

20. Saman Bird Sanctuary

21. Samaspur Bird Sanctuary

22. Sandi Bird Sanctuary

23. Sarsai Nawar Jheel

24. Sur Sarovar

25. Upper-Ganga River (Brijghat to Narora Stretch)

Bihar
26. Kanwar Lake or Kabal Taal
West Bengal
27. East Kolkata Wetlands

28. Sunderban Wetland

Odisha
29. Chilika Lake

30. Bhitarkanika Mangroves

Madhya Pradesh
31. Bhoj Wetlands
Gujarat
32. Nalsarovar Bird sanctuary
Maharashtra
33. Nandur Madhameshwar

34. Lonar Lake

Andhra Pradesh
35. Kolleru lake
Tamil Nadu
36. Point Calimere Wildlife and Bird Sanctuary
Kerala
37. Vembanad Kol Wetland

38. Sasthamkotta lake

39. Ashtamudi Wetland

Assam
40. Deepor Beel
Tripura
41. Rudrasagar Lake
Manipur
42. Loktak lake
Also read: Agalega Island of Mauritius