Relevance
GS Paper 2: Issues relating to development and management of Social Sector/Services relating to: Health; human resources.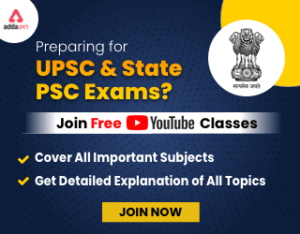 Get free video for UPSC CSE preparation and make your dream of becoming an IAS/IPS/IRS a reality
Context
Recently, India has signed 26 bilateral pacts, 15 memoranda of understanding and two agreements on security cooperation with different countries for combating illicit trafficking of narcotics, drugs and psychotropic substances.
The Narcotics Control Bureau (NCB) coordinated with various international organizations for sharing information and intelligence to combat transnational drug trafficking.
Rainwater harvesting: Countering Water Scarcity
Drug/Substance abuse in India
Definition: World Health Organization (WHO) defines Drug Abuse as the harmful or hazardous use of psychoactive substances, including alcohol and illicit drugs.

Addiction is an advanced stage of substance abuse where the addict develops a compulsion to take the drug, persists in its use despite harmful consequences and exhibits a determination to obtain the drug by almost any means.

Severity of drug abuse problem in India:

According to a survey by the Ministry of Social Justice and Empowerment, India has more than 70 million drug addicts.
An AIIMS study in February 2019: found that around 5 crore Indians reported having used cannabis and opioids at the time of the survey.

Alcohol is the most commonly abused psychoactive substance followed by cannabis, opioids (heroin, opium) and inhalers.
It has been estimated that there are about 8.5 lakh people who inject drugs.

As per National Crime Records Bureau's (NCRB)'s suicide data, In the year 2019, 7719 out of the total 7860 suicide victims due to drug abuse/alcohol addiction were male.
Bad Bank: Importance And Criticism
Causes of growing drug menace in India
Location of the country: India is sandwiched between the two largest Opium producing regions of the world that is the Golden triangle (which comprises Thailand, Myanmar, Vietnam and Laos) on one side and the Golden crescent (includes Pakistan, Afghanistan and Iran) on the other.
Peer pressure and on the pretext of being stress buster: school and college students often start using drugs under peer pressure and on the pretext of being immense exam pressure.
Poor implementation of laws: drug trafficking across the borders, corruption in the policing system, negligence on the part of law enforcement agencies (for example use of drugs in rave parties), etc. are a few of the examples of poor implementation of laws.
Changing traditional societal values: The processes of industrialization, urbanization and migration have led to a loosening of the traditional methods of social control rendering an individual vulnerable to the stresses and strains of modern life.
Financial problems and social neglect: it often found that people under immense financial pressure, especially unemployed youth start consuming drugs.

When an adolescent does not get adequate attention and love in the family or from friends/intimate partner, s/he often feels neglected and to cope up with this, they start using drugs.
National Human Rights Commission (NHRC): Structure, Functions, Powers and Challenges
Impacts of rampant drug abuse
On society: Rampant drugs use among people, especially youth affect relationships with family, friends creating emotional and social problems.

Drug use has also been linked with rise in the domestic abuse of women in the family.

On the national economy: it results in the wastage of demographic dividends that India has as drug use harms individual's mental, physical and emotional capabilities, hence, negatively affecting the Indian economy.
On health: drug use often results in unintentional injuries, accidents, incidents, medical problems, and death.
Internal Security: terrorists and other extremist organizations often sell drugs to garner money for their terrorist activities, hence, harming India's national security and sovereignty.
Financial Action Task Force (FATF): Composition, Functions, and Its Fight against Terror Financing
Important government steps to check drug menace in India
Narco-Coordination Centre (NCORD): established in 2016 by the Ministry of Home Affairs (MHA) for effective drug law enforcement. This NCORD system has been restructured into a four-tier scheme up to district level in 2019, for better coordination.
E-portal 'SIMS' (Seizure Information Management System): launched in 2019 by MHA for digitization of pan-India drug seizure data which is to be used by all the drug law enforcement agencies under the mandate of the NDPS Act.
Narcotics Drugs and Psychotropic Substances (NDPS) Act, 1985: It prohibits a person from producing, possessing, selling, purchasing, transporting, storing, and/or consuming any narcotic drug or psychotropic substance.

It also applies to all Indian citizens outside India and to all persons on ships and aircraft registered in India.
It empowers the Directorate of Revenue Intelligence, the Border Security Force, Sashastra Seema Bal, Indian Coast Guard, Railway Protection Force and the National Investigation Agency for making drug seizures.

Role of Ministry of Social Justice and Empowerment: it is the nodal ministry for drug demand reduction that coordinates and monitors all aspects of drug abuse prevention which include assessment of the extent of the problem, preventive action, treatment and rehabilitation of addicts.

About 350 to 400 Integrated Rehabilitation Centres for Addicts (IRCA) are functioning with the support of the Ministry.
National Centre for Drug Abuse Prevention has been set up for capacity building and training of NGOs running De-addiction centres.
Way forward
Drug menace is the manifestation of deep-rooted distortions in the socio-cultural, economic and political system. Being systemic and multi-dimensional, its solution shall have to be systemic and multi-pronged.
Reducing the stigma attached to drug problems: by being empathetic towards victims of drug addicts and should not treat them as criminals.
Awareness: should be done by the government with the coordination of civil societies in this field.

The educational curriculum should be revised and chapters on drug addiction and ways to counter it should be included.

Strengthening the rehabilitation and other health infrastructure to ensure quality care to drug addicts and re-integration in the society.