After a long wait, finally, the CTET Results 2021-22 were released on 9th March 2022. Every year lakhs of aspirants appear for the CTET Exams with their utmost preparations and determination. However, only 30% to 40% of candidates among them manage to clear the CTET Exam. As the CTET Result 2021-22 brought happiness and jubilance for some candidates who have successfully cleared the CTET Exam, however, many more candidates had to face disappointment. Yet, we advise the candidates who couldn't secure the CTET Cut-Off marks this year not to be disheartened. It's ok if you could not clear it this time. There is always a second time.
CTET New Syllabus 2022 & Exam Pattern
Moreover, you have to start focusing on the bigger picture. CTET is just an eligibility test with a fixed cut-off mark for all the categories. If you are unable to qualify in the CTET exam then imagine the recruitment examination where the competition will be much higher and the cut-off marks of those examinations will be invariably much higher than the CTET exams. In other words, you are not yet ready for the recruitment exams like KVS, DSSSB or NVS as of now. That does not mean you will not be able to crack these highly competitive exams in near future.
It's high time, you take the CTET exam very seriously and try to raise the bar of your preparation. Seeking the help of private tutors or online batches to identify your weak spots and attain improvement there. Try to fill in the gaps in your preparation techniques and adopt adequate measures to upgrade your understanding on how to tackle the CTET exam amidst so mental and emotional pressure of the exam.
You can also applt for the upcoming REET examination which will be tentatively conducted on 23rd July and 24th July 2022. The DSSSB PGT Exam notification is expected to be released in April 2022 and the DSSSB TGT Exam might be scheduled for September 2022. So, try to focus on these exams as this will help you stay motivated to study and prepare diligently for the exam. You will be able to push yourself further and expand your horizon of knowledge. Meanwhile, the next CTET Exam 2022 will be conducted during the month of July 2022. By then you will be prepared to crack the CTET Exam with flying colours.
If you think that you have got a lot of time in hand to prepare for the upcoming CTET Exam 2022 then you are mistaken. It is already mid of march and the notification for the July cycle of the CTET exam is expected to be released in April 2022. By the time the CTET Exam 2022 will be conducted in July 2022 (Tentatively), you won't get enough time to prepare for the CTET exam properly. Going through the entire syllabus and covering all the important point is one aspect of preparation and maybe you will be able to do it within 2 months. However, Another aspect is to understand the nature of the questions asked that appear in the CTET Exam and solve it accordingly. This time, many questions were application or assertion-based. To solve such questions it is essential to know how to apply the knowledge you have gained from your textbooks in a live classroom situation.
CTET 2022 Certificate Validity
As the CTET Exam 2022 was conducted in online mode, many candidates commented that many CDP related questions in every section were lengthy and it was difficult to read the questions on the screen and answer it. This problem might have been the reason for your less numbers in CTET Exam 2021-22. Thus, it is of utmost importance for you to attempt as many online mock tests on your desktop as possible to get acquainted with the idea and applicability of giving an online exam. Moreover, your focus should be on improving your speed, accuracy, overall time management and problem-solving skills during the online CTET Exam.
It is easier to get disheartened after the first failure, however, it is essential to remember that failure is just the first step towards success. Keep hustling and equip yourself with a better comprehension of the techniques to qualify in the CTET exams. All the best.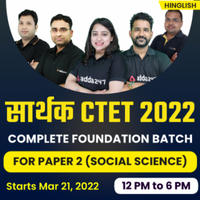 Read This Also: