Central Teacher Eligibility Test called as CTET Exam is a well-known eligibility test in the teaching field. CTET is a big exam and to crack it we have to make a plan and strategy for the preparation. CTET December 2022 notification has been released on the official website. CTET exam will be conducted in online mode as Computer Based Test (CBT). CTET Application process 2022 has started from 31 October 2022 to 24 November 2022. All the candidates must get ready and start taking steps towards the preparation to clear exam in first attempt asap.
CTET Exam 2022
CTET is conducted at central level by CBSE and Other States conduct their Teaching Eligibility Test at State level. As you can see, the competition is growing day by day, with such a large number that you can not ignore. Our purpose is to make you aware of the competition of the CTET exam and prepare you for getting success in the teaching field.
Register Here For CTET 2022 Free Study Material
CTET 2022 Exam – Study Pattern for CTET Exam
To clear CTET December 2022 exam, students have to follow the given study pattern everyday. The subject and topic wise preparation and strategy is important for candidate to clear CTET 2022 is first attempt.
| | | |
| --- | --- | --- |
| Subjects | Number of hours/per day | What to study |
| Child Pedagogy | 1-2 hour | Piaget Theory, Moral Development theory, learning etc. |
| Mathematics | 2 hour | Number System, arithmetic's & Math's Pedagogy Concepts etc. |
| Science | 1.5 -2 hour | Topics like Human Physiology, physics Concept and Chemistry and basic science pedagogy concepts etc. |
| Social Studies | 1.5 -2 hour | Topics like  Constitutional Article, Dynasties & Agriculture etc. |
| English | 1.5 hour | Topics like RC, Poem and Basic Pedagogy Concept etc. |
| Hindi | 1.5 hour | Topics like RC, Poem and Basic Pedagogy Concept etc. |
Tips to Prepare before for the Exam:
Here we are sharing some important tips to crack CTET Exam 2022 in one go. As we have seen only two month is left for CTET Exam 2022, so we have planned their strategy smartly because we don't have too much to cover each & every topic thoroughly.
– Know the syllabus and understand the pattern
– Clear the concepts and base to solve the problem easily
– Take CTET 2022 Mock Test Series
– Identify the weak areas and practice more toward them
– Practice with CTET Previous Year Papers
– Try to stay calm & Confident
CTET Exam Pattern & Syllabus
CTET has 2 levels that have different syllabus but the same exam pattern. To crack CTET 2022 Exam students must aware of the CTET 2022 Syllabus & New Exam pattern in detail. Take a look at the important points:
CTET Paper 1 Subjects: Child Development and Pedagogy (CDP), Language I (compulsory), Language II (compulsory), Subject concerned Pedagogy, Mathematics and Subject concerned Pedagogy, Environmental Studies and Subject concerned Pedagogy.
CTET 2022 Syllabus & Exam Pattern PDF Download
CTET Paper 2 Subjects: Child Development and Pedagogy (CDP), Language I (compulsory), Language II (compulsory), Subject concerned Pedagogy, Mathematics & Science and Subject concerned Pedagogy OR Social Science and Subject concerned Pedagogy.
An important point to be noted
The CTET  exams are conducted in online mode i.e.CBT
150 questions need to be attempted in a span of 150 minutes, which makes it 1 minute for each question. Thus it is clear that speed plays a vital role here.
There is no negative marking.
Pedagogy: This subject covers up to 30 marks and also has 50% of questions in other subjects related to it. Hence, it becomes of utmost important to prepare for this.
The detailed methodology to clear the exam
Basic Concepts & Foundation
Identify and have a clear understanding of all the basic concepts of every subject. Questions are usually asked from basics and CTET being a speed test, knowing the basic concepts well really helps. Have a clear and strong understanding about child pedagogy and development.
Mock Tests
Testing yourself regularly becomes mandatory when you are going to appear for a CBT exam like CTET, it will help you know what is the current efficiency and how to improve it more. Try to have at least 2 mock tests every week.
Analyze and Bridge the Gap
Analyse the test results after every mock test, this will pave the way for planning your topics to study in the coming week. Try to work on the conceptual part of the weak areas while practising the problems for the stronger ones.
Speed Game
CTET is a game of speed, the questions asked are usually not difficult but candidates are required to respond quickly and solve them. 1 minute is the average time to solve each question, hence it becomes mandatory to have a clear insight about how to approach a problem; this is also why having regular mock tests is important while preparing for CTET. Another approach of improving and checking your speed is to have a stopwatch in front of you while practicing the problems.
CTET Subject Wise Exam Strategy 
Study CTET Textbooks
Choosing the right set of textbooks forms an important pillar for any preparation. The conceptual foundation is only laid when you thoroughly study textbooks. Ideally studying one textbook for each subject is sufficient. Mock tests and practice papers are of help only when you have your basic concepts clear. NCERT textbooks of English, Maths and Science are the best for the preparation of CTET.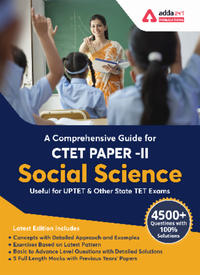 Quick Revision Handy Notes
It is a good practice to prepare notes while studying the concepts, the notes should be for the brush up of concepts post the mock tests in order to see how we could improve. These notes are also a resource bank for revision during the last week before the exam.
Stay Calm and Composed
It is important to stay calm both while preparing as well as while appearing for the exam. Try meditating a bit everyday this will help your mind stay relaxed and even help in staying focused. You need a stress free approach to concentrate on what you are studying and grasp the concepts.
Balanced Diet
A sound mind rests in a sound body, hence it is also important to have a balanced diet. Try to eat a lot of fruits and stay hydrated while preparing for the exam, this will help you stay fresh and thus increase your concentration power.
CTET Exam Day Tips:
On the day of the CTET Exam, the candidate must be calm & trust your preparation. Don't take unwanted stress & follow the below mentioned tips carefully
– Reach the center an hour before the schedule
– Attempt all questions as there is no negative marking
– Attempt the questions that you know first as that will help you save time for the questions that require more time.
– Keep a note of time.
– Take a good night sleep of the night before the exam
– Don't panic and try to maintain your calm while attempting the exam
Let us see how to clear the CTET in the first Attempt
The key to crack CTET lies in the way you prepare for the exam. A structured approach along with guidance can do the magic in the CTET exam preparation. For a dedicated candidate, a well planned 4 -6 hours of daily studies for 1-2 months is sufficient to crack the exam. The 3P strategy is an effective way of preparing for any exam, not just CTET. Let us elaborate the 3 Ps.
1.Plan
Planning is the utmost part of any preparation; as the saying goes "Great woodcutters spend 80% of their time sharpening the axe", the axe sharpening here refers to 'planning'. Chalk out a schedule as to when to study, what subjects to focus upon, how much time to devote to each subject and what topics should be picked. Analyzing your strengths and weak areas play a great role in identifying how to target a particular exam. To plan properly, you should CTET Study Plan 2022,
2. Prepare
Effective planning is only one side of the story, the real job starts when you have to execute what you have planned. Sticking to the plan is the key to achieving results, having a defined timetable and reward yourself when you stick to the planned schedule. You can make a schedule in which you reserve weekdays for certain preparation and weekend for reviews and mock tests. The daily preparation comes with a proper timetable, to get CTET 2022 Time Table here.
3. Practice
There are certain subjects and topics that require rigorous practice in order to succeed. Every subject have they contain and they need to learn topic wise properly.