PM Narendra Modi shared a tweet from his official Twitter handle that includes an excerpt from his Book 'Exam Warriors' on 16th January 2023. This Tweet comes right the before the beginning of the 'Pariksha Pe Charcha', which is an integral part of the larger movement led by PM Narendra Modi – Exam Warrior.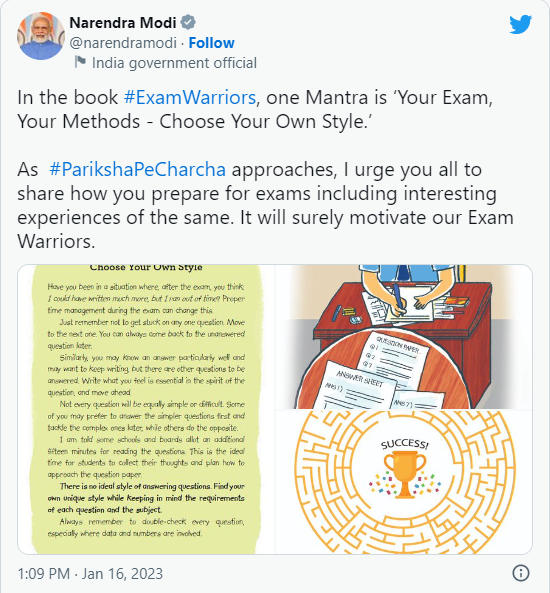 The Excerpt from the Book 'Exam Warrior' is taken from the chapter 'Your Exam, Your Methods-Choose Your Own Style'. With this tweet, Prime Minister is reminding the students, their parents and teachers that the 'Pariksha Pe Charcha' is about the start and this time not only students but their parents and teachers can also participate in the interactive sessions of 'Pariksha Pe Charcha'.
Through the tweet, PM Modi urges the students, parents, teachers and others to share their experiences and techniques for preparing for the exam to motivate the students who are preparing for their upcoming exams. As the season of exams are about to begin, with all the Boards Exams being lined up for the upcoming months, it becomes exponentially important to motivate and encourage the students to help them overcome their fear and anxiety about the exams.
The Book 'Exam Warriors' was written by PM Narendra Modi and was published on 3rd February 2018. The Book is dedicated to the students. The book ties to address issues faced by students before and during the exams. The book deals with strategies and tips for students to deal with the extreme pressure and stress of exams.
'Your Exam, Your Methods-Choose Your Own Style' is the excerpt shared by PM Narendra Modi in his recent tweet. The excerpt discusses the pressure of exams and the different styles of approaching an exam on exam day. The crux of the excerpt is that though there are so many styles to handle the question paper on exam day, there is no way to tell which method, technique or style is the best. The point being the only best way to approach a question paper is the way that suits the individual.
With the tweet from the PM, the students will start gearing up for the 'Pariksha Pe Charcha' which has been a path-breaking approach towards handling student-related issues like the pressure of exams and making the learning experience pleasant and enjoyable for the students.