The UP Government conducted an elaborate meeting on 3rd January 2023 to bring in New Education Policies. The Government of Uttar Pradesh has decided to form a new Education Commission to bring various Teaching Recruitment and Eligibility Exam under the same roof. According to the sources, new formats and changes have been discussed regarding the higher, secondary and basic education in the state of Uttar Pradesh.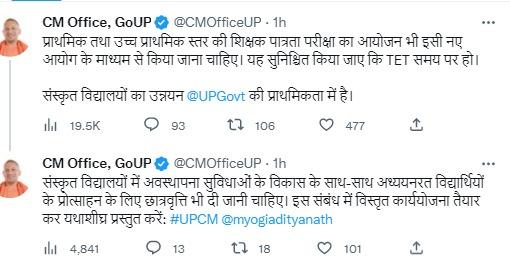 The Chief Minister of Uttar Pradesh, Yogi Adityanath was present in this high-level meeting to discuss the future education system of Uttar Pradesh. Based on the recent tweet by the "CM Office, GoUP",  The Government will form a new education commission named "Uttar Pradesh Education Service Selection Commission" (UPESSC). Now various recruitment exams and the UPTET Exam 2023 will be conducted by the Uttar Pradesh Education Service Selection Commission. Earlier, Uttar Pradesh Basic Education Board conducted the UPTET Exam. 
This comes after the continued enquiries made by the UPTET candidates to the government regarding the delay in UPTET Exam. The Last UPTET Exam Notification was released in 2021 and the UPTET Exam was conducted on 23rd Feb 2022. However, since then, no new UPTET Notification was released. As the Year 2023 has already clocked in, UPTET Aspirants were wondering about the delay in UPTET Exam Notification. 
With the recent update by the Government of Uttar Pradesh regarding the formation of the New Education Commission in the state which will be conducting the UPTET Exam 2023 from now on, the UPTET Aspirants can expect the announcement of UPTET Exam 2023 very soon. In fact, they can expect the UPTET Notification 2023 to be released by the end of January or the earlier weeks of February 2023.