RPSC RAS Syllabus 2021: The Rajasthan Public Service Commission (RPSC) sets the syllabus for the prestigious Rajasthan Administrative Service (RAS) civil service exam.  Like any other PSC Exam RPSC Exam will also be conducted in three stages:
Prelims: Objective
Mains: Descriptive/Analytical
Interview: Verbal
The candidates will have to qualify in each of the stages to be appointed as Rajasthan Administrative servant. The RPSC Prelims Exam is qualifying in nature. It is used for screening candidates to appear in the RPSC Mains Exam.
RPSC Syllabus For RAS Exam: RPSC RAS Prelims Exam Pattern
The RPSC Prelims Exam will consist of one paper on the subject specified below, which will be of objective type and carry a maximum of 200 marks. The Standard of the paper will be that of a Bachelor's Degree Level.
S.No
Subject Name
Marks
Duration
1
General Knowledge and General Science
 200
 3 hours
Total
200
3  hours
Marking Scheme of RPSC RAS Exam
All the questions will be objective in nature.
The total marks in the RPSC RAS Prelims Exam will be 200.
The duration of the test will be 3 hours.
There will be a total of 150 Multiple Choice Questions (MCQ's)
There will be a negative marking of 1/3 for every wrong answer.
No marks will be awarded or deducted for an unattempted question.
RPSC RAS Syllabus For Prelims Exam
For the RPSC Prelims Exam, the MCQs will be asked from various topics. RPSC RAS Exam will have only one paper objective in nature. We have listed the RPSC Syllabus for the Prelims Exam.
History, Art, Culture, Literature, Tradition & Heritage of Rajasthan
Indian History: Ancient, Medieval, Modern
Geography of World and India
Geography of Rajasthan
Indian Constitution, Political System & Governance
Political and Administrative System of Rajasthan
Economic Concepts and Indian Economy: Basic Concepts of Economics, Economic Development & Planning, Human Resource, and Economic Development, Social Justice and Empowerment
Economy of Rajasthan
Science & Technology
Reasoning & Mental Ability: Logical Reasoning (Deductive, Inductive, Abductive), Analytical Reasoning, Mental Ability, Basic Numeracy.
Current Affairs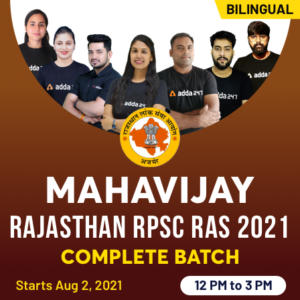 RPSC Syllabus For RAS Exam 2021
The number of candidates to be admitted to the Main Examination will be 15 times the total the approximate number of vacancies (category wise) to be filled in the year in the various Services and posts.
There are no optional papers in the syllabus for RAS Mains. The RPSC RAS Mains Exam will have four papers of 3 hours each. The written examination will consist of the following four papers which will be descriptive /analytical. The standard of General Hindi and General English will be that of Sr. Secondary Level.
RPSC Syllabus For RAS Exam: RPSC RAS Mains Exam Pattern
RAS Mains Exam holds great importance to the candidates appearing for the RPSC RAS Exam. Marks in the RAS Mains along with the Interview marks are counted for the final merit list.
| | | | |
| --- | --- | --- | --- |
| Paper | Subject | Time | Marks |
| I | General Studies-I | 3 Hours | 200 |
| II | General Studies-II | 3 Hours | 200 |
| III | General Studies-III | 3 Hours | 200 |
| IV | General Hindi and General English | 3 Hours | 200 |
RPSC Syllabus For RAS Exam: RAS Mains Exam
Paper I: General Studies Paper I
Unit 1 History: – History, Art, Culture, Literature, Tradition, and Heritage of Rajasthan, Indian History & Culture, History of Modern World (up to 1950AD)
Unit 2 Economics: Indian Economy, World Economy, Economy of Rajasthan
Unit 3 Sociology, Management, Accounting & Auditing
Paper-II: General Studies Paper-II
Unit 1: Administrative Ethics:
Unit 2: General Science & Technology
Unit 3: Earth Science (Geography and Geology): World, India, Rajasthan
Paper III: General Studies Paper III
Unit 1 Indian Political System, World Politics and Current Affairs
Unit 2 Concepts, Issues and Dynamics of Public Administration and Management
Unit 3 Sports and Yoga, Behaviour and Law
Paper IV: General Hindi and General English
Samanya Hindi (100 marks): Comprehension, Translation and Precis Writing
General English (80 marks): Grammar & Usage, Comprehension, Translation & Precis Writing, Composition & Letter Writing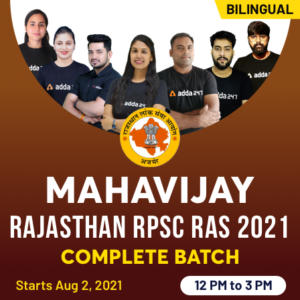 Interview
This will be the last and final round of the RPSC RAS Exam. The verbal ability and presence of mind with the decision making power of the candidates will be tested through this exam.