Modal Verbs: Modal verbs, also referred to as modal auxiliary verbs, are a particular class of English auxiliary verbs that are used to convey different levels of obligation, capability, necessity, permission, and ability. Verbs are basically the core of the English language that drives the action of the subject.  Sentences have life, movement, and motion thanks to these vibrant words. They are the means by which we are able to transmit ideas, feelings, and behaviors through communication.
Modals Verbs
Modal verbs: Modal verbs are nothing but a type of verb that expresses the mood of the speaker. In English grammar, Verb plays a vital role in the sentence. A verb is a part of speech used to tell an action done by any individual We all have basic ideas about verbs. The verb is divided into two classes- Regular verb and auxiliary verb. The auxiliary verb is also divided into Primary Auxiliary and Modal verbs. In this article, we will learn about different types of modal verbs and their functions in sentences.
Modal Verbs Meaning
Modal auxiliary verbs are special types of verbs that put some extra weight to the main verb. These verbs are always followed by a main verb. They basically extends the degree of a main verb. They can be used in case of obligation, suggestion, possibility, etc. Some examples of modal auxiliary verbs are can, may, should, will, etc. They contribute to the English language's complexity and nuance, enabling writers and speakers to convey a variety of viewpoints, attitudes, and intents.
Modals Auxiliary Verbs Definition
Modal verbs or auxiliaries are the groups of auxiliary verbs used to express the speaker's mood (mode) or attitude. We use modal verbs to express various types of modes of a sentence such as a request, suggestion, Ability, advice, permission, duty, Necessity, prayer or wish, promise, etc. There are some rules when we use a modal verb in sentences. These are the following –
1. The base form of the verb must always follow modals.
2. Modal verbs are such Helping Verbs that cannot work as Main Verbs.
3. It should always be followed by the main verb.
Modals Verbs Examples
For example –
1. Students must build a habit of Newspaper reading.  (Necessity)
2. I can do it. (Ability)
3. You should regularly go for a morning walk. (Advice)
4. May I use your pencil? (Request )
5. Could you shut the window please (Request)
6. May God bless you (  prayer)
Modal verbs : Video Explanation
Modals Verbs List
Here's a list of some very commonly used modal auxiliaries provided.
| | | |
| --- | --- | --- |
| Can | Could | May |
| Might | Would | Must |
| Dare | Used to | Ought to |
| Shall | Will | Need |
| Am/was to | Have/Had to | Should |
Modals Verbs- Rules & their Examples
Now. Learn about some commonly used modal verbs & their Function with Examples
Modal Verbs
 Rules
 Examples
Can & Could 
These models are used to describe the ability of the subject or seeking a request or permission to perform an action. Also can & could are used to show possibility.
1. Play this game and you could win exciting prizes. (Possibility)

2. Could you please lend me some money? (Request )

3. I can run fast. (Ability)

Should
It is used to express the duty, Obligation, necessity, and purpose of an action.
1. Should You work hard, you will get success. ( Condition)

2. I should leave now. ( Obligation)

3. Promises should be kept.

Must 
Must also denote the necessity of action in a sentence, order, strong Possibilities, etc.
1. He must be working in the office now.  (strong possibilities)

2. You Must follow the guidelines minutely. (Necessity)

Ought to
Used to describe the duty or moral obligation of 'the doer 'to a particular action.
1. You ought to respect your parents.(Moral obligation )

2.you ought not to smoke in public places ( Moral duty)

Used to or would
These modal verbs are used to express Habitual Action or the past routine of the subject.
 1. In Childhood, I used to play football. ( suggested past routine, now stopped)

2. Titli would study at noon. ( Habit)

May & Might 
May is used to expressing permission, Purpose, wish, prayer, and possibility whereas might is used to show relatively low possibilities.
1. It may rain tonight. (possibility)

2. He might pass the exam but
seeing his intelligence, I do not
have much hope.( low possibility)

2. May you live long.(wish)

Shall & will 
 To express surety of an action that takes place or to show the confidence of the subject to do an action.
1. I will do it ( assurance )
Modals Verbs Uses in Sentences
Modal verbs are used to express the speaker's mood (mode) or attitude. We use modal verbs to express various types of modes of a sentence. Such as Request, Capability, Authority Permission Order, Possibility, etc.
• To Show  the possibility of an action taking place
Few examples of how to use mode to show the possibility of an action
Such a disease can kill the whole of mankind.
He may go to Delhi tomorrow.
She might be sleeping now.
• To express offer, suggestion, seeking  permission or request of the subject 
1. You may enter the classroom.
2. You should wake up early in the morning.
3.. You must not drink and drive.
4. May I go to the washroom?
• To donate moral duty, Necessity, obligation 
You ought to serve your country.
You should always obey the elders.
Modals Verbs: Exercise
Fill in the blanks with suitable modal verbs
____________You please help my brother? (Can/Could/may)
He ____________ work hard if he wants to top the merit list. ( must /must have/must not)
I ______  able to come tomorrow (cannot be/should not be / may not be)
You __________ obey your parents ( ought to / may /must )
My friend -__________ visited me when I was ill.( would/ used to/should)
__________ I help you ? ( could/ can/should)
She _______ be present in the office.( would/ may /should)
I_________  love to see you on television. (would/ used to/should)
Modals Verbs Chart- Modal Auxiliary Verb List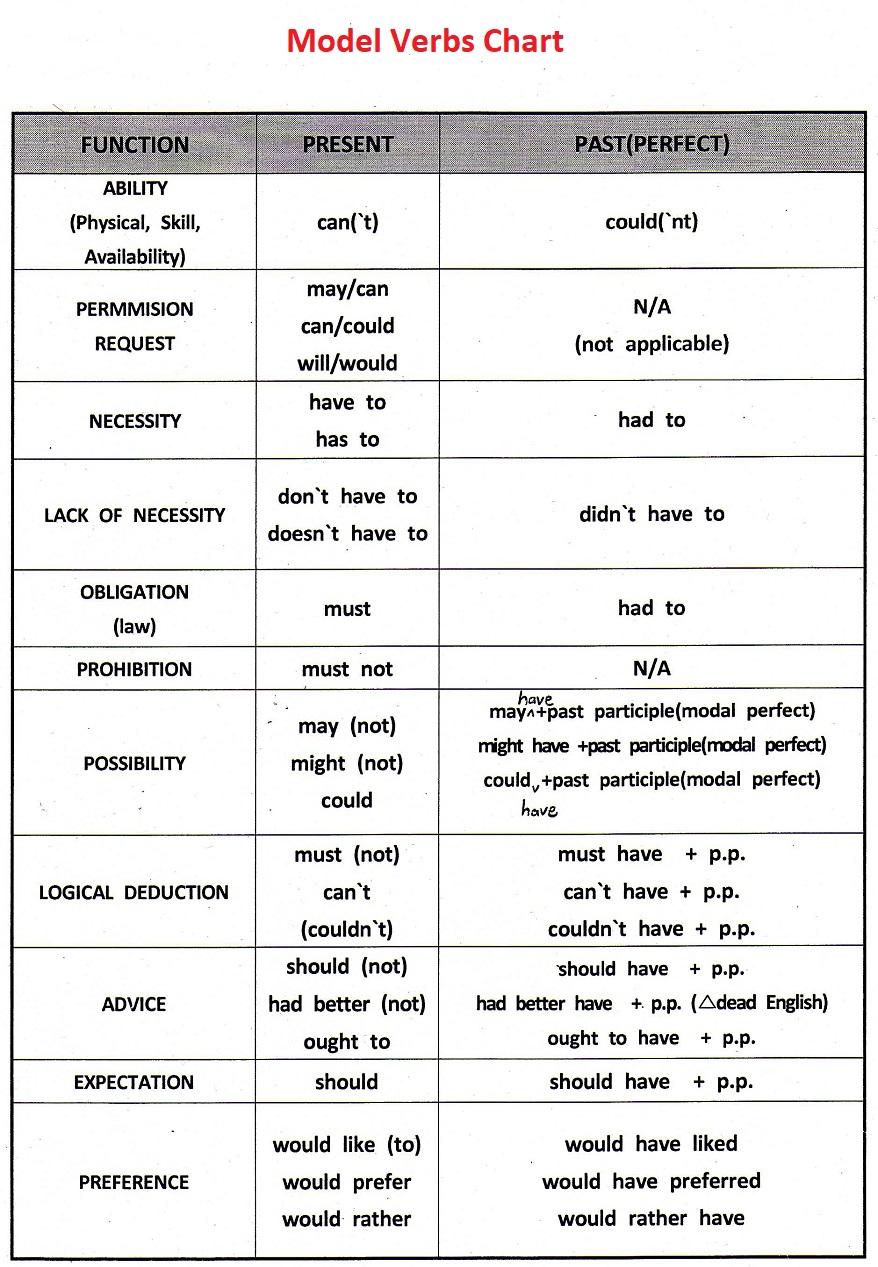 Related Post: