Application Writing: An application letter is prepared to request anything from a specific person or organization; for example requests for leave, a job, admission to a school or university, an extension of a project, or a report, etc.
Application Writing- What is an Application Letter?
An application letter is the letter you write when you ask for something, request permission, or apply for anything. Typically, the letter is one page long. It may be written for personal or business needs. Sometimes it will come with other documents, such as letters of application. Application letters, then, are more than just cover letters; they can also be letters of inquiry or request.
Nischay Batch for Class 10 Preparation Online Live Classes by Adda247
Application Letters Types for Writing in Class 6,7,8
There are 3 different types of an application letters:
Job Application Letter
Academic Application Letter
Personal Application Letter
Read more: Notice Writing Class 12, 10, Format, Topics With Examples
Application Writing Steps
The application letter begins with planning, just like any other simple letter. Plan the content, find out who will be receiving it, consider the details you should include, make it short and straightforward, and presto!  Imagine that you are asking your college professor for permission to retake your Microeconomics exam. How to write an application is as follows:
Firstly, the date.
Include the professor's name, position, department, and university name. You have the option of having an internal or external professor. Mention this together with the name of your university if he is an external faculty member. If not, you should still add it to clarify matters. Include his contact details.
Add the date after that. Move on to the subject line, where it says "Application for Exam Retake."
Introduce yourself in the opening sentence. Mention the course name, your name, batch, and program after that. Now explain your purpose for writing, which is to request a retest on your microeconomics exam.
The explanations for your exam absence should be stated in the following paragraph. Make sure the justifications are real. Attach any medicines or appointment records if you have been ill. Give a brief description of the event if you had to travel because of personal matters.
Request an exception and a retake of the exam in the final paragraph, explaining how doing so will benefit you.
Finalize with your information. Remember to provide your contact information, such as your mailing ID, below.
Application Writing Format
Format to write an application for job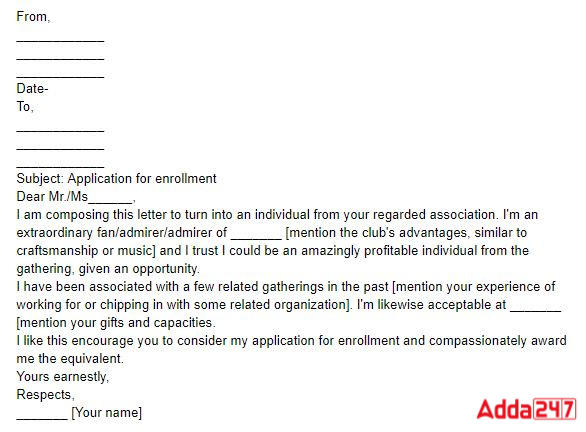 Format to write an application to the Principal
Receiver's Address
[Mention the person being addressed, i.e. 'The Principal' and then the school's address.]
Date
[The date on which the application is written. It helps in officially documenting the application.]
Subject
[A short statement reflective of the purpose for which the application is written.]
Salutation
[Here the addressee is respectfully acknowledged and referred to. You can write 'Sir', 'Madam' or both in case of ambiguity about the gender of the person being addressed.]
Body of Content
[Mention your name and class][State the reason for the application][Related factors such as the number of days for a leave (including dates), reason for fee concession, etc.] [Humbly extend your gratitude towards the principal.
Complimentary Note as a closing acknowledgement for the principal's time, understanding and patience. This makes the letter more respectful and thereby appropriate.]
Closing Line
[Yours Obediently, Yours Sincerely, etc.]Name of the Sender with Details
[Conclude the application by mentioning your name with other essential details like class, section, roll no. and any other details.]
Online Live Classes for CBSE BOARD CLASS 12TH
Application Writing Example
The Principal
Mary Public School
Gurgaon, Haryana 122002
October 25, 2022
Subject: Application for a Medical Leave

Dear Sir/Madam
I would like to bring to your kind attention that my name is Riddhima Dutta, a student of Class XII of your school. I have been diagnosed with chickenpox and have been advised complete rest at home by my doctor for ten days. I would request you to kindly grant me leave for the mentioned number of days.
The medical certificate issued by the doctor is attached herewith.
Thanking you,
Yours obediently,
Sayani Dutta
Class XII
Application Writing Tips
Here are some tips for writing an application letter:
Be clear and concise. Your application letter should be clear and easy to read. Avoid using jargon or technical terms that the employer may not understand.
Be specific. When you are describing your qualifications and experience, be specific. Don't just say that you are a "hard worker." Explain what you have accomplished in your previous jobs and how your skills and experience would benefit the company.
Be positive. Your application letter should be positive and upbeat. Avoid talking about your weaknesses or failures. Instead, focus on your strengths and how you can contribute to the company.
Proofread your letter. Before you submit your application letter, be sure to proofread it carefully for any errors in grammar or spelling.
Application Writing Topics
Here, some topics are given for your reference