The National Law School of India University (NLSIU) conducts the Common Law Admission Test (CLAT), a national law admission examination. It is the most well-liked law entrance test in India and is used for admission to over 150 law schools across the country. The CLAT exam measures candidates' proficiency in 5 sections, including English, Math, Current Affairs & GK, Legal Reasoning and Logical Reasoning over the course of two hours and 150 questions. CLAT 2024 is one of the nation's most difficult law entrance exams, success there is not guaranteed. To guarantee a seat in any of the top national law institutions (NLUs), candidates must not only pass the examination but also achieve an excellent rank on the CLAT merit list. Covering the prescribed syllabus, making concise notes, revising sample questions, and developing test day strategies should be the focus of CLAT preparation.
CLAT Preparation 2024 tips
Candidates should review the exam syllabus and pattern before beginning their CLAT study to become familiar with the test format and the kinds of questions that will be asked. Candidates will also benefit from understanding about the sectional distribution of marks thanks to the CLAT 2024 curriculum. Below, candidates can review the details of the syllabus and the format.
CLAT 2024 Syllabus
In order to clear CLAT 2024 Examination with flying colours , the candidates must be well aware with the CLAT 2024 syllabus .The table below consists of syllabus for CLAT 2024.
| | |
| --- | --- |
| CLAT Subject | Topics Covered |
| English Language | Analogies, Spotting Errors, Spelling Errors, Word Rearrangement, Synonyms, One Word Substitution, Antonyms, Cloze Test, Sentence Rearrangement, Sentence Improvement, Reading Comprehension, Idioms & Phrases, Fill in the blanks. |
| Quantitative Techniques | Areas and Volumes, Percentage, Simplification & Approximation, Partnerships, Ratio, HCF & LCM, Discounts, Profit & Loss, Proportion, Interest, Averages, Surds & Indices, Square Roots, Fractions & Decimals, Number Systems. |
| General Knowledge & Current Affairs | Static GK, Current happenings, Science & Technology, Sports, Economics, History, Geography, Politics. |
| Logical Reasoning | Ranking, Syllogism, Coding-Decoding, Time & Sequence, Blood Relations, Distance and Direction, Statement & Assumption/Argument/Conclusion/Course of action, Series, Number Test, Analogy, Alphabet Test, Classification. |
| Legal Aptitude | Important Supreme Court Judgments, Important and recent acts and amendments of the legislature, Important topics from Contract law, Criminal law, tort law, and Constitutional law, Legal GK and current affairs, International treaties and conventions affecting national legal framework, etc. |
CLAT 2024 Exam pattern 
The table below consists of CLAT 2024 exam pattern .
| | | | |
| --- | --- | --- | --- |
| CLAT Exam Sections | No. of MCQs | Maximum Marks | Approximate Weightage (in %) |
| English Language | 28-32 | 28-32 | 20 |
| Current Affairs, including General Knowledge | 35-39 | 35-39 | 25 |
| Logical Reasoning | 28-32 | 28-32 | 20 |
| Legal Reasoning | 35-39 | 35-39 | 25 |
| Quantitative Techniques (Elementry Mathematics up to Class 10) | 13-17 | 13-17 | 10 |
| Total | 150 | 150 | 100 |
Exam Mode: The CLAT 2024 will be administered using a pen and paper format.

Examining Language: The CLAT 2024 will only be given in English.

150 total questions will be included in the CLAT 2024.

The CLAT 2024 exam will have 150 total points.

The CLAT 2024 test will last three hours.

0.25 marks will be deducted from your final grade for each wrong answer.

test Centres: There will be over 100 test centres across India where the CLAT 2024 will be administered.

Results Announcement: The CLAT 2024 results will be released in July 2024.
CLAT Preparation- Strategies and Tips
The National Law School of India University (NLSIU) conducts the Common Law Admission Test (CLAT), a national law admission examination. It is the most popular law entrance examination in India and is used to admit students to more than 150 law schools nationwide.
It's crucial to start studying early for the CLAT exam because it's a competitive exam. You will have adequate time to finish the curriculum and prepare for the exam.Thus , it will help you in the betterment of your result. Some of the crucial CLAT preparation tips provided here will be useful to candidates.
1.Start early
The CLAT exam is a competitive exam, so it is important to start preparing early. This will give you enough time to cover the syllabus and practice for the exam.
2.Create a study plan.
Candidates should have an organised study plan as they get ready for the CLAT 2024.  Since they must finish the extensive syllabus in a short period of time, they should study for six to seven hours per day. Atleast two months before the exam date, candidates should attempt to finish the CLAT syllabus. The final two months should be dedicated to reviewing the crucial subjects and practise the sample papers and mock exams.
3.Find yourself a good study buddy
You can maintain motivation and accountability by studying with a friend or fellow student. You can debate the subject and put each other to the test.
4.Take notes by hand, then review them
Candidates should take handwritten notes while reading the basic books or newspapers. The preparation would be simpler if significant points were written down and flow charts or diagrams were created. The CLAT notes will be helpful in later stages of preparation when you need to quickly review many books.
5.Strengthen Your Reading Skills
A lot of candidates who took the CLAT last year reported that it was a long paper with challenging portions. Even though they knew the answers to many of the questions, it proved challenging for them to finish the CLAT in the allotted two hours. As a result, candidates for CLAT 2024 can improve their reading skills and learn from their errors. One of the most crucial components of CLAT preparation is reading quickly while understanding the content.Making reading a habit can help you prepare for CLAT 2024. The Hindu or The Indian Express are two examples of English national daily newspapers that candidates should read. Reading editorials, legal documents, and journals can be very beneficial for developing reading abilities and acquainting applicants with legal jargon
6.Complete CLAT practise exams and sample papers.
Candidates should complete as many practise exams as they can. Candidates are generally encouraged to complete 30 to 40 sample papers in addition to all of the CLAT question papers from prior years. The CLAT practise exams will aid applicants in comprehending the level of difficulty, question patterns, and numerous other crucial elements of the examination. Most importantly, by completing these papers, applicants will develop the habit of finishing CLAT paper issues within the allotted time. Moreover , taking practice tests is a great way to get a feel for the exam format and to identify your strengths and weaknesses. Make sure to review your answers after each test so that you can learn from your mistakes.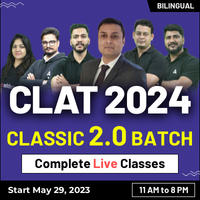 CLAT 2024 subject-wise preparation tips 
CLAT 2024 English language
Concentrate on your grammar and vocabulary. Your vocabulary and grammatical skills will be tested on the CLAT's English component. Review your grammar principles, and pick up as many new terms as you can.

Practice reading comprehension. Your reading and comprehension skills will be examined in the CLAT's English portion. Make sure to practice reading comprehension passages so that you can improve your speed and accuracy.

Essay writing. You will also need to compose essays for the CLAT's English portion. Don't forget to practise writing essays to sharpen your writing skills.
CLAT 2024 Logical Reasoning
Learn about different types of logical reasoning questions. There are many different types of logical reasoning questions that can appear on the CLAT exam. Make sure to learn about the different types of questions so that you can be prepared for them.

Practice solving logical reasoning problems. The best way to improve your logical reasoning skills is to practice solving problems. Make sure to practice solving a variety of problems so that you can become familiar with different types of questions.
CLAT 2024 General Knowledge and Current Affairs
Keep abreast of current affairs. Your understanding of current events will be tested on the CLAT exam's General understanding and Current Affairs part. Make sure you read newspapers, periodicals, and websites to stay current on happenings.The section on current affairs is dynamic. Candidates should therefore cover at least seven to eight months' worth of current events. Questions from passages are also asked in this portion, with 5 questions each passage totaling 32–35 questions. The paragraph will be based on current concerns, therefore applicants should be fully conversant with them. The subjects of passages can include things like Political ,Economic issues ,Environmental , International relations, India's foreign relations and Government schemes

Read broad knowledge books and articles. There are a lot of books and articles out there that might aid you in broadening your knowledge. To learn about various topics, make sure to read a variety of books and articles.
CLAT 2024 Legal Aptitude
According to an examination of the CLAT exam results from the previous year, traditional subjects dominated the legal aptitude section. The majority of CLAT passages were based on subjects like the Hindu Marriage Act, the Law of Contracts, and Volenti Non Fit Injuria, among others. Candidates should therefore have a solid understanding of these subjects when preparing for the CLAT legal aptitude exam. Understanding essential terminology and legal vocabulary/theory is crucial because the language used in legal aptitude is technical.
CLAT 2024 Quantitative Techniques 
The Common Law Admission Test (CLAT) 2024 includes a section of Quantitative Techniques. This portion is intended to examine the candidates' mathematical and analytical abilities. It assesses their ability to comprehend and solve numerical problems efficiently in a limited amount of time. The Quantitative Techniques portion assesses candidates' knowledge in arithmetic, algebra, geometry, statistics, and data interpretation.
CLAT 2024 Recommended books for preparation
Books for Legal aptitude 
Here is the list of books for legal aptitude
Universal's CLAT Guide

Legal Awareness and Legal Aptitude by AP Bhardwaj
Books for current affairs and general knowledge books
Here is the list of books for current affairs and general knowledge books
Lucent's General Knowledge

The Hindu Newspaper

The Indian Express Newspaper
Books for English language
Here is the list of books for English language.
Word Power Made Easy by Norman Lewis

High School English Grammar and Composition by Wren & Martin
Books for logical reasoning
Verbal and Non-Verbal Reasoning by RS Aggarwal

Analytical Reasoning by MK Pandey