My School Essay
My school essay in english is given in this article. School is considered to be a second home for the students. The first school, a child attends remains special throughout his/her life. The friends they make at that stage are the real friendships. Here we have written a short essay on My School that can be used as a refernce for the primary students.Practicing writing essays helps children to grow their creative writing skills and improve their grammar, spelling and helps them to form proper sentences. It also contributes to the overall personality development of a child. Writing short essays should be encouraged.
Writing an essay helps them to weave their thoughts into words. It compels them to think of creative ways in which they can express their thoughts. This way they learn the power of imagination. My school essay is the most popular one and usually the first essay students are told to write.
My School Essay in English (10 lines)
We have brought a few lines of essay which would help students in the age range of 3-7 years old students of Class 1 to 3.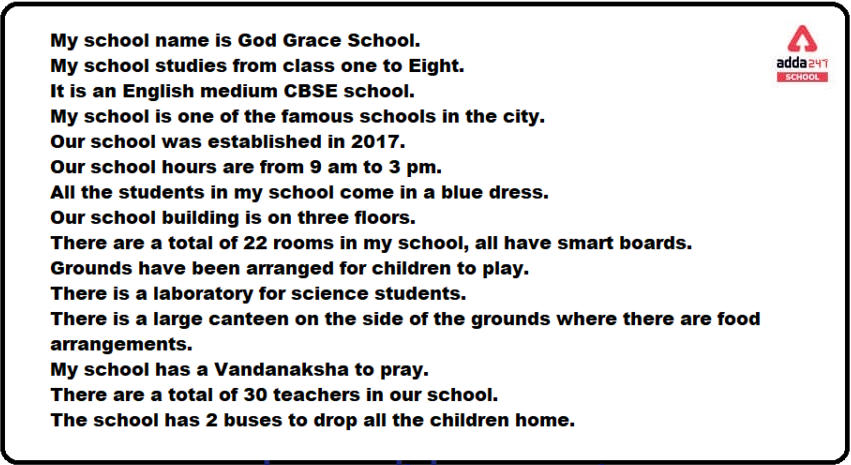 My School Essay in English For Class 3-4
My School Essay in English- I study in Delhi Public School, Chandigarh. It is an English medium school and is CBSE Board. My school timings are from 9 am to 3 pm. My school building is big and spacious. The teachers in my school are the best. We have a big playground where we play during breaks. I have a lot of friends in school. In our school, we celebrate functions of all cultures. My school has a huge library. We have physical exercise classes in our school. I learn a lot of new things daily in school.
We also have extracurricular activities in school. We are taught various sports. My school conducts an annual sports day every year. My favorite sport is cricket and I love to play it with my friends. I was not aware of the rules that are to be followed while playing cricket. Our sports teacher taught us about all the rules of cricket.
Children's day in school is my favorite as we receive sweets and gifts. I love my school. My school is at a distance of 1000 meters from my home. There are around 300 students in our school. My school has a small garden and we love to plant trees there annually on an environmental day.
Also Read : My Family Essay.
A school is a sacred place where knowledge is imparted to all individuals irrespective of caste and religion. My school has a good study environment and this makes it unique. I travel to school by my school bus. Our school has 4 buses that route through different parts of the city. My best friend and I travel in the same school bus.
My school has 20 rooms and three floors. The staff room is on the first floor. My classroom is next to the staff room. All the teachers in my school gather in the staff room. My school building is of green and white color.  There is a canteen in my school. I visit the canteen weekly to have a packet of chips during recess.
My school was established in 2010. I love everything about my school. Due to the pandemic, I am unable to visit the school. I am having online classes and I pray every day to God so that this pandemic gets over and my school reopens. I am missing my friends in this pandemic and want to join them soon.
Also Read: My Best Friend Essay
My School Essay in 150 words
My school is a place where I spend a significant part of my day learning and growing. It is a wonderful place that provides me with knowledge, opportunities, and a nurturing environment. Located in a peaceful neighborhood, my school has a beautiful campus with spacious classrooms, a library, a playground, and various facilities.
The teachers in my school are knowledgeable, caring, and dedicated to our education. They guide and support us in our academic journey, helping us understand different subjects and develop essential skills. Along with academics, my school also focuses on extracurricular activities such as sports, music, and arts, encouraging students to explore their interests and talents.
One of the best things about my school is the diverse community of students. I have friends from different backgrounds and cultures, and we learn from each other's experiences. We participate in various school events and celebrations together, fostering a sense of unity and camaraderie.
Overall, my school is not just a place for education but also a second home for me. It provides me with a strong foundation for my future and shapes me into a responsible and well-rounded individual.
My School Essay for Class 3 in Hindi
मैं चंडीगढ़ के दिल्ली पब्लिक स्कूल में पढ़ता हूं। यह एक इंग्लिश मीडियम स्कूल है और सीबीएसई बोर्ड है। मेरे स्कूल का समय सुबह 9 बजे से दोपहर 3 बजे तक है। मेरा स्कूल भवन बड़ा और विशाल है। मेरे स्कूल में टीचर्स बेस्ट हैं। हम एक बड़ा खेल का मैदान है जहां हम टूट के दौरान खेलते हैं । स्कूल में मेरे बहुत सारे दोस्त हैं। हमारे स्कूल में, हम सभी संस्कृतियों के कार्यों का जश्न मनाते हैं । मेरे स्कूल में एक विशाल पुस्तकालय है। हमारे स्कूल में फिजिकल एक्सरसाइज क्लासेज होती हैं। मैं स्कूल में रोजाना बहुत सारी नई चीजें सीखता हूं।
Also Read: Mahatma Gandhi Essay
हम भी स्कूल में पाठ्येतर गतिविधियों है । हमें विभिन्न खेल सिखाए जाते हैं । मेरा स्कूल हर साल एक वार्षिक खेल दिवस आयोजित करता है । मेरा पसंदीदा खेल क्रिकेट है और मैं इसे अपने दोस्तों के साथ खेलना पसंद करता हूं । मुझे इस बात की जानकारी नहीं थी कि क्रिकेट खेलते समय किन नियमों का पालन किया जाना है। हमारे खेल शिक्षक ने हमें क्रिकेट के सभी नियमों के बारे में सिखाया ।
स्कूल में बाल दिवस मेरा पसंदीदा है क्योंकि हमें मिठाई और उपहार मिलते हैं । मैं अपने स्कूल से प्यार करता हूं । मेरा स्कूल मेरे घर से 1000 मीटर की दूरी पर है। हमारे स्कूल में करीब 300 छात्र हैं। मेरे स्कूल में एक छोटा सा बगीचा है और हम एक पर्यावरण दिवस पर सालाना वहां पेड़ लगाने के लिए प्यार करता हूं ।
एक स्कूल एक पवित्र स्थान है जहां जाति और धर्म की परवाह किए बिना सभी व्यक्तियों को ज्ञान प्रदान किया जाता है। मेरे स्कूल में पढ़ाई का अच्छा माहौल है और इससे यह अनोखा बनाता है । मैं अपने स्कूल बस से स्कूल की यात्रा करता हूं । हमारे स्कूल में 4 बसें हैं जो शहर के विभिन्न हिस्सों से होकर गुजरती हैं। मेरा सबसे अच्छा दोस्त है और मैं एक ही स्कूल बस में यात्रा करते हैं ।
Also Read: Women Empowerment Essay
मेरे स्कूल में 20 कमरे और तीन मंजिल हैं। स्टाफ रूम पहली मंजिल पर है। मेरी कक्षा स्टाफ रूम के बगल में है । मेरे स्कूल के सभी शिक्षक स्टाफ रूम में इकट्ठा होते हैं। मेरी स्कूल की इमारत हरे और सफेद रंग की है। मेरे स्कूल में कैंटीन है। मैं साप्ताहिक कैंटीन में जाता हूं ताकि अवकाश के दौरान चिप्स का पैकेट हो ।
मेरे स्कूल की स्थापना 2010 में हुई थी। मैं अपने स्कूल के बारे में सब कुछ प्यार करता हूं । महामारी के कारण मैं स्कूल नहीं जा पा रहा हूं। मैं ऑनलाइन कक्षाएं कर रहा हूं और मैं भगवान के लिए हर दिन प्रार्थना करता हूं ताकि इस महामारी खत्म हो जाता है और मेरे स्कूल फिर से खुलता है । मैं इस महामारी में अपने दोस्तों को याद कर रहा हूं और जल्द ही उनके साथ शामिल होना चाहता हूं ।
Related Post:
My School Essay in English/Hindi for Classes 1 to 3- QNAs
What points must be kept in mind while writing an essay?
Few points that must be checked while writing my school essay are
You must mention the name and location of your school.
The structure of your school must be listed.
Why you love your school must also be written.
Mention if there is an event which you like the most in school.
You must also list the activities you do in school.
Lastly, the features of your school which make it different from other schools must be mentioned.
How much should be the length of my school essay for Class 2 students?
The length of my school essay for a class 2 student must be anywhere between 100-200 words. For Class 1 students you can write an essay of 50 to 100 words.
What is a school life essay?
The essay in which you mention the life you spent in school is a school life essay.
What is a school in simple words?
School is simply an infrastructure where students have imparted knowledge about different subjects by teachers.
Why do people love schools?
People love schools as they enjoy the time which they spend there. Reasons can be many like having a lot of friends in school, loving the activities to be done, some people also love the sports which they can play with their friends in school.
Read More Full forms: