NHPC JE Salary 2023: National Hydroelectric Power Corporation has recently released the official notification for the recruitment of Junior Engineers and other posts to fill up 388 vacancies. The online applications for NHPC JE ended on 07 July 2023. Candidates looking to know the NHPC JE Salary 2023 must go through this article to get deep insights about the salary details.
NHPC JE Salary 2023
NHPC JE Salary Structure is very attractive and the aspirants can grab such a handsome amount by getting selection under NHPC JE Recruitment. As NHPC is a government of India Undertaking, the salary perks, and allowances provided to the candidates who are selected as Junior Engineers will be according to the government norms.
The NHPC JE Salary and perks are decided by keeping in mind the ease of living for the employees as well as their dependents. We have discussed the detailed NHPC JE Salary Per Month here for ease of aspirants.
NHPC JE Salary 2023 Overview
The key details regarding NHPC JE Salary 2023 are tabulated in this section. Candidates must refer below to check the NHPC JE Salary highlights:
Check: NHPC JE Admit Card 2023
NHPC JE Salary 2023 Overview
Recruitment Organization
NHPC Limited
Posts Name
Junior Engineer, Supervisor, Senior Accountant, Hindi Translator & Draftsman
Vacancies
388

Category

Engineering Jobs

Advertisement No.

NH/Rectt./01/2023

Notification Release

07 June 2023

Online Application Commence

09 June 2023

Last Date of Online Application

07 July 2023

Apply Mode

Online

Selection Process

Computer Based Test

NHPC JE Salary 2023
₹ 29,600 – 1,19,500 (IDA)

NHPC Official Website

http://www.nhpcindia.com

NHPC JE Salary Structure
The NHPC Junior Engineer Salary is decided as per the government rules and regulations. All the employees who are designated as Junior Engineers in NHPC are eligible to get a salary in the pay range of Rs. 29,600/- to Rs. 1,19,500/-. Along with this, there are many perks and allowances given to a JE in NHPC, after considering all the perks and allowances, the final NHPC JE Salary comes out the be approximately 15-20% more than the initial basic pay.
Check: THDC JE Admit Card 2023
NHPC Junior Engineer Perks and Allowances
The perks and allowances for Junior Engineers (JE) working in NHPC (National Hydroelectric Power Corporation) can vary based on several factors such as location, company policies, and government regulations. Here are some common perks and allowances that may be provided to NHPC Junior Engineers:
Dearness Allowance (DA): Junior Engineers are entitled to a Dearness Allowance, which is a cost of living adjustment to compensate for inflation. The DA is usually revised periodically based on the government's guidelines.
House Rent Allowance (HRA): NHPC Junior Engineers may receive a House Rent Allowance to help with their accommodation expenses. The HRA amount can vary depending on the location of the posting and is usually a percentage of the basic salary.
Transport Allowance: NHPC may provide a Transport Allowance to Junior Engineers to cover their transportation expenses. The amount of the allowance may vary based on the company's policies.
Medical Facilities: NHPC may offer medical facilities to its employees, including Junior Engineers. This can include reimbursement of medical expenses, access to company-sponsored health insurance schemes, and coverage for medical treatments.
Leave and Holidays: Junior Engineers are entitled to various types of leaves such as casual leave, earned leave, and sick leave as per the company's policies and government regulations. NHPC may also provide public holidays and additional special leaves.
Contributory Provident Fund: NHPC Junior Engineers may be eligible for a contributory provident fund scheme. A portion of the employee's salary is deducted and contributed to the provident fund, which provides financial security and savings for the future.
Performance-Based Incentives: NHPC may offer performance-based incentives or bonuses to Junior Engineers based on their individual performance or the overall performance of the organization.
Employee Welfare Schemes: NHPC may have various employee welfare schemes in place, such as scholarships for employees' children, recreational facilities, subsidized canteen facilities, and other benefits to enhance the overall well-being of employees.
It's important to note that the specific perks and allowances can vary based on NHPC's policies, collective bargaining agreements, and government regulations. Hence, download NHPC Junior Engineer Notification for detailed information regarding the perks and allowances provided to Junior Engineers in NHPC.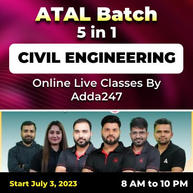 Check: NHPC JE Syllabus 2023
NHPC JE Posting Location
The selected candidates will be placed at Projects / Power Stations/ Offices including Joint Ventures & Subsidiary Companies of NHPC in various parts/regions of the country or abroad as per the requirements.
Check: NHPC JE Previous Year Question Papers