SSC CHSL Admit Card 2020: SSC has released a notice for new exam dates of SSC CHSL Tier 1 for those candidates whose exam was not conducted due to the COVID-19 lock down. The exam will be conducted on 12th to 16th, 19th to 21st and 26th October 2020. Check the revised date notice below. These dates are tentative, subject to the decisions of various government in the country. Candidates who were relaxed in the lock down must now start preparation for the exam, as the exam dates are announced.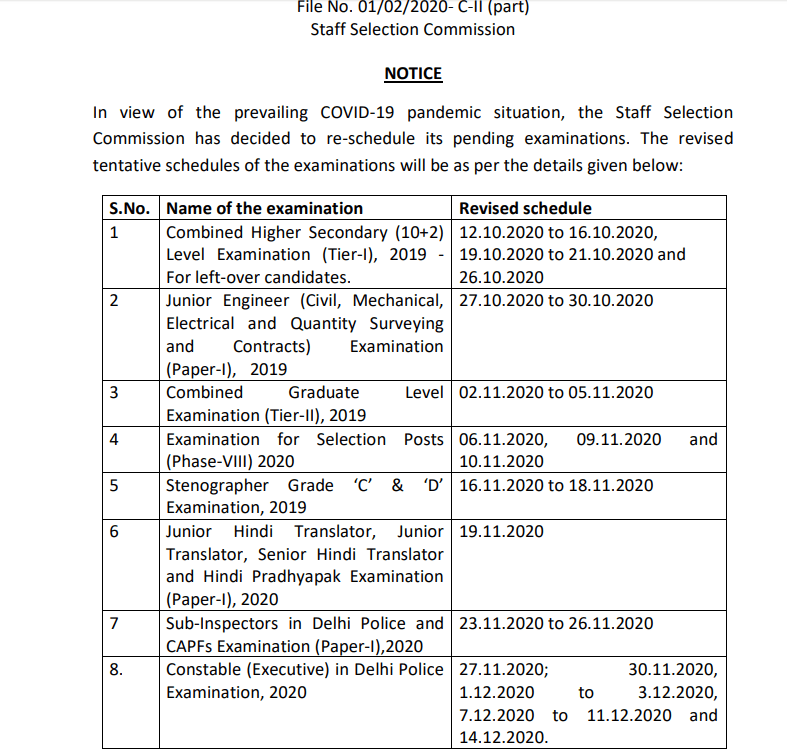 SSC CHSL Tier 1 Exam Date Update
SSC has released notice regarding the new exam dates of SSC CHSL Tier 1, which is going held from 12th to 16th, 19th to 21st and 26th October 2020. Earlier, Staff Selection Commission has postponed the Combined Higher Secondary Level Tier 1 (prelims) exam due to COVID-19. Candidates are advised to keep visiting the website for any update regarding the SSC CHSL Tier 1 Admit Card.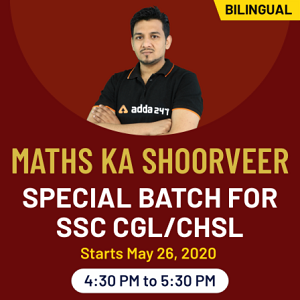 Region-Wise SSC CHSL Tier 1 Admit Card Link
The Region-wise SSC CHSL Admit Tier 1 Card links are mentioned below that are going to active in August.
SSC has released new schedule for the SSC CHSL Tier 1 exam. Admit Card will be available in first week of October.
Region
Admit Card
State Names
SSC North Region
Admit Card
Delhi, Rajasthan,
and Uttarakhand
SSC Eastern Region
Admit Card
West Bengal (WB),
Orrisa, Sikkim,
and A&N Island
SSC North Eastern Region
Admit Card
Assam, Arunachal
Pradesh,
Meghalaya, Manipur,
Tripura, Mizoram,
and Nagaland
SSC Southern Region
Admit Card
Andhra Pradesh (AP), Puducherry,
and Tamilnadu
SSC Central Region
Admit Card
Uttar Pradesh (UP)
and Bihar
SSC Madhya Pradesh Region
Admit Card
Madhya Pradesh (MP),
and Chhattisgarh
SSC North Western Region
Admit Card
J&K, Haryana,
Punjab,
and Himachal
Pradesh (HP)
SSC Western Region
Admit Card
Maharashtra,
Gujarat,
and Goa
SSC Kerala Karnataka Region
Admit Card
Karnataka and
Kerala Region

Steps to Download SSC CHSL Admit Card 2020:
Step 1 – Click on the link provided below to download the admit card. It will be live once the admit card will be released.
Step 2 – A new page will appear on the screen of your device.
Step 3 – Here you will have to enter your "Registration ID /Roll No. / Name and Father Name" and "Date of Birth".
Step 4 – Now click on the "Login" button.
Step 5 – You will be able to see SSC CHSL Admit Card on the screen.
Step 6 – Now download it and take its print out for further reference.
Detailed Mentioned in SSC CHSL Admit Card
Once the Admit Card for SSC CHSL Tier 1 has been downloaded, Candidates need to check all details in admit card:
Name of the candidate
Roll Number
Date Of Birth
Category of the applicant
Gender of the applicant
Photograph of the candidate
Exam Date and time
Exam Centre Name
Exam Centre Address
Reporting Time at the Centre
Duration of the exam
Guidelines for the exam
Space for the candidate's signature and thumb impression
Space for signature of the invigilator, etc
Document Required Along With Admit Card
Admit Card is mandatory for the candidates to carry it to the exam venue to show it as a proof for his/her eligibility for that particular phase of the exam. Some of the documents that can be carried as an ID proof are:
Driving License
Voter ID
Aadhaar Card
PAN Card
Ration Card
Passport
Documents to carry with your SSC CHSL 2020 Admit Card:
Candidates need to carry One Photo Identity Card with having the same Date of Birth as printed on Admit Card.
If the Photo Identity Card does not have the Date of Birth then the candidate must carry an additional certificate, in original, as proof of Date of Birth.
In case of mismatch in the Date of Birth mentioned in the Admission Certificate and the photo ID/the certificate brought in support of the Date of Birth, the candidate will not be allowed to appear in the examination.
Passport size photographs.
Exam Day Important Instruction
Candidates are advised to read these important points before going to the exam center
Candidates need to bring photocopy of the Admit Card.
Candidates need to carry one Valid I.D proof (Aadhar Card, Pan Card, Driving Licence, Passport, any Govt. I.D, Voter I.D, ) along with the Admit Card which contains the name, Date of Birth as mentioned on the Admit card.
If they don't have a valid I.D proof with date of birth, then candidates need to carry the one supporting document which contain Date of Birth as mentioned on the Admit Card.
Candidates need to take 2 passport size photograph with them.
Candidates with digital watch, pen, any kind of electronic devices are not allowed to take the exam.
For girls, any kind of Jewellery items, any kind of clips are not allowed in the exam center.
Pen and rough sheet will be provided in the exam hall itself.
What After Downloading Admit Card!
Candidates are advised to check their name, venue address and exam date from SSC CHSL Prelims Admit Card 2020 in order to avoid any hassle on the day of examination
If there is any mismatch in detail please contact the concerned authority.
Read the Instruction carefully and make sure you abide by them.
Carry Identity proof on the date of the exam with clear Signature and Photographs.
SSC CHSL Application Status Link
The Application Status links for SSC CHSL 2020 exam are mentioned below. The exam is now scheduled in August 2020, the new application status will be released in last week of September 2020.
SSC CHSL Tiers Of Examination:
SSC conducts the CHSL Exam in Three Stages which are mentioned below:
| | | |
| --- | --- | --- |
| Tier | Type of Examination | Mode of examination |
| Tier-I | Objective Multiple Choice | CBT (Online) |
| Tier-II | Descriptive Paper in either HINDI or ENGLISH. | Pen and Paper mode. |
| Tier-III | Computer Proficiency Test/ Skill Test | Wherever applicable |
SSC CHSL Tier 1 exam is qualifying as well as scoring in nature. Candidates must have to qualify the Tier-1 round otherwise they will not be considered for the Tier II & Tier III Examination.
SSC CHSL Tier 1 Exam Centers
A candidate must indicate the Center(s) in the online Application Form in which he/ she desires to take the examination. Details about the Examination Centers and Regional Offices under whose jurisdiction these Examination Centers are located are as follows:
Examination Centers &
Center Code
SSC Region and
States/ UTs under
the jurisdiction of
the Region
Address of the Regional
Offices/ Website
Agra(3001), Allahabad(3003),
Bareilly(3005), Gorakhpur(3007) ,
Kanpur(3009), Lucknow(3010),
Meerut(3011), Varanasi(3013),
Bhagalpur(3201), Muzaffarpur(3205),Patna(3206)
Central Region (CR)/
Bihar and Uttar
Pradesh
Regional Director (CR),
Staff Selection
Commission,
21-23, Lowther Road,
Allahabad,
Uttar Pradesh-211002.
(http://www.ssc-cr.org)
Gangtok(4001), Ranchi(4205),
Barasat(4402), Berhampore
(WB)(4403), Chinsurah (4405),
Jalpaiguri(4408), Kolkata(4410),
Malda(4412), Midnapur(4413),
Siliguri(4415), Berhampore(Odisha)
(4602), Bhubaneshwar(4604),
Cuttack(4605), Keonjhargarh(4606),
Sambalpur(4609), Port Blair (4802)
Eastern Region (ER)/
Andaman &
Nicobar Islands,
Jharkhand, Odisha,
Sikkim and West
Bengal
Regional Director (ER),
Staff Selection
Commission,
1st MSO Building,(8th
Floor), 234/4,
Acharya Jagadish
Chandra Bose
Road, Kolkata,
West Bengal-700020
(www.sscer.org)
Bangalore(9001), Dharwar(9004),
Gulbarga(9005), Mangalore(9008),
Mysore(9009), Kochi(9204),
Kozhikode(Calicut)(9206),
Thiruvananthapuram(9211), Thrissur(9212)
Karnataka, Kerala
Region (KKR)/
Lakshadweep,
Karnataka and
Kerala
Regional Director (KKR),
Staff Selection
Commission, 1st Floor,
"E" Wing, Kendriya
Sadan, Koramangala,
Bengaluru,
Karnataka-560034
(www.ssckkr.kar.nic.in)
Bhopal(6001), Chindwara(6003),
Guna(6004), Gwalior(6005),
Indore(6006), Jabalpur(6007),
Khandwa(6009), Ratlam(6011),
Satna(6014), Sagar(6015),
Ambikapur(6201), Bilaspur(6202)
Jagdalpur(6203), Raipur(6204),
Durg(6205)
Madhya Pradesh
Sub-Region (MPR)/
Chhattisgarh and
Madhya Pradesh
Dy. Director (MPR),
Staff Selection
Commission,
J-5, Anupam Nagar,
Raipur,
Chhattisgarh-492007
(www.sscmpr.org)
Almora(2001), Dehradun(2002),
Haldwani(2003), Srinagar
(Uttarakhand)(2004),
Haridwar(2005), Delhi(2201),
Ajmer(2401), Alwar(2402),
Bharatpur(2403), Bikaner(2404),
Jaipur(2405), Jodhpur(2406),
Kota(2407), Sriganganagar(2408),
Udaipur(2409)
Northern Region (NR)/
NCT of Delhi,
Rajasthan and
Uttarakhand
Regional Director (NR),
Staff Selection Commission,
Block No. 12,
CGO Complex, Lodhi
Road, New Delhi-110003
(www.sscnr.net.in)
Anantnag(1001), Baramula(1002),
Jammu(1004), Leh(1005),
Rajouri(1006),
Srinagar(J&K)(1007), Kargil(1008),
Dodda (1009), Hamirpur(1202),
Shimla(1203), Bhathinda (1401),
Jalandhar(1402), Patiala(1403),
Amritsar(1404), Chandigarh(1601)
North Western
Sub-Region (NWR)/
Chandigarh,
Haryana, Himachal
Pradesh, Jammu
and Kashmir and
Punjab
Dy. Director (NWR),
Staff Selection
Commission,
Block No. 3, Ground
Floor, Kendriya Sadan,
Sector-9, Chandigarh160009
(www.sscnwr.org)
Guntur(8001), Kurnool(8003),
Rajahmundry(8004), Tirupati(8006),
Vishakhapatnam(8007),
Vijaywada(8008), Chennai(8201),
Coimbatore(8202), Madurai(8204),
Tiruchirapalli(8206), Tirunelveli(8207),
Puducherry(8401), Hyderabad(8601),
Nizamabad(8602), Warangal(8603)
Southern Region (SR)/
Andhra Pradesh,
Puducherry, Tamil
Nadu and
Telangana.
Regional Director (SR),
Staff Selection
Commission, 2nd Floor, EVK
Sampath Building,
DPI Campus,
College Road, Chennai,
Tamil Nadu-600006
(www.sscsr.gov.in)
Ahmedabad(7001),
Vadodara(7002), Rajkot(7006),
Surat(7007), Bhavnagar(7009),
Kutch(7010), Amravati(7201),
Aurangabad(7202),
Kolhapur(7203), Mumbai(7204),
Nagpur(7205), Nanded (7206),
Nashik(7207), Pune(7208),
Thane(7210), Bhandara(7211),
Chandrapur(7212), Akola(7213),
Jalgaon(7214), Ahmednagar(7215),
Alibaug(7216), Panaji(7801)
Western Region
(WR)/
Dadra and Nagar
Haveli, Daman and
Diu, Goa, Gujarat
and Maharashtra
Regional Director (WR),
Staff Selection
Commission,1st Floor,
South Wing,
Pratishtha Bhawan,
101, Maharshi Karve
Road, Mumbai,
Maharashtra-400020
(www.sscwr.net)
Itanagar(5001), Dibrugarh(5102),
Guwahati(Dispur)(5105),
Jorhat(5107), Silchar(5111),
Kohima(5302), Shillong(5401),
Imphal(5501),
Churachandpur(5502),
Ukhrul(5503), Agartala(5601),
Aizwal(5701)
North Eastern
Region (NER)/
Arunachal Pradesh,
Assam, Manipur,
Meghalaya,
Mizoram, Nagaland
and Tripura.
Regional Director (NER),
Staff Selection
Commission,
Housefed Complex,
Last Gate-Basistha
Road, P. O. Assam
Sachivalaya, Dispur,
Guwahati, Assam781006
(www.sscner.org.in)
Important Point: SSC CHSL 2020 Exam
SSC releases the Admit Card for SSC CHSL separately for different levels of Examination, i.e. SSC CHSL Admit Card for Tier-I will be rolled out first followed by Admit Card for Tier-II and so on. SSC CHSL Admit Card for Tier-I will be released and made available to the candidates who will successfully submit SSC CHSL Application Form. Similarly, Admit Card for Tier-II will be issued to candidates who have cleared the Tier-I Exam.
SSC CHSL Admit Card 2020: FAQs
Q 1. How can I download SSC CHSL Admit Card?
Ans. One can download SSC CHSL Admit Card by click on the link given in the article.
Q 2. What is required for downloading Admit Card?
Ans. You can download Admit Card by using Either Registration Number or Name or Father Name and Date of Birth.
Q 3. Is there any negative marking in the exam?
Ans. Yes, there is a negative marking in prelims of 1/4 of marks allotted to question.
Q 4. Is it necessary to take hard copy of admit card to exam center?
Ans. Yes, is it necessary to take hard copy of admit card with you to exam center
Q 5. Is Identity Proof photo copy is necessary?
Ans. No, only Identity Proof is required.