RRB NTPC Admit Card 2020: RRB is going to finalize the RRB NTPC exam conducting body (ECA) in July 2020. As per the Corrigendum 5 the ECA conduction is going to finalized in July. The RRB Chennai has released corrigendum 6 for informing the interested agencies that the pre-bid is going to held on the schedule time. After the Unlock-1 the travel restriction are lifted, so they can conduct pre-bid either online or offline. RRB has invited the NPTC application form for the 35,208 posts. About 1.26 crore candidates has applied for the recruitment, they are all waiting for the Admit Card and Application Status of their form.
RRB NTPC Exam Date Update
RRB NTPC Exam Dates 2020 is yet to be released @rrbcdg.gov.in. A notice from RRB Officials says that the tender for the recruiting body has been released. A long-time has passed that the registration process for the Exam got over (in March 2019).RRB NTPC Exam 2020 for CBT 1 may be held in the month of September-October 2020. Thus, the Admit Card will be available after the finalization of the recruiting body. Updates of the exam date and Admit Card will be provided as soon as it is officially out.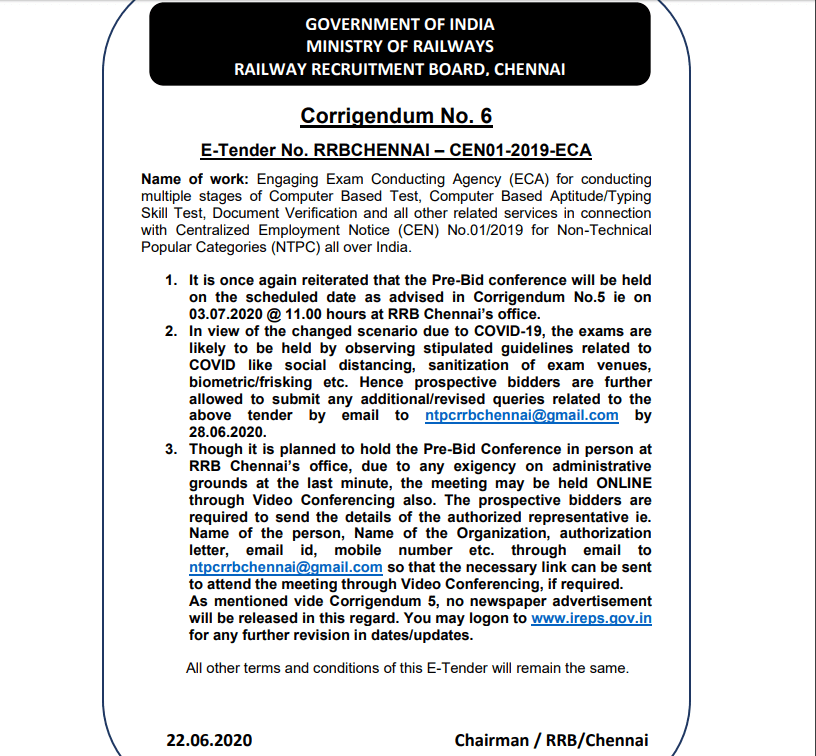 RRB, in association with the Indian railways, conducts NTPC examination for which 35,208 vacancies are released. As per the officials, even greater numbers are being noted in the count of RRB NTPC Application form. So, the competition & thus the hype for the exam seems too high.

Important Update of RRB NTPC Admit Card:
The latest notice from RRB NTPC states that the exam date is postponed till further notice.
A notice about RRB NTPC Admit card 2020 gave the total number of candidates who had applied for Railway NTPC. A total of 1,26,30,885 candidates have submitted the online application of RRB NTPC 2020 exam.
The Officials have also said that a large number of applications is a reason that has led to the delay in the release of the admit card as well as exam dates.
The process has been so time taking also due to arrangement of venue facilities. As stated in the notice, there is a need for a lot of caution to be taken to make the examination process smoother and by all fair means, thus a need for external arrangements. Thus, the RRB is now engaged in preparation of exam.
The facility of the venue is one important need and hence external agencies are submitted invites in order to handle and conduct the examination process. The confirmation from the officials is yet not there regarding RRB NTPC Admit Card and Exam Dates
The reason for such a delay is because of the requirements such as mobilization of resources, efficient handling, and processing of data and certified, thoroughly tested software. All these factors are possible plausible reasons for release of RRB NTPC Admit Card in September- October 2020.
The RRB NTPC Computer Based Tests(CBTs) will be conducted in 15 languages namely Hindi, English, Assamese, Bengali, Gujarati, Kannada, Konkani, Marathi, Manipuri, Malayalam, Odia, Punjabi, Tamil, Telugu, and Urdu.
RRB NTPC Admit Card: Overview
| | |
| --- | --- |
| Name of Exam | RRB NTPC Exam 2020 |
| Conducting Body | Railway Recruitment Board (RRB) |
| Registration Date | 1st March 2019 to 31st March 2019 |
| RRB NTPC Admit card Date | September-October 2020 |
| Date of Examination | To be Announced Soon |
Railway Board will be sending an e-mail/SMS to the registered candidates as soon as the NTPC Admit Card/Exam Date is released. Further, the official notification for RRB Admit Card will be available here as well.
Candidates are advised to keep their email and SMS active for any notifications.
The RRB NTPC Exam vacancies in various Zonal Railways and Production Units of Indian Railways include the following posts:
Junior Clerk cum Typist
Accounts Clerk cum Typist
Senior Clerk cum Typist
Junior Account Assistant cum Typist
Trains Clerk
Commercial cum Ticket Clerk
Traffic Assistant
Goods Guard
Senior Commercial cum Ticket Clerk
Junior Time Keeper
Senior Time Keeper
Commercial Apprentice
Station Master
RRB NTPC 2020 Exam Stages
Stages of RRB NTPC Exam comprises, Computer-based test and Skill test
Computer-Based Test (CBT)
Skill Test- Candidates qualifying the CBT successfully will be able to appear for the next stage, that is, Skill test. This will be further followed by an aptitude test, Document Verification Process, and a Medical Examination. Both the CBT admit card, as well as the Document Verification, admit card will be available on the official website of Indian Railways.
Please note that: The admit cards will be released separately for each stage of the recruitment process
Download RRB NTPC Admit Card 2020 CBT I
The links to download RRB NTPC Admit card CBT I of various regions are given and will be activated as soon as the admit card is released:
RRB NTPC Admit Card (Zone-Wise)

Official Website

Admit Card Link

RRB Ajmer Admit Card

http://rrbajmer.gov.in/

Will be available soon

RRB Ahmedabad Admit Card

http://www.rrbahmedabad.gov.in/
RRB Allahabad Admit Card

http://www.rrbald.gov.in/

RRB Bangalore Admit Card

http://www.rrbbnc.gov.in/

RRB Bhopal Admit Card

http://www.rrbbpl.nic.in/

RRB Bhubaneshwar Admit Card

http://www.rrbbbs.gov.in/
RRB Bilaspur Admit Card

http://www.rrbbilaspur.gov.in/

RRB Chandigarh Admit Card

http://www.rrbcdg.gov.in/

RRB Chennai Admit Card

http://www.rrbchennai.gov.in/
RRB Gorakhpur Admit Card

http://www.rrbgkp.gov.in/

RRB Guwahati Admit Card

http://www.rrbguwahati.gov.in/
RRB Jammu Srinagar Admit Card

http://www.rrbjammu.nic.in/

RRB Kolkata Admit Card

http://rrbkolkata.gov.in/

RRB Malda Admit Card

http://www.rrbmalda.gov.in/

RRB Mumbai Admit Card

http://www.rrbmumbai.gov.in/

RRB Muzaffarpur Admit Card

http://www.rrbmuzaffarpur.gov.in/

RRB Patna Admit Card

http://www.rrbpatna.gov.in/

RRB Ranchi Admit Card

http://www.rrbranchi.gov.in/

RRB Secunderabad Admit Card

http://rrbsecunderabad.nic.in/

RRB Siliguri Admit Card

http://www.rrbsiliguri.org/

RRB Thiruvananthapuram Admit Card

http://www.rrbthiruvananthapuram.gov.in/
How to Download RRB NTPC Admit Card 2020 for CBT 1?
The official website for downloading the admit card is http://www.rrbcdg.gov.in
The link redirects the candidates to the Login Page, where the following details need to be provided:
i) Registration No./Login ID
ii) DOB/Password
iii) Captcha code(If specified)
Entering these details will allow the candidate to download RRB NTPC Admit Card 2020 CBT 1
Save the Admit card for future use!
Documents Required Along with Admit card
Along with the admit card, proof of photo identity is also required to be shown to the invigilator.
The photo identity cards may include Voter ID card, Aadhar card, PAN Card, Passport, Driving Licence.
Two passport size photos should also be carried.
All the best!