কারেন্ট অ্যাফেয়ার্স MCQ বাংলা (Current Affairs MCQ in Bengali): আড্ডা 247এ আপনাকে স্বাগত। WBCS, WBSSC, WBP, WBPSC, RAIL, BANK ইত্যাদি সকল প্রতিযোগিতামূলক পরীক্ষার জন্য ADDA 247 বাংলার তরফ থেকে রইল Current Affairs MCQ।প্রতিদিন থাকছে দশটি করে Multiple Choice Question এবং এর Solution সহ Answer।
কারেন্ট অ্যাফেয়ার্স MCQ (Current Affairs MCQ)
Q1. বিশ্ব ডাক দিবস প্রতিবছর কোন দিনে পালন করা হয়?
(a) 7 অক্টোবর
(b) 8 অক্টোবর
(c) 10 অক্টোবর
(d) 9 অক্টোবর
(e) 6 অক্টোবর
Q2. দ্য ফিনটেক হাকাথন, 'I-Sprint'21' কোন সংস্থা চালু করেছে?
(a) RBI
(b) IFSCA
(c) NPCI
(d) NASSCOM
(e) SEBI
Q3. কোন রাজ্য মিশন কাবাচ কুণ্ডল নামে একটি বিশেষ কোভিড -19 টিকা অভিযান চালু করেছে?
(a) মহারাষ্ট্র
(b) কেরালা
(c) গুজরাট
(d) ছত্তিশগড়
(e) ঝাড়খণ্ড
Q4. বিশ্ব পরিযায়ী পাখি দিবস অক্টোবর মাসে কোন দিনে পড়ে?
(a) 10 অক্টোবর
(b) অক্টোবরের দ্বিতীয় শনিবার
(c) 09 অক্টোবর
(d) 11 অক্টোবর
(e) অক্টোবরের দ্বিতীয় শুক্রবার
Read More: List of Governor General of India
Q5. আংশু মালিক সম্প্রতি কোন ক্রীড়া ইভেন্টে ভারতের হয়ে রৌপ্য পদক জিতেছেন?
(a) ব্যাডমিন্টন
(b) শুটিং
(c) কুস্তি
(d) দাবা
(e) হকি
Q6. উত্তরাখণ্ডের চৌবাতিয়ায় ভারত -যুক্তরাজ্য যৌথ কোম্পানি স্তরের সামরিক প্রশিক্ষণ আজিয়া ওয়ারিয়র মহড়ার কোন সংস্করণ শুরু হয়েছে?
(a) দশম
(b) একাদশ
(c) পঞ্চম
(d) ষষ্ঠ
(e) অষ্টম
Q7. নিচের কোন দেশটি প্রধান উদীয়মান অর্থনীতির ব্রিকস ব্লকের মধ্যে প্রথম যেটি প্রকৃতি ও মানুষের জন্য হাই অ্যাম্বিশন কোয়ালিশনে যোগদান করেছে?
(a) ব্রাজিল
(b) রাশিয়া
(c) ভারত
(d) চীন
(e) দক্ষিণ আফ্রিকা
Q8. ডব্লিউএইচও সাব-সাহারান আফ্রিকার শিশুদের মধ্যে RTS, S/AS01 (RTS, S) ভ্যাকসিনের ব্যাপক ব্যবহারের সুপারিশ করেছে। RTS, S হল একটি টিকা যা ________________ এর বিরুদ্ধে কাজ করে।
(a) এইচআইভি/এইডস
(b) চিকেন পক্স
(c) স্মল পক্স
(d) ম্যালেরিয়া
(e) জলাতঙ্ক
Q9. নিচের কোন প্রতিষ্ঠানটি সম্প্রতি ভারতের জন্য 2021 স্টেট অফ দ্য এডুকেশন রিপোর্ট চালু করেছে: শিক্ষক নেই, ক্লাস নেই?
(a) UNICEF
(b) UNESCO
(c) UNEP
(d) UNDP
(e) UNFCCC
Q10. 2021 সালে বিশ্ব ডাক দিবসের থিম কী?
(a) Innovation, Integration and Inclusion
(b) We Have Always Delivered
(c) Innovate to recover
(d) For delivering the post to the Business and People
(e) Protective InnovationL1Difficulty 3
Current Affairs MCQ Solutions
S1. Ans.(d)
Sol. World Post Day is celebrated each year on October 9 globally. The purpose of World Post Day is to create awareness of the role of the postal sector in people's and businesses' everyday lives and its contribution to the social and economic development of countries.
S2. Ans.(b)
Sol. The International Financial Services Centres Authority (IFSCA) has launched the global FinTech Hackathon Series 'I-Sprint'21'.
S3. Ans.(a)
Sol. The state government of Maharashtra has launched a special Covid-19 vaccination drive named as Mission Kavach Kundal, with the target of inoculating 15 lakh people everyday.
S4. Ans.(b)
Sol. Every year, the World Migratory Bird Day (WMBD) is officially celebrated twice in a year since it started in 2006. Firstly it is held on Second Saturday of May and again on Second Saturday of October. In 2021, the WMBBD falls on May 08, 2021 and October 09, 2021.
S5. Ans.(c)
Sol. At the 2021 World Wrestling Championships, Indian wrestler Anshu Malik created history as she became the first Indian women finalist at the World Championship, and also the first female player from India to claim a silver medal.
S6. Ans.(d)
Sol. The 6th Edition of India – UK Joint Company Level Military Training EXERCISE AJEYA WARRIOR has commenced at Chaubatia, Uttarakhand.
S7. Ans.(c)
Sol. India officially joined the High Ambition Coalition for Nature and People, a group of more than 70 countries encouraging the adoption of the global goal to protect at least 30 percent of the world's land and ocean by 2030 (30×30). India is the first of the BRICS (Brazil, Russia, India, China and South Africa) bloc of major emerging economies to join the HAC.
S8. Ans.(d)
Sol. World Health Organization (WHO) is recommending widespread use of the RTS,S/AS01 (RTS,S) malaria vaccine among children in sub-Saharan Africa and in other regions with moderate to high P. falciparum malaria transmission.
S9. Ans.(b)
Sol. UNESCO launches 2021 State of the Education Report for India: No Teacher, No Class. This publication is the annual flagship report of UNESCO New Delhi and it is based on extensive research.
S10. Ans.(c)
Sol. The theme of 2021 World Post Day is "Innovate to recover."
Check Also: Largest and Smallest State of India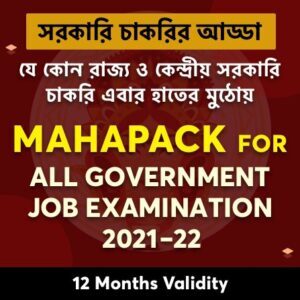 Daily Current Affairs Quiz প্রতিদিন ADDA 247 বাংলা 10 টি করে Current Affairs MCQ সহ Answers এবং Solution দিচ্ছে। এগুলি WBCS, WBP, WBSSC, BANK, RAIL সমস্ত প্রতিযোগিতামূলক পরীক্ষার জন্য অত্যন্ত গুরুত্বপূর্ণ। History, Geography, Physics, Chemistry, Biology, Economics, Polity এবং Daily Current Affairs এর নতুন নতুন অনেক MCQ পরীক্ষার্থীদের সকল প্রতিযোগিতামূলক পরীক্ষায় সাফল্য আনতে সাহায্য করবে। প্রতিযোগিতামূলক উত্তীর্ণ হওয়ার চাবিকাঠি Mathematics এবং Reasoning। Daily Mathematics এবং Reasoning প্র্যাক্টিস যেকোনো পরীক্ষার্থীকে সাফল্যের দোরগোড়ায় পৌঁছে দেবে।
Watch More on YouTube: