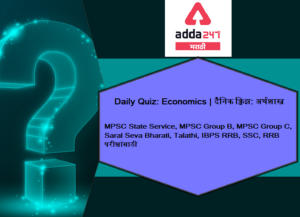 अर्थशास्त्र दैनिक क्विझ मराठीमध्ये: 10 मे 2021
महाराष्ट्र राज्य लोकसेवा आयोग दरवर्षी वेगवेगळ्या परीक्षे मार्फत हजारो विद्यार्थ्यांची भरती करून घेते  MPSC State Service, MPSC Group B, MPSC Group C, Saral Seva Bharati, Talathi, IBPS RRB, SSC, RRB अशा अनेक परीक्षांमार्फत हजारो जागांची भरती दरवर्षी निघते ज्यात लाखो इच्छुक हजार किंवा त्याहूनही कमी जागांसाठी अर्ज करतात. आपण एमपीएससी आणि इतर परीक्षाची तयारी करत असाल तर आपल्याला क्विझ देण्याचे महत्त्व माहित असलेच पाहिजे. बर्‍याच विद्यार्थ्यांना अभ्यासाचे पुरेसे तास दिले जात असतानाही त्यांना या परीक्षांची पूर्तताही करता आली नाही कारण ते त्यांचे परीक्षण वेळेवर पूर्ण करू शकत नाहीत आणि संशोधन करण्याचा उत्तम मार्ग म्हणजे त्या संबंधित विषयाची किंवा विषयाची क्विझ देणे कारण आपण या मार्गाने कव्हर करू शकता कमी वेळात जास्तीत जास्त विषय. आम्हाला Add 247 मराठी येथे चांगल्या अभ्यास सामग्रीचे मूल्य समजले आहे आणि म्हणूनच आम्ही सर्व विषयांसाठी आपल्याला क्विझ प्रदान करीत आहोत. दैनिक क्विझ देऊन तुम्ही तुमच्या तयारीची पातळी तपासू शकता.
सर्व स्पर्धात्मक विषयांमध्ये अर्थशास्त्राचाही तेव्हडाच महत्वाचा वाटा आहे. तर चला अर्थशास्त्र बद्दल तुमची तयारी तपासण्यासाठी खालील 10 मे 2021 ची अर्थशास्त्राची दैनिक क्विझ पहा.
Q1. बॉटलनेक चलनवाढीबाबत (महागाई)खालीलपैकी कोणती विधाने योग्य आहेत / आहेत
(a) पुरवठा मोठ्या प्रमाणात खाली आला आणि मागणी त्याच पातळीवर राहिल्यास ही महागाई होते
(b) मागणी वाढल्याशिवाय किंमतींमध्ये वाढ झाली आहे
(c) एकूण मागणी कमी झाल्याने किंमतींमध्ये घट
(d) दोन्ही (a) आणि (b)
Q2. फुटलोज उद्योगांविषयी खालील विधानांचा विचार करा
1. कोणत्याही विशिष्ट कच्च्या मालावर अवलंबून नाहीत
हे उद्योग लहान प्रमाणात उत्पादन करतात परंतु मोठ्या श्रमशक्तीला रोजगार देतात.
वर दिलेली कोणती विधान /विधाने बरोबर आहे /आहेत?
(a) केवळ 1
(b) केवळ 2
(c) दोन्ही 1 आणि 2
(d) 1 आणि 2 दोन्ही नाही
Q3. पुढील विधानांचा विचार करा
भारत क्यूआर ही जगातील पहिली पूर्णपणे इंटरऑपरेबल क्यूआर कोड पेमेंट सिस्टम आहे.
प्राध्यापक दीपक बी फाटक यांच्या अध्यक्षतेखाली रिझर्व्ह बँक ऑफ इंडियाने (आरबीआय) क्यूआर (क्विक रिस्पॉन्स) कोड विश्लेषणासाठी समिती स्थापन केली.
बंद-लूप क्यूआर कोड इंटरऑपरेबल क्यूआर कोड सिस्टमपेक्षा सहज प्रवेश प्रदान करतात
वर दिलेली कोणती विधान /विधाने बरोबर आहे /आहेत?
(a) 1 आणि 2
(b) 2 आणि 3
(c) केवळ 1
(d) केवळ 2
Q4. भारत बाँड ईटीएफ संदर्भात खालील विधानांचा विचार करा:
हा एक प्रकारचा म्युच्युअल फंड आहे, जो सरकारी कंपन्या तसेच खासगी कंपन्यांनी जारी केलेल्या बाँडमध्ये गुंतवणूक करतो.
हा ईटीएफ अर्थ मंत्रालयाचा एक उपक्रम आहे
लहान गुंतवणूकदार त्यात सामील होऊ शकत नाहीत.
वर दिलेली कोणती विधान /विधाने बरोबर आहे /आहेत?
(a) 1 आणि 2
(b) 2 आणि 3
(c) केवळ 1
(d) वरीलपैकी कोणतेही नाही
Q5. आयआरडीएआय संबंधित खालील विधानांचा विचार करा
भारतीय विमा नियामक व विकास प्राधिकरण (आयआरडीएआय) ही पेंशन फंड्ससह सर्व प्रकारच्या विमा योजनेसाठी वॉचडॉग म्हणून काम करणारी एक प्रमुख नियामक संस्था आहे.
ही कार्यकारी ऑर्डरद्वारे बनविलेले आहे आणि त्यास वैधानिक पाठबळ नाही
वर दिलेली कोणती विधान /विधाने बरोबर आहे /आहेत?
(a) केवळ 1
(b) केवळ 2
(c) दोन्ही 1 आणि 2
(d) 1 आणि 2 दोन्ही नाही
Q6. भारतीय रिझर्व्ह बँक (आरबीआय) च्या आकडेवारीनुसार, 2020-21 (आर्थिक वर्ष 21) मध्ये भारतातील राज्यांमधील बाजारपेठेत अव्वल स्थानावर असलेले राज्य आहे.
(a) महाराष्ट्र
(b) गुजरात
(c) तामिळनाडू
(d) केरळ
Q7. ''खर्च-महागाई' या कारणास्तव खालील विधानाचा विचार करा?
वेगवान वेतन वाढ
कच्च्या मालाच्या किंमती वाढणे
कामगार खर्च वाढणे
खालील योग्य कोड निवडा:
(a) 1 आणि 2
(b) 2 आणि 3
(c) 1 आणि 2
(d) 1, 2 आणि 3
Q8. "उर्जा क्षेत्राच्या नुकसानीची कारणे" संबंधित खालील विधानांचा विचार करा.
राज्य डिस्कॉम्सचे मोठ्या प्रमाणात संचित तोट्यामुळे वितरणाची कमतरता.
उच्च वनस्पती लोड फॅक्टर, ज्यामुळे औष्णिक विद्युत केंद्राची क्षमता कमी होत आहे.
वर दिलेली कोणती विधान /विधाने बरोबर आहे /आहेत?
(a) केवळ 1
(b) केवळ 2
(c) दोन्ही 1 आणि 2
(d) 1 आणि 2 दोन्ही नाही
Q9. शेतकरी उत्पादित व्यापार व वाणिज्य (पदोन्नती आणि सुलभता) अधिनियम, २०२० संबंधित खालील विधानांचा विचार करा:
एपीएमसी मंडळांच्या भौतिक परिसर बाहेरील आंतरराज्य आणि राज्यांतर्गत व्यापारास ते परवानगी देते.
राज्य सरकार या कायद्यांतर्गत शेतकर्‍यांच्या उत्पादनांच्या विक्रीसाठी बाजार शुल्क आकारू शकते.
वर दिलेली कोणती विधान /विधाने बरोबर आहे /आहेत?
(a) केवळ 1
(b) केवळ 2
(c) दोन्ही 1 आणि 2
(d) 1 आणि 2 दोन्ही नाही
Q10. मार्ग आणि साधने (डब्ल्यूएमए) च्या संदर्भात खालीलपैकी कोणते विधान चुकीचे आहे?
(a) डब्ल्यूएमए ही सुविधा केवळ केंद्रासाठी उपलब्ध आहे.
(b) डब्ल्यूएमए कर्जे आगाऊ रक्कम काढण्याच्या तारखेपासून तीन महिन्यांच्या आत परत करणे आवश्यक आहे.
(c) रेपो रेट हा डब्ल्यूएमएवरील व्याज दर आहे.
(d) सरकार डब्ल्यूएमए मर्यादेपेक्षा जास्त कर्ज घेऊ शकतात.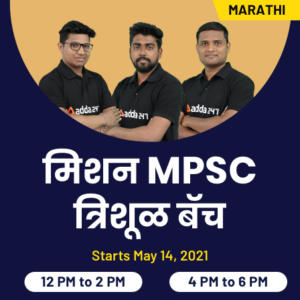 महाराष्ट्र राज्य विविध परीक्षा साहित्य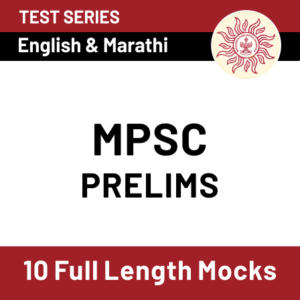 Solutions
S1.Ans.(d)
Sol.
This inflation takes place when the supply falls drastically and the demand remains at the same. This creates excess demand in the economy as the supply cannot match with it and thus prices rise. Such situations arise due to supply-side accidents, hazards or mismanagement which is also known as 'structural inflation.This could be put in the 'demand-pull inflation' category
S2.Ans.(a)
Sol.
Footloose industries can be located in a wide variety of places. They do not have strong locational preferences. They are not dependent on any specific raw materials or consumers as they can be found at numerous places. They mostly depend on parts that can be obtained anywhere. So, Statement 1 is correct.
These Industries produce in small Quantity and also employ a small labour force. They produce highly qualitative products like software applications, Research, consultancy Services, etc. They need a highly skilled labour force. So, Statement 2 is incorrect.
These are generally not polluting industries.
S3.Ans.(a)
Sol.
Context: On July 22, 2020, the Reserve Bank of India (RBI) publicized the "Report of the Committee for Analysis of QR (Quick Response) Code" under the chairmanship of Prof. Deepak B. Phatak on its website for comments/suggestions of various industry players currently involved in or associated with the use of QR codes before August 10, 2020.
Usage of QR in India:
In India, the factors of post demonetization, increased penetration of smartphones and high-speed internet connectivity led to the increased adoption of QR codes for digital payments. There are three different types of QR Codes in India viz.
Bharat QR– It is the world's first fully interoperable QR code payment system. Its specifications have been jointly developed by RuPay, Visa, MasterCard, and Amex.
Unified Payments Interface (UPI) QR– It was launched by the National Payments Corporation of India (NPCI) in August 2016.
Proprietary QR (Closed-loop) – It is provided by RBI authorized companies as Prepaid Payment Instruments (PPI). -The committee has recommended phasing out of proprietary, closed-loop QR codes as it requires customers to manage separate apps and is creating hindrance in this payment system. Instead, RBI must encourage the use of interoperable QR codes such as the Bharat QR and UPI QR to enable faster onboarding of all types of merchants for digital payments.
S4.Ans.(d)
Sol.
Bharat Bond ETF:
It is a kind of mutual fund, which will invest only in bonds issued by government companies. The bond will be listed on the stock exchange and tradable on exchanges. The funds that will come from investing in this bond will be invested in companies included in this bond index. In such a situation, it is expected to get better returns. It will track the Nifty Bharat bond Target Maturity Indices. BHARAT Bond Funds of Funds (FOF) is also being launched for investors who do not have Demat accounts.
This ETF is an initiative of the Department of Investment and Public Asset Management DIPAM), Government of India (GoI), and then it mandates AMCs to design and manage the product. Generally, governments issue bonds to meet the fiscal deficit & it has put this option in front of investors to raise money for Public Sector Undertaking (PSUs). Earlier governments used to launch bonds only for big investors but now small investors can also join.
S5.Ans.(d)
Sol.
The Insurance Regulatory and Development Authority of India or the IRDAI is the apex body responsible for regulating and developing the insurance industry in India. It is an autonomous body. It was established by an act of Parliament known as the Insurance Regulatory and Development Authority Act, 1999. Hence, it is a statutory body. Statement 2 is incorrect
The IRDAI is headquartered in Hyderabad in Telangana. Prior to 2001, it was headquartered in New Delhi. The functions of the IRDA are listed below:
Its primary purpose is to protect the rights of the policyholders in India.
It gives the registration certificate to insurance companies in the country.
It also engages in the renewal, modification, cancellation, etc. of this registration.
It also creates regulations to protect policyholders' interests in India. Statement 1 is incorrect (for pension funds PFRDA is the regulatory authority, not IRDAI)
S6.Ans.(c)
Sol.
On July 09, 2020, According to data from the Reserve Bank of India (RBI), Tamil Nadu (TN) has topped market borrowings among States in India with a collection of Rs.30,500 crore in fiscal 2020-21(FY 21).
TN, which has accounted for 17% of the borrowings done through the issue of bonds (known as state development loans), has been followed by Maharashtra ₹25,500 crores (14%), Andhra Pradesh ₹17,000 crores (9%), Rajasthan ₹17,000 crores (9%).
S7.Ans.(d)
Sol.
Economists distinguish between two types of inflation: Demand-Pull Inflation and Cost-Push Inflation. Both types of inflation cause an increase in the overall price level in an economy. Cost-push inflation occurs when prices of production process inputs increase. Rapid wage increases or rising raw material prices are common causes of this type of inflation. The sharp rise in the price of imported oil during 2018 provides a typical example of cost-push inflation. Some of the causes: Increased labour costs can create cost-push inflation such as when mandatory wage increases for production employees due to an increase in minimum wage per worker. A worker strike due to stalled contract negotiations might lead to a decline in production and as a result, higher prices ensue for the scare product. Unexpected causes of cost-push inflation are often natural disasters, which can include floods, earthquakes, fires, or tornadoes. If a large disaster causes unexpected damage to a production facility and results in a shutdown or partial disruption of the production chain, higher production costs are likely to follow. A company might have no choice but to increase prices to help recoup some of the losses from a disaster. Although not all-natural disasters result in higher production costs and therefore, wouldn't lead to cost-push inflation
S8.Ans.(a)
Sol.
Statement 1 is correct. The accumulated losses of State discoms (after adjusting for subsidies received from state governments) had increased. Discoms across the country have been facing high levels of losses and are struggling with debt. This makes it difficult for them to purchase power and invest in the distribution network. This leads to a shortfall in power supply and poor distribution infrastructure.
Statement 2 is incorrect. The capacity utilisation of thermal power plants (also called Plant Load factor or PLF) has declined from 78% in 2009-10 to 61% in 2018-19. Low PLF implies that thermal plants have been lying idle.
Other causes of the Power sector continue to face losses are as follows: 1) Increasing Non-Performing Assets in the sector: As per the RBI, public sector banks have the highest NPAs, most of which are in the power and the telecom sector. It also noted that the most severe shock to the power sector will cause the banking system NPAs to rise by about 68 bps. 2) High Cost of Power: The Standing Committee on Energy (2017) noted that higher tariff is also a key reason for lower electricity demand. There is a latent demand for power, which will surface once the tariff is made more affordable
S9.Ans.(a)
Sol.
statement 1 is correct. The Act provides the farmers with the freedom of choice related to the sale and purchase of produce. It allows intra-state and inter-state trade of farmers' produce outside: (i) the physical premises of market yards run by market committees formed under the state APMC Acts and (ii) other markets notified under the state APMC Acts.
Statement 2 is incorrect. It prohibits state governments from levying any market fee, cess or levy on farmers, traders, and electronic trading platforms for the trade of farmers' produce conducted in an 'outside trade area'. Further, there will be a separate dispute resolution mechanism for the farmers. The Farmers (Empowerment and Protection) Agreement on Price Assurance and Farm Services Act, 2020 creates a framework for contract farming through an agreement between a farmer and a buyer prior to the production or rearing of any farm produce. It also provides for a three-level dispute settlement mechanism: the conciliation board, Sub-Divisional Magistrate and Appellate Authority
S10.Ans.(a)
Sol.
Option a is incorrect: WMAs is a facility for both the Centre and states to borrow from the RBI. These borrowings are meant purely to help them to tide over temporary mismatches in cash flows of their receipts and expenditures.
Option b is correct: Section 17(5) of the RBI Act, 1934 authorises the central bank to lend to the Centre and state governments subject to their being repayable "not later than three months from the date of the making of the advance".
Option c is correct: The interest rate on WMA is the RBI's repo rate, which is basically the rate at which it lends short-term money to banks.
Option d is correct: The governments are allowed to draw amounts in excess of their WMA limits. The interest on such an overdraft is 2 percentage points above the repo rate.