আনন্দ সংবাদ! আনন্দ সংবাদ! adda 247 নিয়ে এসেছে আপনাদের জন্য এক সুবর্ণ সুযোগ 2023 সালের WBCS পরীক্ষার জন্য সেরা টেস্ট সিরিজ,বুক ,ই -বুক কিনুন খুব কম দামে।শুধুমাত্র এই অফারটি আজকের জন্য।
যারা WBCS পরীক্ষা 2023-এর জন্য প্রস্তুতি নিচ্ছেন তাদের জন্য WBCS মহাপ্যাক । WBCS-এর মতো পরীক্ষায় উত্তীর্ণ হওয়ার জন্য উচ্চাকাঙ্ক্ষীদের সর্বোত্তম অধ্যয়নের সংস্থানগুলির প্রয়োজন তাই Adda247 পশ্চিমবঙ্গ  রাজ্য পরীক্ষা মহাপ্যাক 2022-এ সাহায্য করার জন্য এখানে রয়েছে। সেরা অধ্যয়ন উপাদান সঙ্গে তাদের প্রস্তুতি প্রার্থী
পশ্চিমবঙ্গ  রাজ্য পরীক্ষা মহাপাক দিয়ে প্রার্থীদের প্রস্তুতি শুরু করার এটাই সঠিক সময় একটি প্যাকেজে, একজন প্রার্থীকে লাইভ ব্যাচ, ভিডিও কোর্স, কেস স্টাডির জন্য বিস্তারিত ব্যাচ, পূর্ণ দৈর্ঘ্যের মক টেস্ট, ইবুক, বিশেষ সংখ্যাসূচক এবং রিভিশন ব্যাচ, বিষয়ভিত্তিক প্রশ্ন ইবুক ইত্যাদি প্রদান করা হবে। তারা তাদের প্রস্তুতির জন্য যা প্রয়োজন তা পাবে এবং এটি তাদের WBCS পরীক্ষাগুলিকে সহজে উত্তীর্ণ হতে সাহায্য করবে।
অকারনে নামি-দামি ইন্সিটিউটের চক্করে পরে নিজের সময় এবং অর্থের অপচয় না করে,, সামান্য খরচে একসাথে, ঘরে বসেই সম্পূর্ণ প্রস্তুতি চালিয়ে যাওয়ার এই সূবর্ন সুযোগ হাতছাড়া করবেন না।
যদি একজন উচ্চাকাঙ্ক্ষী WBPSC এবং WBCS পরীক্ষার জন্য প্রস্তুতি নিচ্ছেন তবে তারা পশ্চিমবঙ্গ রাজ্য পরীক্ষা মহাপ্যাক পেতে পারেন। WBPSC এবং WBCS উভয় পরীক্ষায় লক্ষ্য করা প্রার্থীদের পশ্চিমবঙ্গ রাজ্য পরীক্ষা মহাপ্যাক পেতে পরামর্শ দেওয়া হচ্ছে। মহাপ্যাকের বিস্তারিত ও উপকারিতা জানতে নিচের প্রবন্ধটি পড়ুন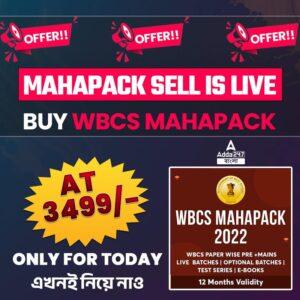 Click here to Check Details the WBCS Mahapack 2022 
আপনি যা পাবেন–
What will you get-
1000+ ঘণ্টার লাইভ ইন্টারএকটিভ ক্লাস
1000+ hours of live interactive classes
রেকর্ডেড ভিডিও
Recorded video
প্রচুর পূর্ণ এবং অংশিক দৈর্ঘ্য মক পরীক্ষা
Lots of full and partial length mock tests
কার্ড, ইউ.পি.আই., নেট ব্যাঙ্কিং এবং ইন্সটল্মেন্ট এর সুবিধা রয়েছে।
Card, UPI, Net Banking and Instalment facilities are available.
যারা বিশদে বিষয়গুলো সমন্ধে জানতে ইচ্ছুক, দ্রুত রিভিশন করতে ইচ্ছুক, কিংবা যারা প্রথম বারের জন্য এ ধরনের পরীক্ষায় বসছেন, সকলের জন্যই এই কোর্সটি উপযোগী।
This course is helpful for all those who want to know the details, want to revise quickly, or who are sitting for WBCS Exam for the first time.
VALIDITY : 12 MONTHS
কোর্স এর ভাষা–
Course language-
ক্লাস- বাংলা ভাষায়
Class – in Bengali language
স্টাডি মেটেরিয়াল- বাংলা ভাষায়
Study material – in English & Bengali language
এই কোর্স করতে গেলে স্টুডেন্টদের কাছে যা থাকা দরকার–
What students need to have to do this course-
অন্তত 5 MBPS স্পিড এর ইন্টারনেট সংযোগ
Internet connection with at least 5 MBPS speed
ল্যাপটপ, ডেস্কটপ বা স্মার্ট ফোন
Laptop, desktop or smart phone
মাইক্রোফোন যুক্ত হেড ফোন
Headphones with microphone support
খাতা ও পেন (লাইভ ক্লাসের সময় নোট্‌স নেবার জন্য)Notebooks and pens (for taking notes during live classes)
Validity: 24 Months
*You will get a mail after purchasing the batch for login in.
*You will get recorded video links within 48 working hours.
*No Refunds will be given in any case and registration can be cancelled by Adda247 for any anti-batch activity.