General Knowledge MCQ questions and answers for Tripura PSC: Welcome to Adda 247. ADDA 247 Bengali is giving you General Knowledge MCQ in Bengali for SSC MTS Exam. Here you get ten Multiple Choice Questions and Answers with Solutions every day. Here you will find all the essential questions and answers that will help you increase your knowledge and move you toward fulfilling your goals. Study these General Knowledge MCQs regularly and succeed in the exams.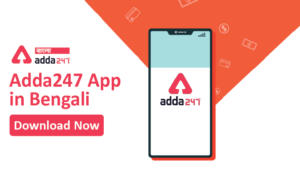 General Knowledge MCQ | জেনারেল নলেজ MCQ
Q1. হিন্দু-মুসলিম ঐক্যের 'সুলাহকুল উৎসব' আয়োজন করা হয়
(a) ইটাওয়া
(b) বারাবাঙ্কি
(c) আলীগড়
(d) আগ্রা
Q2. ন্যাশনাল গ্রিন ট্রাইব্যুনালের সদর দপ্তর কোথায়?
(a) মুম্বাই
(b) পুনে
(c) নয়াদিল্লি
(d) জয়পুর
Q3. 6 শতকের গোড়ার দিকে ভারতে আসা চীনা তীর্থযাত্রী কে?
(a) হিউয়েন সাং
(b) ফা-হিয়েন
(c) সুং ইউন
(d) আই-সাং
Q4. দণ্ডকারণ্য অঞ্চল যে রাজ্যে অবস্থিত তা হল
(a) ওড়িশা
(b) ছত্তিশগড়
(c) অন্ধ্র প্রদেশ
(d) উপরের সব
Q5. নিচের মধ্যে কোনটি ভারতের দ্বিতীয় দীর্ঘতম খাল
(a) ইন্দিরা গান্ধী খাল
(b) নর্মদা খাল
(c) সরদার সরোবর খাল
(d) এর কোনটিই নয়
Q6. কোন শিক্ষা কমিশন যুক্তি দিয়েছিল যে ইউরোপীয় শিক্ষা ভারতীয়দের নৈতিক চরিত্রকে উন্নত করবে?
(a) লিনলিথগো কমিশন
(b) রামসে ম্যাকডোনাল্ড পুরস্কার
(c) উডের ডেসপ্যাচ
(d) আরউইন রিপোর্ট
Q7. বর্তমানে ইউনিয়ন তালিকায় কয়টি বিষয় রয়েছে?
(a) 110
(b) 100
(c) 98
(d) 99
Q8. How many medals have been won by the India Men's Hockey team at the Commonwealth Games till date?
(a) 3
(b) 4
(c) 6
(d) 7
Q9. জনস্বার্থ মামলার অপর নাম কী?
(a) সোশ্যাল অ্যাকশন লিটিগেসন
(b) ক্লাস অ্যাকশন লিটিগেসন
(c) সোশ্যাল ইন্টারেস্ট লিটিগেসন
(d) উপরের সবগুলি
Q10. 1739 সালে কর্নালের যুদ্ধ নাদের শাহ এবং নিম্নলিখিত কার মধ্যে সংঘটিত হয়েছিল?
(a) আকবর শাহ
(b) বাহাদুর শাহ জাফর
(c) ঔরঙ্গজেব
(d) মুহাম্মদ শাহ
General Knowledge MCQ solutions | জেনারেল নলেজ MCQ সমাধান
S1. Ans.(d)
Sol. 'Sulahkul Festival' of Hindu – Muslim Unity is organised at Agra.
S2. Ans.(c)
Sol. New Delhi is the Principal Place of Sitting of the Tribunal.
Bhopal, Pune, Kolkata and Chennai are other four place of sitting of the Tribunal.
S3. Ans.(c)
Sol. The Chinese traveller Sung Yun came to India in 518 (6th Century) and received copies of Buddhist texts in his 3 years of travel.
It is known that Fa–hien was also a Chinese traveller, who travelled to India. Fa–hien came to the court of Chandragupta II 'Vikramaditya'. Xuanzang (Hiuen Tsang) came to India in 629 AD during the reign of Harshavardhana.
S4. Ans.(d)
Sol. Dandakaranya region lies in the state of Andhra Pradesh, Telangana, Chattisgarh and Odisha.
Dandakaranya is a historical region in India, mentioned in the Ramayana.
S5. Ans.(b)
Sol. The Narmada Canal that brings water from the Sardar Sarovar Dam to the state of Gujarat and then into Rajasthan state, is the second longest canal in India (after the Indira Gandhi Canal) and the largest canal by water carrying capacity.
S6. Ans.(c)
Sol. On July 19, 1854 a draft was declared by Charles Wood (Head of Board of control) for a mass planning over the India education system and this draft later came to be known as Woods Despatch of 1854. This was also known as "Magnacarta of English Education".
S7. Ans.(c)
Sol. The Union List is a list of 98 subjects (Originally 97) numbered items as provided in the Seventh Schedule to the Constitution of India.
The Union Government or Parliament of India has exclusive power to legislate on matters relating to these items.
S8. Ans.(a)
Sol. India Men's National Hockey team has won 3 medals till date at Commonwealth Games. It includes only 3 Silver Medals.
S9. Ans.(d)
Sol. Social Action Litigation (SAL), Social Interest Litigation (SIL) and Class Action Litigation (CAL) are the various names for Public Interest Litigation (PIL).
S10. Ans.(d)
Sol. The Battle of Karnal was fought between Nader Shah and Muhammad Shah on February 24, 1739. Nader Shah emerged as victorious within three hours in the battle. Muhammad Shah was the Mughal Emperor, while Nader Shah was the emperor of the Persian Empire of the Afsharid dynasty.
He looted millions of gold coins, sacks of jewels, the sacred peacock throne and the fabled Kohinoor diamond from India.
Thus Muhammad Shah was the last Mughal Empire to sit on the Peacock Throne or Takht-i-Taus built by Shah Jahan.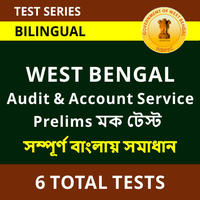 Adda247 ইউটিউব চ্যানেল – Adda247 You Tube Channel