General Knowledge MCQ in Bengali: Welcome to Adda 247. ADDA 247 Bengali is giving you General Knowledge MCQ in Bengali for WB TET Exam. Here you get ten Multiple Choice Questions and Answers with Solutions every day. Here you will find all the important questions and answers that will help you increase your knowledge and move you towards fulfilling your goals. Study these General Knowledge MCQs regularly and succeed in the exams.
General Knowledge MCQ in Bengali
Topic

General Knowledge MCQ

Category
Daily Quiz
Used for
WB TET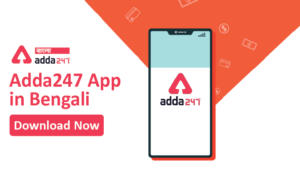 General Knowledge MCQ | জেনারেল নলেজ MCQ
Q1. NITI আয়োগের পরিচালনা পরিষদের সভায় সভাপতিত্ব করেন কে?
(a)নীতি আয়োগের সিইও
(b) ভারতের রাষ্ট্রপতি
(c) ভারতের প্রধানমন্ত্রী
(d) কেন্দ্রীয় অর্থমন্ত্রী
Q2. কোন রাজ্য ডেলয়েট ইন্ডিয়াকে তার পরামর্শক হিসাবে নিযুক্ত করেছে?
(a) উত্তর প্রদেশ
(b) কর্ণাটক
(c) ওড়িশা
(d) তেলেঙ্গানা
Q3. 'ডোনি পোলো এয়ারপোর্ট', যা খবরে দেখা গেছে, কোন রাজ্যে অবস্থিত?
(a) আসাম
(b) অরুণাচল প্রদেশ
(c) সিকিম
(d) পশ্চিমবঙ্গ
Q4. সমস্ত অফিসিয়াল পুরস্কারের সুপারিশ এবং মনোনয়নের জন্য সাধারণ পোর্টালের নাম কী?
(a) ভারত পোর্টাল
(b) রাষ্ট্রীয় পোর্টাল
(c) আত্মনির্ভর পোর্টাল
(d) ইন্ডিয়া অ্যাওয়ার্ডস পোর্টাল
Check More: WBPSC Audit and Accounts Service Recruitment 2022
Q5. ভারতের 14 তম উপরাষ্ট্রপতি হিসাবে কাকে নির্বাচিত করা হয়েছে?
(a) জগদীপ ধনখার
(b) মার্গারেট আলভা
(c) কল্যাণ সিং
(d) শিবরাজ পাতিল
Q6. কোন কেন্দ্রীয় মন্ত্রক 'সক্ষম অঙ্গনওয়াড়ি এবং পোষান 2.0' প্রকল্প বাস্তবায়ন করে?
(a) স্বাস্থ্য মন্ত্রণালয়
(b) মহিলা ও শিশু উন্নয়ন মন্ত্রক
(c) কৃষি ও কৃষক কল্যাণ মন্ত্রণালয়
(d) আদিবাসী বিষয়ক মন্ত্রক
Q7. 'ন্যাশনাললি ডিটারমাইন্ড কন্ট্রিবিউশন (এনডিসি)' যা খবরে দেখা যায়, একটি শব্দটি কোন ক্ষেত্রের সাথে সম্পর্কিত?
(a) অর্থনীতি
(b) জলবায়ু পরিবর্তন
(c) প্রতিরক্ষা
(d) শিল্প
Q8. কোন রাজ্য 'মুখ্যমন্ত্রী সমান শিক্ষা ত্রাণ, সহায়তা ও অনুদান (চেরাগ)' প্রকল্প চালু করেছে?
(a) তেলেঙ্গানা
(b) অন্ধ্র প্রদেশ
(c) হরিয়ানা
(d)ওড়িশা
Q9. আগস্ট 2022 পর্যন্ত, ভারতে কতটি স্টার্ট-আপ নিবন্ধিত হয়েছে?
(a)25000
(b)50000
(c)75000
(d)1,00,000
Q10. বেদান্থঙ্গল পাখি অভয়ারণ্য এবং কুঁথানকুলাম পাখি অভয়ারণ্য, যেগুলিকে রামসার সাইট হিসাবে ঘোষণা করা হয়েছিল, কোন রাজ্যে অবস্থিত?
(a) ওড়িশা
(b) কর্ণাটক
(c) তামিলনাড়ু
(d) উত্তরাখণ্ড
Check Also: TPSC CCE Admit Card 2022, Hall Ticket Download Link

General Knowledge MCQ Solution | জেনারেল নলেজ MCQ স
মাধান
S1. Ans.(c)
Sol. Prime Minister Narendra Modi chaired the 7th Governing Council meeting of NITI Aayog in New Delhi. The Prime Minister is the ex-officio Chairperson of the think tank.
The meeting aims to create synergies towards collaboration between Centre and States and Union Territories. The Chief Ministers and LGs presented best practices from their States on four agenda items including crop diversification and achieving self-sufficiency in oilseeds, pulses and agri-commodities, implementation of the National Education Policy and urban governance.
S2. Ans.(a)
Sol. The Uttar Pradesh government has signed a Memorandum of Understanding with Deloitte India, appointing it as a consultant for achieving the target of raising the state's economy to USD 1 trillion.
This decision was based on the recommendation of a high-powered committee. Deloitte India is set to present a future action plan after conducting a sector-wise study.
S3. Ans.(b)
Sol. The state government of Arunachal Pradesh has given the name of 'Donyi Polo Airport' to its third airport, which is under construction in Itanagar.
It is the only airport in the capital city and third in the state after Pasighat and Tezu airports. In the state's tribal language, Donyi means Sun and Polo means Moon.
S4. Ans.(b)
Sol. A common 'Rashtriya Puruskar' Portal has been developed by the Government of India, to bring all the Awards of the various Ministries/Departments/Agencies of the Government of India under one digital platform.
This Portal aims to facilitate citizens to nominate individuals or organizations for various Awards instituted by the Government of India. Recently the Government invited nominations for 'Vayoshreshtha Samman' and 'Padma' awards.
S5. Ans.(a)
Sol. Jagdeep Dhankhar has won India's Vice Presidential election 2022, defeating Opposition candidate Margaret Alva.
Dhankhar will be India's 14th Vice President, taking over from the incumbent Vice President M Venkaiah Naidu. He has served as a Minister of state for Parliamentary Affairs in the Janata Dal government. He became the Governor of West Bengal in July 2019.
S6. Ans.(b)
Sol.  Ministry of Women and Child Development has issued Operational Guidelines for implementation of 'Saksham Anganwadi and Poshan 2.0′.
The Integrated Nutrition Support scheme has been approved by the Government of India for implementation during the 15th Finance Commission period 202l-22 to 2025-26. The programme aims to address the challenges of malnutrition in children, adolescent girls, pregnant women and lactating mothers.
S7. Ans.(b)
Sol. The Union Cabinet has approved India's updated Nationally Determined Contribution (NDC) under the Paris Agreement.
The NDCs are to be communicated to the United Nations Framework Convention on Climate Change (UNFCCC). India last submitted its NDC in the year 2015. India has committed to reduce the emissions intensity of its GDP by 45% by 2030 and achieving 50% cumulative electric power installed capacity from non-fossil fuel-based energy resources by 2030.
S8. Ans.(c)
Sol. Haryana Chief Minister Manohar Lal Khattar recently launched the 'Chief Minister Equal Education Relief, Assistance and Grant (Cheerag)' scheme.
It aims to provide 'free education' to Economically Weaker Section (EWS) students of government schools in budget private schools. Under the scheme, government school students whose parents have an annual verified income of less than Rs 1.8 lakh can enroll in private schools.
S9. Ans.(c)
Sol. Union Minister for Commerce & Industry Piyush Goyal announced that India has achieved a landmark milestone, as there are 75000 startups in the country.
The Department for Promotion of Industry and Internal Trade (DPIIT) has recognized more than 75,000 startups.  The initial ten thousand startups were recognized in 808 days, while the latest ten thousand were achieved in only 156 days.
S10. Ans.(c)
Sol. India has added 10 more wetlands designated as Ramsar sites to make the total sites in the country to 64, covering an area of 12,50,361 hectares.
The 10 new sites include Six sites in Tamil Nadu including Vedanthangal Bird Sanctuary and Koonthankulam Bird Sanctuary and One each in Goa, Karnataka, Madhya Pradesh and Odisha.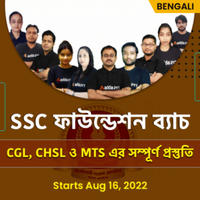 Adda247 ইউটিউব চ্যানেল – Adda247 Youtube Channel
Adda247 টেলিগ্রাম চ্যানেল – Adda247 Telegram Channel
Daily General Knowledge Quiz প্রতিদিন ADDA 247 বাংলা 10 টি করে  General Knowledge MCQ সহ Answers এবং Solution দিচ্ছে। WB TET, পরীক্ষার জন্য General Knowledge Solution অত্যন্ত গুরুত্বপূর্ণ। History, Geography, Physics, Chemistry, Biology, Economics, Polity এবং Daily Reasoning এর নতুন নতুন অনেক MCQ পরীক্ষার্থীদের সকল প্রতিযোগিতামূলক পরীক্ষায় সাফল্য আনতে সাহায্য করবে। প্রতিযোগিতামূলক উত্তীর্ণ হওয়ার চাবিকাঠি Mathematics এবং Reasoning। Daily Mathematics এবং Reasoning প্র্যাক্টিস যেকোনো পরীক্ষার্থীকে সাফল্যের দোরগোড়ায় পৌঁছে দেবে।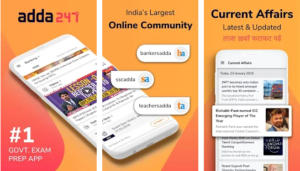 .