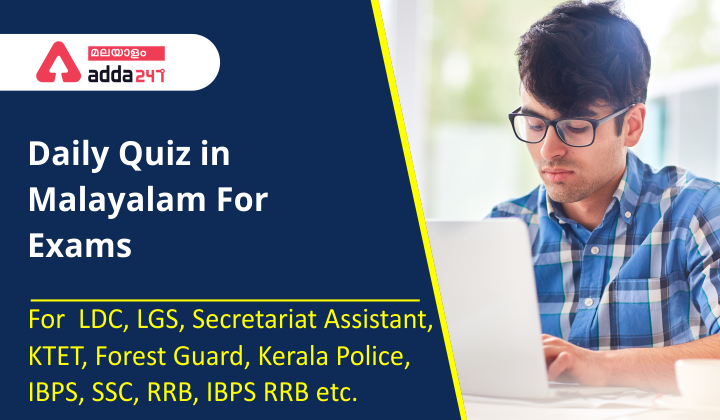 LDC, LGS, SECRETARIAT ASSISTANT, HIGH COURT ASSISTANT, KTET, FOREST GUARD, KERALA POLICE, IBPS, SSC, RRB, IBPS RRB, IB ACIO, BIS, 10 -)o തലം, 12-)o തലം , ഡിഗ്രി തലത്തിലുള്ള ഇതര KPSC പരീക്ഷകൾ, മറ്റ് മത്സരപരീക്ഷകൾ എന്നിവയ്ക്കുള്ള ചോദ്യങ്ങളും ഉത്തരങ്ങളും.
Q1. 2025 ഓടെ ഓർ‌ഗാനിക് ആകുന്നതിന് എസ്‌എസ്‌ഒ‌സി‌എയുമായി ത്രിപാർട്ടൈറ്റ് ധാരണാപത്രത്തിൽ ഒപ്പുവച്ച ഇനിപ്പറയുന്ന യൂണിയൻ പ്രദേശം ഏതാണ്?
(a) ചണ്ഡിഗഡ്
(b) ലക്ഷദ്വീപ്
(c) ആൻഡമാനും നിക്കോബാറും
(d) ലഡാക്ക്
(e) ജമ്മു കശ്മീർ
Q2. ഗുജറാത്തിലെ കച്ച് മേഖലയിൽ ഇന്ത്യയിലെ ഏറ്റവും വലിയ സോളാർ പവർ പാർക്ക് ഏത് കമ്പനി നിർമ്മിക്കും?
(a) ഓയിൽ ആൻഡ് നാച്ചുറൽ ഗ്യാസ് കോർപ്പറേഷൻ
(b) സ്റ്റീൽ അതോറിറ്റി ഓഫ് ഇന്ത്യ ലിമിറ്റഡ്
(c) ദേശീയ താപവൈദ്യുതി കോർപ്പറേഷൻ
(d) കോൾ ഇന്ത്യ ലിമിറ്റഡ്
(e) ഭാരത് ഹെവി ഇലക്ട്രിക്കൽസ് ലിമിറ്റഡ്
Q3. ലോക യുവജന നൈപുണ്യ ദിനം (WYSD) എല്ലാ വർഷവും __________ ആചരിക്കുന്നു.
(a) ജൂലൈ 11
(b) ജൂലൈ 12
(c) ജൂലൈ 13
(d) ജൂലൈ 14
(e) ജൂലൈ 15
Q4. ആരാണ് രാജ്യസഭയിൽ സഭാ നേതാവായി നിയമിക്കപ്പെട്ടത്?
(a) പീയുഷ്ഗോയൽ
(b) ഹർഷ് വർധൻ
(c) രമേഷ് പോഖ്രിയാൽ നിഷങ്ക്
(d) സന്തോഷ് ഗംഗ്‌വർ
(e) സദാനന്ദഗൗഡ
Q5. ഡിയർ‌നെസ് അലവൻസ്, ഡിയർ‌നെസ് റിലീഫ് എന്നിവ 17% ൽ നിന്ന് _____ ആയി വർദ്ധിപ്പിക്കാൻ മന്ത്രിസഭ അംഗീകാരം നൽകി.
(a) 20%
(b) 22%
(c) 24%
(d) 26%
(e) 28%
Q6. ടോക്കിയോ ഒളിമ്പിക്സ് ചിയറിംഗ് ഗാനത്തിന്റെ ഗായകന്റെ പേര് "ഹിന്ദുസ്ഥാനി വേ".
(a) നേഹാക്കക്കർ
(b) സുനിതിചൗഹാൻ
(c) അനന്യ ബിർള
(d) അൽകയാഗ്നിക്
(e ) ശ്രേയഗോശാൽ
Q7. _______ നായി കേന്ദ്ര സ്പോൺസർ ചെയ്ത ദേശീയ ആയുഷ് മിഷൻ തുടരാൻ മന്ത്രിസഭ അംഗീകാരം നൽകി.
(a) 2 വർഷം
(b) 5 വർഷം
(c) 7 വർഷം
(d) 10 വർഷം
(e ) 15 വർഷം
Q8. 'Urdu Poets and Writers – Gems of Deccan'  എന്ന പുസ്തകത്തിന്റെ രചയിതാവിന്റെ പേര്.
(a) അബ്ദുൾ റഹ്മാൻ മുനിഫ്
(b) അബിദ് ആസാദ്
(c) ആമെർ ഹുസൈൻ
(d) ജെ.എസ്. ഇഫ്തേക്കർ
(e ) അബ്ദുറഹ്മാൻ
Q9. റിസർവ് ബാങ്ക് __________ ന് നിയന്ത്രണങ്ങൾ ഏർപ്പെടുത്തി.
(a) മാസ്റ്റർകാർഡ്
(b) വിസ
(c) രൂപ
(d) ആമസോൺ പേ
(e) പേടിഎം
Q10. ഗഗന്യാൻ പ്രോഗ്രാമിനായി ഇസ്‌റോ വിജയകരമായി പരീക്ഷിച്ച എഞ്ചിന് പേര് നൽകുക.
(a) പ്രാഗ്തി എഞ്ചിൻ
(b) വികാസ് എഞ്ചിൻ
(c) ഗഗൻ എഞ്ചിൻ
(d) പ്രകാശ് എഞ്ചിൻ
(e) റോഷ്നി എഞ്ചിൻ
To Attempt the Quiz on APP with Timings & All India Rank,
Download the app now, Click here
Adda247 അപ്ലിക്കേഷനിൽ ഈ ക്വിസ് പരീക്ഷിച്ച് അഖിലേന്ത്യാ റാങ്കിംഗ് നേടുക
Solutions
S1. Ans.(d)
Sol. A tripartite Memorandum of Understanding has been signed between the Administration of Union Territory of Ladakh and Ladakh Autonomous Hill Development Council Leh/Kargil with Sikkim State Organic Certification Agency (SSOCA) regarding the implementation of PrampragatKrishiVikasYojana and Mission Organic Development Initiative. The aim of MoU is to convert Ladakh into organic by 2025.
S2. Ans.(c)
Sol. NTPC Ltd., India's largest power generator is set to construct the country's single-largest solar photovoltaic project at Rann of Kutch region in Khavada, Gujarat.
S3. Ans.(e)
Sol. The World Youth Skills Day (WYSD) is observed every year on July 15 as a day to recognize the strategic importance of equipping young people with skills for employment, decent work and entrepreneurship, and to highlight the crucial role of skilled youth in addressing current and future global challenges.
S4. Ans.(a)
Sol. Union Minister PiyushGoyal has been appointed as the Leader of the House in RajyaSabha. His appointment is effective from July 06, 2021. He will succeed Thawar Chand Gahlot, who has taken charge as the Governor of Karnataka.
S5. Ans.(e)
Sol. The Union Cabinet headed by Prime Minister NarendraModi has approved an increase in the Dearness Allowance to Central Government employees and Dearness Relief to pensioners to 28 per cent.
S6. Ans.(c)
Sol. Singer Ananya Birla has teamed up with music maestro AR Rahman to launch a cheer song for Indian sports personalities as they gear up for Tokyo Olympics. Titled "Hindustani Way", the song has been sung by Ananya and composed by Rahman.
S7. Ans.(b)
Sol. Cabinet approves continuation of centrally sponsored scheme National AYUSH Mission for 5 years from FY 2021-2026.
S8. Ans.(d)
Sol. Vice President M. Venkaih Naidu has received a book entitled 'Urdu Poets and Writers – Gems of Deccan' authored by senior journalist, J.S. Ifthekhar.
S9. Ans.(a)
Sol. The Reserve Bank of India has imposed restrictions on Mastercard Asia/Pacific Private Limited for adding new domestic customers from 22nd July 2021.
S10. Ans.(b)
Sol. The Indian Space Research Organisation (ISRO) has successfully conducted the third long-duration hot test of the liquid propellant Vikas Engine for the core L110 liquid stage of the human-rated GSLV Mk III vehicle, as part of the engine qualification requirements for the GaganyaanProgramme.
Use Coupon code- HAPPY (എക്കാലത്തെയും വിലക്കുറവ്)
*മലയാളത്തിലെ  തത്സമയ ക്ലാസുകൾ ഇപ്പോൾ നിങ്ങളുടെ വീട്ടിൽ ലഭ്യമാണ്*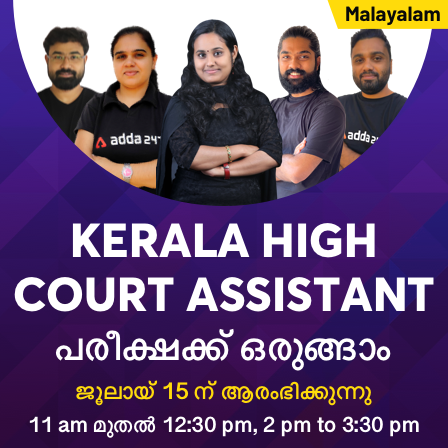 *തിരഞ്ഞെടുക്കൽ മാത്രമേ പരിശീലനത്തിന് നിങ്ങളെ സഹായിക്കൂ | അഡാ 247-ൽ  മലയാളത്തിൽ പരിശീലനം ആരംഭിക്കുക*
Telegram Name:- KPSC Sure Shot Selection
KPSC Exam Online Test Series, Kerala Police and Other State Government Exams