Amid COVID-19, the Civil Services Examination 2021 has been rescheduled, and earlier it was scheduled to be conducted on 27th June and now it will be conducted on 10 October 2021. There is still time for the candidates to plan and revise the syllabus for UPSC CSE 2021. The journey of UPSC can prove to be a life-changing experience in the life of any candidate.
Check below the details about 5 months revision strategy required to qualify for the UPSC CSE 2021 exam.
It will be better to read some basic books at the starting of the preparation or at the initial stages so that an understanding is developed which is required to crack the examination and also to fulfill the responsibilities of a civil servant effectively.
It is rightly said, "By failing to prepare, you are preparing to fail."
For more details Click Here
Here, we are mentioning some essential books and plan to create an understanding regarding the syllabus of the UPSC Civil Services Prelims Exam and how to prepare.
Names of the Books are as follows:
– All NCERTs (6th class to 12th class)
– For Polity Laxmikanth
– For Ancient Indian history Tamil Board book
– For Modern Indian History Spectrum
– For Science and tech Tata Mcgrawhill
– For Indian art and culture Nitin Singhania
– For Environment ICSE Books, Monthly magazines, and newspapers
Things to Remember
– It is necessary to understand that strategy should always be Mains perspective. If you are preparing for Mains automatically most of the Prelims will be prepared and also try to finish the maximum syllabus of Mains before prelims.
– Or we can say that complete the Mains syllabus at least once before the Prelims.
– Answer writing practice should be there and it will be better to have a good answer writing practice before Prelims.
– Revise the whole week's work on Sunday or frequent revision is required.
– If you want you can also make short notes of General Studies topics.
– Analyse previous Years' questions before starting with any subject.
– Cover the newspaper on daily basis do not leave for many days incomplete.
– Study daily with consistency for about 6 to 8 hours or according to your capacity. During the course of preparation, you may don't feel like studying on some days but you will have to study and focused.
UPSC Prelims Syllabus 2021: General Studies and CSAT for CSE
A list of the basic minimum resources or books with some important topics subject-wise are mentioned. This will help the freshers to plan the preparation accordingly.
Subject
Sources
Economy

Indian Economic Development- 11th NCERT
Macroeconomics- 12th NCERT
Economic Survey, Budget
Niti Aayog Report
Agriculture- Recent Trends & Problems, Schemes, initiatives & programmes ( From magazines, PIB, newspaper, etc.)

Polity

M.Laxmikanth
D.D. Basu
Focus on Bills, Acts in the news as it can be asked in Prelims and Mains

Geography

Class 8th NCERT (Resources and developments)
Class 9th NCERT ( Contemporary India -1)
Class 10th NCERT (Contemporary India -2)
Fundamentals of Physical Geography- 11th NCERT
Physical Environment of India- 11th NCERT
Human Geography- 12th NCERT
Indian People and Economy- 12th NCERT
Certificate Geography- G.C. Leong
Map book
Mains- Savinder Singh, Khullar/Majid Hussain
Interlink with Mains topics such as Disaster Management.

Environment

Biology class 12th NCERT- Last 4 Chapters
ICSE Books
Newspaper, Monthly magazine

Topics to be covered are:

Introduction to Environment & Ecology
Ecological Hierarchy: Habitat & Niche
 Ecological Principles
 Ecological Succession
Ecosystems Definition & Concept
Ecosystem Dynamics: Pyramids, Food web
Biomagnification and Biochemical cycles
Biomes: Forests, Grasslands, Mountain & Desert Ecosystem
Aquatic Life: Zones of the Ocean, Coral Reefs & Mangroves
Aquatic Life: Conventions-Montreux, Ramsar Convention
Biodiversity: Basics and Concepts
Biodiversity: Keystone, Indicator and Invasive species
Biodiversity Hotspots, Eco-regions & Megadiverse Regions
Biodiversity: Uses & Values
Biodiversity: Biogeographic Classification of India
Biodiversity: IUCN Classification & Red List
Biodiversity: Ex-situ & In-situ Conservation
Biodiversity: UNESCO, CBD & Cartagena Protocol
Biodiversity: Nagoya Protocol; Aichi Targets
Environment: Pollution-Air, Water; carcinogens
Environment Impact Assessment: Recent issues
Environmental Laws & Institutions
Environment: Schemes & Policies
International Environmental Governance, etc.

History

 Ancient History: Cover Old NCERT,(Class XIth, RS Sharma)
Tamil Board, (Class: 8,10,11,12,13,14 (Ancient India) Quiz
Indian Medieval History- Satish Chandra( Old NCERT )
Indian freedom struggle- Spectrum
Bipin Chandra- India's struggle for Independence
Bipin Chandra- India's struggle after Independence
World History- Arjun Dev NCERT

Art and culture

An introduction to Indian Art- 11th NCERT
Focus on art and culture chapters of Indian Ancient History- R S Sharma( Old NCERT )
Indian Medieval History- Satish Chandra( Old NCERT )
CCRT
Art & Culture: Nitin Singhania's notes
Watch videos on youtube. Audio-visual helps memorize better,

IR

Focus on country-country relations – static and current developments
Newspapers and Magazines will help
V.N Khanna

Topics to be covered:

India and its neighbourhood-relations.
Bilateral, regional and global groupings and agreements involving India and/or affecting India's interests.
Effect of policies and politics of developed and developing countries on India's interests.
The Indian diaspora, Important International institutions, agencies and fora, their structure, mandate etc.

General science

NCERT- 9th
NCERT – 10th
Newspaper and monthly magazine

Ethics

ARC- Ethics in Governance
Remember definitions
Subba Rao- For case studies

Topics to be covered are:

Fundamentals of Ethics, Morality & Legality
Determinants of Ethics & Ethics in Public Life
Dimensions/Branches of Ethics
Human Values: Values & Skills
Fundamental Values Vs. Instrumental Values
Aptitude & Foundational Values of Civil Services
Concepts of Neutrality, Anonymity and Commitment; Morality of Civil Servants
Contributions of Western Moral Thinkers
Contributions of Western Moral Thinkers
Contributions of Indian Thinkers
Contributions of Indian Religious Philosophy
Attitude: Types & Functions of Attitude
Ethics & Law: Enforcement of Ethics through Civil Services Conduct Rules & Code of Ethics
Ethics & the Law: RTI Act, Citizens' Charters
The challenge of Corruption: Laws and Regulations
Probity in Governance
Emotional Intelligence
Components of Emotional competencies
Corporate Governance: Ethics and Probity
Case Studies Session
Ethics: Paper related Terms & Glossary
Aptitude and foundational values for Civil Service; associated case studies
Ethics and Human Interface: Essence, determinants and consequences of Ethics in human actions; associated case studies.
Ethics, integrity, impartiality and non-partisanship, objectivity, dedication to public service; associated case studies, etc.

Other Mains topics

Society- Indian Society- 12th NCERT, Social change and Development- 12th NCERT
Governance- ARC report, Adda Videos and study material
Social Issues- ARC reports, Newspaper, PIB, PRS, Frontline
Disaster Management- ARC Report ( Crisis Management )
Security- Challenges to Internal Security of India- Ashok Kumar

Topics for Society:

 Salient features of Indian Society, Diversity of India.
Role of women and women's organization, population and associated issues.Poverty and developmental issues, urbanization, their problems and their remedies.
Effects of globalization on Indian society. Social empowerment, communalism, regionalism & secularism, etc.

Topics for Governance:

 Governance: Meaning & Concepts
Important aspects of governance, transparency and accountability
Ministries & Departments of Government
E-Governance-applications & models
E-Governance: Successes, limitations, and potential
Role of Civil Services in a Democracy
Transparency & Accountability: Meaning & Concepts
Citizens charters, RTI, institutional and other measures
Transparency & Accountability: Public Services Delivery Act, SEVOTTAM Model
Vulnerable sections: Mechanisms, laws, institutions and Bodies constituted for the protection and betterment of these vulnerable sections
Schemes & Programmes: performance and evaluation
Issues relating to poverty and hunger
Issues relating to the development and management of Social Sector/Services relating to Health, Education, Human Resources
Welfare schemes for vulnerable sections of the population by the Centre and States, etc.

Topics for Disaster Management:

 Introduction to Disaster Management
Types of Disasters: Classification
The occurrence of Disasters worldwide
Disaster Management Act & Apparatus [Evolution & Future]
National Disaster Management Plan
Government Initiatives to reduce vulnerabilities
Application of ICT & Space Technology in Disaster Mitigation
International Organisations & Associations dealing with Disasters
Economic & Social Impact of Disasters, etc.

Social issues

Topics to be covered are:

Vulnerable Sections: Basic meaning & Indexes
Role of Women, NGOs and associations
Women:  Laws and their analysis
Women: Schemes & Policies
Children: Laws & analysis
  SCs/STs: Constitutional Safeguards and laws
Schemes & Policies related to SCs/STs
Senior Citizens-Constitutional Provisions & Schemes
  Judiciary and Vulnerable sections
LGBT: Legal status; jurisprudence and challenges
Discussion on Mains Answer writing
Disability and Disabled: Legal provisions & Challenges
Role of NGOs, SHGs, Donor agencies
Effects of Globalisation on Indian Society
Urbanisation: Problems & Solutions
Communalism, Regionalism & Secularism
Caste & Religion
Population issues: Decoding Census-2011, etc.

Internal Security

Topics to be covered are:

 Role of External State and Non-state Actors in creating challenges to Internal Security.
Challenges to Internal Security through Communication Networks, Role of Media and Social Networking Sites in Internal Security Challenges, Basics of Cyber Security; Money-Laundering and its prevention.
Insurgency in North East
Naxalism in India: Causes & Solutions
Militancy in North East
Internal Security & International Relations Affairs linkage
Linkages between Development and Spread of Extremism, etc.

Current affairs

Read newspaper keeping both Prelims and Mains syllabus
As per your capacity and interest make notes
Cover Current Affairs issue- wise and not date wise
Revise Current Affairs with a monthly magazine
Attempt test series
And current notes of Adda247
Videos based on current burning topics of Adda247
It will be better to separate the topics or study as per your level. We have just provided an idea that in this way you can cover topics and strategize your preparation.
UPSC Prelims (Paper-I + Paper-II) 2021 Online Test Series
Key facts:
– It is important to know the basics of the exam. Analyze previous years' papers, you should know how and what is asked in the exam. You can also see some Youtube channels of experts including Adda247. This will help in the preparation and understanding of the basics of an exam.
– Strengthen and build your foundation: Cover NCERTS from 6th to 12th class and develop regular reading newspaper habits. For building the foundation start reading some standard books for each subject. Always remember it is necessary to limit the resources and frequent revision. It will be better to read one book for each subject with a thorough understanding and revise it multiple times.
– The key to success is revision and consistency in studies.
– Answer- writing practice for Mains also plays an important role in the examination.
– You can start Prelims-focused preparation about two months before the Prelims. Try to give full mock tests in a simulated environment and also take precautions while giving Mock tests due to COVID-19.
– For Interview preparation, you should be confident about yourself, work on soft skills, groom personality, read newspapers regularly, etc.
We can't ignore the fact that each stage of the UPSC Civil Services Exam is an elimination round where the UPSC declares cutoff after the declaration of the result. So, it will be better to check out the cutoff for all three stages.
Adda247 brings you online courses and Youtube videos of several current burning topics and also subject-oriented to help in the preparation. During COVID-19 you will be able to start the preparation of the UPSC Civil Services Exam from home itself under the guidance of an expert. Check out the details and courses.
Best of Luck!
UPSC CSE Mains 2020 Detailed Syllabus: GS Paper-I (Indian Heritage & Culture, History & Geography of the World & Society)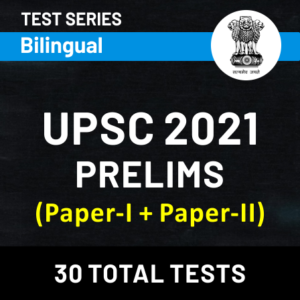 Aiming for UPSC CSE 2021? Get the best test series for sure selection: Click Here