If you are preparing for the 67th BPSC Combined Competitive Examination 2021-22 (BPSC PCS 2021-22 Exam), then forget your worries as Adda247 has launched this Prelims Specific Course exclusively for you. With this course, you get 450+ hours of live interactive classes, counseling sessions, expert guidance, preparation tips, and a lot more. The classes are power packed and brain stormed through practice questions based on amalgamation of static and current portion of the topics so that students can understand concepts and solve the questions easily in the examination.
According to the latest BPSC Calendar 2022, 67th BPSC PCS 2021-22 Prelims Exam would be conducted on 30th April 2022. Don't just Wait! Join the Batch Now!
बैच मे Admission से सम्बंधित किसी भी जानकारी के लिए दिए गए नंबर पर Contact या Whatsapp करें :  +917678242792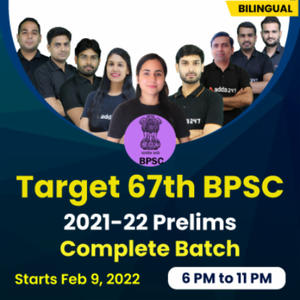 Target 67th BPSC 2021-2022 Prelims Complete Batch – Bilingual – Live Classes By Adda247
Batch Start: 09-Feb-2022
Time: 06:00PM to 11:00PM
Class Days: 6 Days in a Week (Mon-Sat)
Check the study plan here.
पाठ्यक्रम की मुख्य विशेषताएं
450+ घंटे इंटरएक्टिव क्लासेस
प्रतिदिन 5 घंटे live क्लासेज चलेंगी |
पाठ्यक्रम पिछले वर्षों की परीक्षा और संशोधित पैटर्न पर आधारित है
इस बैच में नामांकन करें, सीमित सीटें उपलब्ध हैं।
रिकॉर्ड किए गए वीडियो त्वरित संशोधन के लिए 24/7 उपलब्ध हैं।
विशेषज्ञों के साथ असीमित शंकाओं का समाधान करें।
विशेषज्ञों से तैयारी के टिप्स प्राप्त करें और समय प्रबंधन सीखें।
Course Highlights
450+ Hours Two-way Interactive Live Classes
Per Day 5-hour live classes
Syllabus is based on Previous Years Exam and the Revised Pattern
Enroll in this Batch, Limited Seats available.
Recorded Videos available 24/7 for quick Revision.
Solve Unlimited doubts with experts.
Get Preparation tips from the experts & Learn Time Management.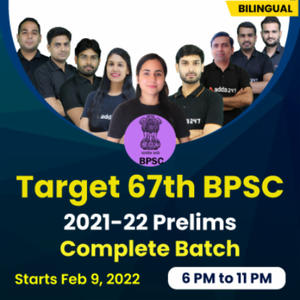 Subject Covered
General Studies
Bihar General Knowledge
Current events of national and international importance
History of India and Indian National Movement
India and World geography
Indian Polity and governance
Economic and Social Development
General Issues on Environmental ecology, Biodiversity and Climate Change
General Science
Course Language
Classes: Bilingual (Hindi & English)
Get Free Study Material for UPSC and State PCS Examinations