If you are preparing for the UPSC Civil Services (Prelims) Examination 2022 (IAS Prelims 2022), then forget your worries as Adda247 has launched this Prelims Specific Course exclusively for you. With this course, you get 450+ hours of live interactive classes, counseling sessions, expert guidance, preparation tips, and a lot more. The classes are power packed and brain stormed through practice questions based on amalgamation of static and current portion of the topics so that students can understand concepts and solve the questions easily in the examination.
According to the latest UPSC Calendar 2022, UPSC CSE Prelims 2022 exam would be conducted on 5th June 2022. Don't just Wait! Join the Batch Now!
बैच मे Admission से सम्बंधित किसी भी जानकारी के लिए दिए गए नंबर पर Contact या Whatsapp करें :  +917678242792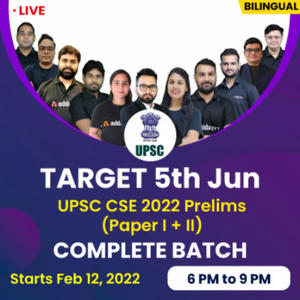 TARGET 5th June UPSC CSE 2022 Prelims (Paper I + II) Complete Batch – Bilingual – Live Classes By Adda247
Batch Start: 12th-Feb-2022
Time: 6:00PM to 9:00PM
Check the study plan here.
पाठ्यक्रम की मुख्य विशेषताएं
Classes UPSC CSE के नए पाठ्यक्रम के अनुसार चलेंगी |
पाठ्यक्रम पिछले वर्षों की परीक्षा और संशोधित पैटर्न पर आधारित है
इस बैच में नामांकन करें, सीमित सीटें उपलब्ध हैं।
रिकॉर्ड किए गए वीडियो त्वरित संशोधन के लिए 24/7 उपलब्ध हैं।
विशेषज्ञों के साथ असीमित शंकाओं का समाधान करें।
विशेषज्ञों से तैयारी के टिप्स प्राप्त करें और समय प्रबंधन सीखें।
450+ घंटे इंटरएक्टिव क्लासेस
इस बैच की शुरुवात में आपको NCERT Revision भी कराया जायेगा, जिससे की आपके Concept और strong हो |
इस बैच में आपको MCQs & PYQs भी कराये जायेंगे |
आपको एडमिशन के बाद एक Telegram लिंक भी मिलेगा जिससे की आप Faculties से doubt पूँछ पाए |
आपको इस बैच के साथ 100 घंटे की CSAT की Recorded classes भी मिलेंगी |
Course Highlights
450+ Hours Two-way Interactive Live Classes
You will get NCERT Revision classes also so that your concept will be stronger.
We will provide you PYQs & MCQs sessions also with this batch.
You will also get a telegram link after admission to discuss with faculties.
You will get 100 hour classes of CSAT also with this batch.
Classes are based on New Pattern Of UPSC CSE
Syllabus is based on Previous Years Exam and the Revised Pattern
Enroll in this Batch, Limited Seats available.
Recorded Videos available 24/7 for quick Revision.
Solve Unlimited doubts with experts.
Get Preparation tips from the experts & Learn Time Management.
Subject Covered
1. General Studies Paper-I Syllabus
It has 100 questions broadly covering the following topics carrying a maximum of 200 marks to be solved in 2 hours.
Current events of National & International importance.
History of India & Indian National Movement.
Indian & World Geography – Physical, Social, Economic Geography of India & the World.
Indian Polity & Governance – Constitution, Political System, Panchayati Raj, Public Policy, Rights Issues, etc.
Economic & Social Development – Sustainable Development, Poverty, Inclusion, Demographics, Social Sector Initiatives, etc.
General issues on Environmental ecology, Bio-diversity & climate change – that do not require subject specialization.
General Science.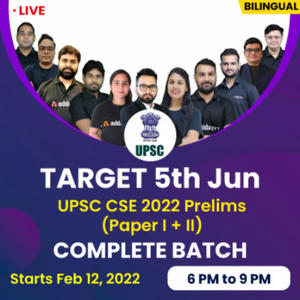 2. General Studies Paper-II Syllabus
It comprises 80 questions from the following topics carrying a maximum of 200 marks to be solved in 2 hours.
Comprehension.
Interpersonal skills including communication skills.
Logical reasoning & analytical ability.
Decision making & problem solving.
General mental ability.
Basic numeracy (numbers & their relations, orders of magnitude, etc.) (Class X level), Data interpretation (charts, graphs, tables, data sufficiency, etc. – Class X level)
General Studies Paper-II of IAS Exam is a qualifying paper with minimum qualifying marks fixed at 33%.
It is mandatory for a candidate to appear in both the Papers of IAS Prelim Exam for the purpose of evaluation.
Course Language
Classes: Bilingual (Hindi & English)
Get Free Study Material for UPSC and State PCS Examinations
UPSC CSE Prelims 2022 Notification
UPSC Online Registration: UPSC CSE 2022 apply online
UPSC CSE 2022 Exam Pattern and Selection Process
UPSC CSE 2022 Eligibility Criteria
UPSC CSE 2022 Salary Structure
About UPSC Civil Services Exam
UPSC CSE 2022 Syllabus: UPSC CSE prelims syllabus 2022